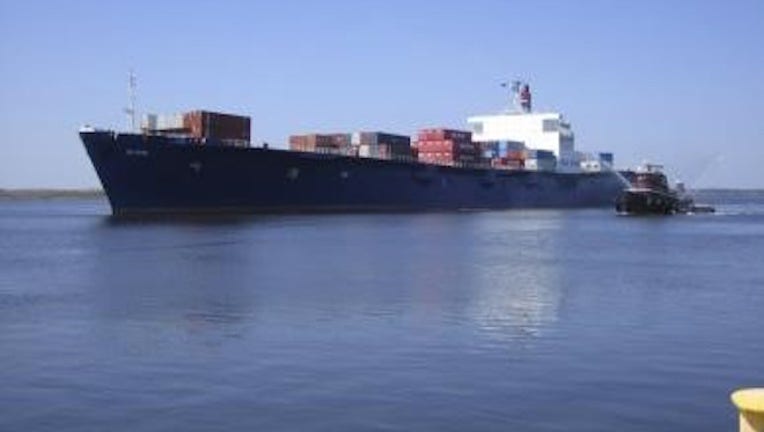 The U.S. Coast Guard continued an intensive search-and-rescue operation Sunday for a cargo ship with 33 crew members that went missing in the waters off the Bahamas during Hurricane Joaquin, with officials saying aircraft had spotted an oil sheen and a 225-square-mile field of debris, including life jackets, life rings, wood, cargo and other objects.
The Coast Guard was working to confirm the objects were from El Faro, a 790-foot vehicle container ship that was carrying 28 U.S. citizens and five Poles.
El Faro was on a regular run from Jacksonville, Fla., to San Juan, Puerto Rico, carrying groceries, cars, trucks and other standard retail items when it fell out of contact Thursday morning off the Bahamas as Joaquin moved into the area.
If the rescue effort proves unsuccessful, the incident could be the worst cargo-ship disaster off the U.S. coastline in many decades. There have been several accidents of similar scale in the Middle East and Asia, according to Basil Karatzas of Karatzas Marine Advisors & Co.
"A lot of questions will be about what the company and the captain knew and when, and what action was taken," he said.
While the U.S. avoided a direct hit from Joaquin, the storm combined with other systems to cause historic flooding in South Carolina. Gov. Nikki Haley urged people to stay home through Monday and said interstate highways around Columbia, the capital city, were closed.
The deluge upended daily life in the state. Counties on Sunday reported more than 200 "swift water" rescues since the previous night, with more expected, said the state's Emergency Management Division.
Rob Almeida, a maritime industry consultant with Flagship Management LLC, said a major question was why the ship couldn't have postponed its departure. "What could possibly be that pressing where they had to be in that position?" he asked.
A spokesman for TOTE Inc.'s TOTE Maritime Puerto Rico, the company that owns and operates El Faro, on Sunday reiterated an earlier statement that the vessel had departed on its standard run last Tuesday at a time when the vessel's officers and crew members were monitoring what was then a tropical storm.
"The problem was that when the ship left, it was a tropical storm, and by the time it got en route to Puerto Rico, the storm had suddenly, and I mean suddenly--that storm blew up from a tropical storm to a Category 3 hurricane," said spokesman Michael Hanson.
A question-and-answer document on the company's website, set up to provide public information, said TOTE Maritime Puerto Rico authorized the sailing "knowing that the crew are more than equipped to handle situations such as changing weather."
According to Vesseltracker.com, a maritime information service, El Faro ultimately left the harbor in Jacksonville at about 2 a.m. last Wednesday, based on the ship's positioning data.
Mr. Hanson said he was comfortable with Vesseltracker's estimate, adding that the ship had been scheduled to depart late Tuesday but that vessels can get delayed for a short time for a variety of reasons.
At 11 p.m. Tuesday, the National Hurricane Center issued an advisory forecasting that Joaquin, then a strong tropical storm, would become a hurricane later that night or early Wednesday, said meteorologist Dennis Feltgen, a spokesman for the center. The same 11 p.m. advisory indicated that the government of the Bahamas had issued a hurricane watch for the central Bahamas, he said.
The storm became a hurricane at about 8 a.m. Wednesday, Mr. Feltgen said. "It's frustrating," he added. "This information is as clear as can be and then you hear of something like this."
Mr. Hanson declined to respond directly to Mr. Feltgen's comments, but said in response that the crew and its leaders made their decision to depart based on years of professional experience; he called the storm unusual in the speed of its turn to a hurricane. "We certainly regret it but we can't change it," he said, of the journey. He said the ship wasn't carrying time-sensitive cargo, but general retail goods.
There were no "status changes" at the port of Jacksonville at the time when El Faro departed, meaning there were no orders or advisories in place telling vessels not to sail, according to the Coast Guard at Jacksonville.
When a storm gets stronger, the Coast Guard generally updates the status of each port--its status levels include "whiskey," "x-ray" and "zulu," with zulu meaning the port is closed to ship traffic--but it hadn't done so.
El Faro was one of six cargo ships to depart from Jacksonville's port on Wednesday, according to VesselTracker. Several were also headed south, including one that left port about an hour before El Faro en route to Manzanillo, Panama, and another that departed for Pecem, Brazil, Wednesday afternoon.
Another ship got caught in the storm, but it was rescued. On Thursday night, the Coast Guard used helicopters to rescue the 12 crew members who had abandoned a 212-foot, Bolivian-flagged cargo ship Minouche that had started to sink near Haiti. The crew was found clinging to a life raft at about 10:30 p.m.
At the time of its last communication, around 7:20 a.m. Thursday, El Faro's ship master called and reported that the ship had lost propulsion and taken on water but that "the issue was contained and the crew was pumping it successfully," TOTE Maritime said on its website. The vessel had also reported that it was listing due to weather conditions but it was "manageable," the company said. The El Faro was built in 1975 and updated in 1992 and 2006, Mr. Hanson said.
The ship's cargo also could have been a factor in its maneuverability in a fierce storm, said Mr. Almeida, the maritime industry consultant.
"They were in a ro-ro vessel with all kinds of equipment on board that required many different types of lashings--you might have trucks, cars, maybe farm equipment that had to be lashed down so it didn't go flying with the ship," he said. Ro-ro is a slang reference to roll-on, roll-off vessels like El Faro, which are typically loaded with cars and industrial equipment.
"You are running into a lot of danger in a big storm where big equipment like that can come loose and become a projectile. And then you have the added windage from containers that might have been on board," Mr. Almedia said. Windage, he said, refers to the impact of high winds on the broad surface of cargo on the ship, which could make the vessel harder to maneuver.
According to Allianz, a German financial-services and insurance company, 75 large ships were lost at sea in 2014, the lowest number in the firm's 10 years of record-keeping and a 32% decline from the previous year. About 40 of them were cargo vessels of various types, including five vessels considered "ro-ro" ships like El Faro. The most dangerous part of the world for cargo vessels is Southeast Asia, according to Allianz.
As the search for the El Faro continued Sunday, TOTE Maritime said it had held meetings with a number of family members of crew members. "We're doing everything we can to support the families," Mr. Hanson said.
In addition to the items spotted Sunday, Coast Guard crews said they found a life ring confirmed to belong to El Faro on Saturday about 75 miles northeast of the ship's last known position, near Crooked Island, Bahamas.
The company didn't release the names of crew members, but several families had traveled to Florida and were gathered at a seafarers' union hall, according to local televised news reports. "Just waiting and wondering and not knowing is really difficult," Deb Roberts said in a televised interview. She said her son, who is from Maine, was on the ship.
Robbie Whelan and Brian Baskin contributed to this article.
Write to Jennifer Levitz at jennifer.levitz@wsj.com and Paul Page at paul.page@wsj.com