Debit Card Swipe Fee Debate Pits Banks vs. Merchants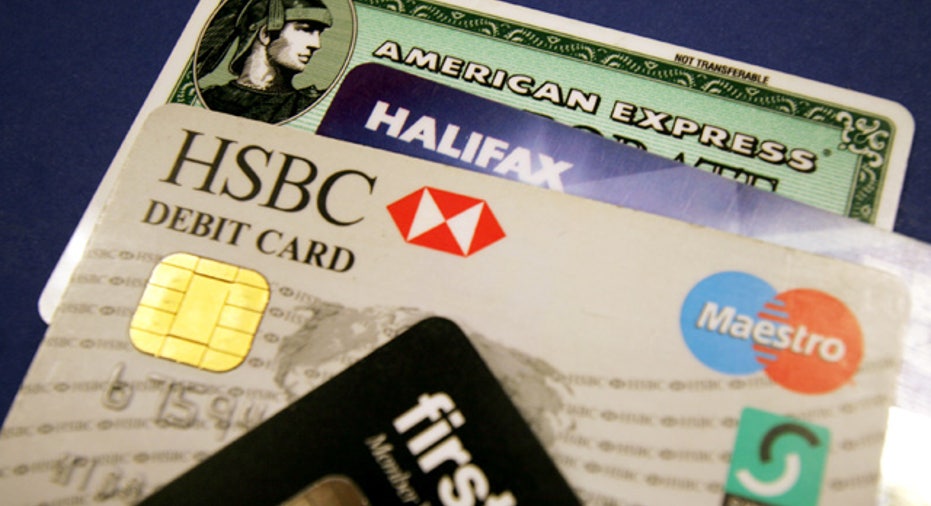 A clash of titanic industries that has pitted bankers against retailers over how much it should cost to swipe your debit card and buy something is coming to a head.
Billions are at stake for both industries, but each side presents starkly different views of how the outcome will impact consumers.
Retailers say they will be able to offer a price break fevery time you swipe a debit card to buy a tank of gas or a bag of groceries. Bankers warn that consumers will get only crumbs from the retailers and banks will be forced to squeeze consumers in other ways to make up for loss of swipe fee revenue.
'Swipe' fees draw merchants' ire At issue is the fee that retailers fork over to banks to process electronic debit card payments -- known as swipe or interchange fees. For years merchants have complained that their interchange costs have risen dramatically over the past decade as debit cards have become the payment option of choice for millions of shoppers. The Federal Reserve estimates merchants pay $18 billion a year in interchange fees.
"More and more of my customers are paying with their debit cards, which is costing me more money," Nebraska grocery store owner Allen Ewoldt told the Federal Reserve Board. His was one of more than 11,000 comments submitted to federal regulators who are putting the finishing touches on a final rule that would cap debit card interchange fees. Arguments over the Fed's first draft of the rule, released in December 2010, have proven so contentious that the Fed has said it will blow past its original April 21, 2011, deadline for issuing the final version.
Those who support interchange caps assume that if merchants pay less in swipe fees, they will pass those savings on to customers in the form of lower prices at checkout. Do-it-yourself big box retailer The Home Depot pledges: "One way or another, the company will use any resulting reduction in excessive debit card fees to benefit our customers." Other retailers, however, have been mum on how they will pass savings on to shoppers.
Neither the law nor a set of proposed Fed rules detailing how the law is to be implemented requires retailers to cut their customers a break. Not only that, banks have said they'll hike other fees to make up for the lost debit card revenue -- a move that will impact all bank customers, not just debit card holders.
"I think the likelihood of this hurting community banks and requiring them to increase the fees they charge for accounts is much greater than any tiny benefit retail customers may get from any savings," FDIC Chairman Sheila Bair told lawmakers during a February 2011 U.S. Senate banking committee hearing.
When Congress passed the massive Wall Street reform law in July 2010, it included a provision requiring the Fed to issue new debit card transaction rules. Known as the Durbin amendment in honor of its sponsor, Illinois Sen. Dick Durbin, the interchange clause mandated that large banks and credit unions could only charge debit card interchange fees that were reasonable and proportional to their costs. Instead of the current 1% to 2% per transaction fee, swipe fees would be capped at just 7 cents or 12 cents per transaction, under two alternatives proposed by the Fed. After surveying a sample of banks, regulators determined the actual cost of a debit card transaction was only 4 cents, although financial industry critics say that figure doesn't fully account for all of the costs involved.
Currently, interchange fees are set by the payment card networks, Visa and MasterCard, as part of the contracts that allow merchants and their banks to use the networks to process electronic payments.
The networks argue that interchange fees help pay for the electronic processing, fraud prevention and convenience that go along with accepting a debit card payment. A Fed analysis pegged the current average swipe fee at 44 cents, based on an average 1.14% of a $39 purchase. Its analysis said that a 12 cent cap would leave swipe fees profitable for banks -- just not massively so.
Firestorm of debate, lobbyingDebit card interchange fees are a relatively small part of the Wall Street reform law, but the issue has generated more rancor and debate than any other provision in the massive law. Two powerful Washington lobbying groups -- banks and retailers -- are pushing hard for opposing goals. Retailers want interchange fees capped and banks and credit unions want the government to butt out of private enterprise.
If you ask retailers, the change will:
Help merchants and retailers retain billions in interchange fees they are currently paying to banks.
Eliminate anti-competitive interchange pricing practices that have been cloaked in secrecy for years.
Bankers say the outcome will be completely different. They say the reduction in fees will:
Lead banks and credit unions to raise fees for a variety of services for all customers -- not just debit card users.
Result in price controls that will harm the banking industry and the economy as a whole.
Curtail or wipe out debit card rewards programs. A few banks, including JP Morgan Chase and Wells Fargo, have already announced debit rewards reductions in anticipation of the new interchange rules (see Banks cutting, canceling debit card rewards programs).
Unfairly harm smaller banks and credit unions that are supposed to be exempt from interchange caps but, from a practical standpoint, will likely be subjected to them anyway.
Further erode bank profits at a time when landmark credit card reform restrictions have also whacked the industry.
Efforts under way to delay implementationRepublican opponents of the plan have introduced a bill in the U.S. Senate (S.B. 575) to delay the scheduled July 2011 startup of debit card swipe fee caps and repeal the Fed's proposed rules. The Federal Reserve was on track to release final interchange rules on April 21, but in the midst of fierce Congressional debate and lobbying, Fed Chairman Ben Bernanke sent a letter to lawmakers in late March indicating the Fed would delay release of the final rules. The July 21, 2011, effective date was unchanged.
Some Washington lobbyists are speculating that the Fed's delay may mean the final rules will be softened to address concerns expressed by small and large banks and credit unions.
If debit card swipe rules are approved as written, "banks won't even be able to cover their expenses and will lose money on every transaction," according to Kenneth J. Clayton, card policy counsel for the American Bankers Association trade group, which submitted comments staunchly opposing the proposed Fed debit card rules. "If the rule isn't changed, the result will be increased fees for bank customers to make up for lost interchange fees charged to retailers."
Billions in revenue at stakeOne thing is clear in the debit card interchange debate: The stakes are high for both bankers and retailers. One card industry consultant, R.K. Hammer, estimates banks will lose $15.2 billion a year because of the debit interchange fee restrictions. The ABA puts the windfall to retailers at $12 billion a year should the swipe fee caps be approved. Add to that the nearly $11 billion-a-year impact of the credit card reform law . Many of the same financial institutions are also seeing less revenue from debit card overdraft fees, which were curtailed by another set of rules that took effect Aug. 15, 2010, and require accountholders to opt in to overdraft protection programs.
According to Hammer: "You can count on new fees being implemented by the affected banks: checking and savings fees, annual fees, among others."
Rapid growth in debit card paymentsDebit cards have become the nation's fastest growing payment method -- surpassing credit cards and checks in the most recent tally of noncash payment methods.
As debit has grown , retailers and merchants large and small have seen interchange fees take an increasingly large share of their profits.
"Our fees are exorbitant; they range from $1,500 to $6,000, depending on the month," writes Andrea Dorsey, who owns a Hallmark greeting card store in El Paso, Texas. She wrote to the Fed in support of debit card fee caps. "Roughly, about 60% of our customers pay with credit or debit cards. I am debating now about setting a minimum purchase of $5 before accepting cards for payment, which I believe would upset customers. A small business like mine cannot afford to absorb these fees for the big banks." (Note: Visa and MasterCard rules currently   on credit card transactions.)
The banking industry counters that the savings would go into the retailers' pockets. A study paid for a banking lobbying group, the Electronic Payments Coalition, concluded: "Most large merchants would not go to the trouble of reducing prices in the near term in response to the tiny cost reductions they would receive: about 10 cents on an average $59.89 transaction and less than 2 cents on a $10 purchase."
Consumers caught in the middleGiven all of the lobbying and predictions of hiked banking fees, consumers are divided on debit card interchange.
Many see the advantages of limiting interchanges costs for merchants.
"Such a change is long overdue and would be a tremendous help, not only to the consumer, but to the economy overall," Robert Rasmussen told the Fed. "The present interchange fees ... are grossly overpriced, and the consumer, as well as the economy overall, is made to bear the burden of it."
Others are leery of what the proposed regulations could do for banking services. In his comments to the Fed on the proposal, William Collis Manning wrote he believes the interchange cap "will likely reduce or eliminate" many of the services he gets for free from his bank.
"As a consumer, I cannot afford to pay for something I've been accustomed to receiving for free," Manning wrote."Only the retailers will benefit from this harmful rule and take home billions in profits -- and consumers will be left to deal with the consequences."
More from CreditCards.com: