David Bowie: From Ziggy Stardust to Financial Trend-Setter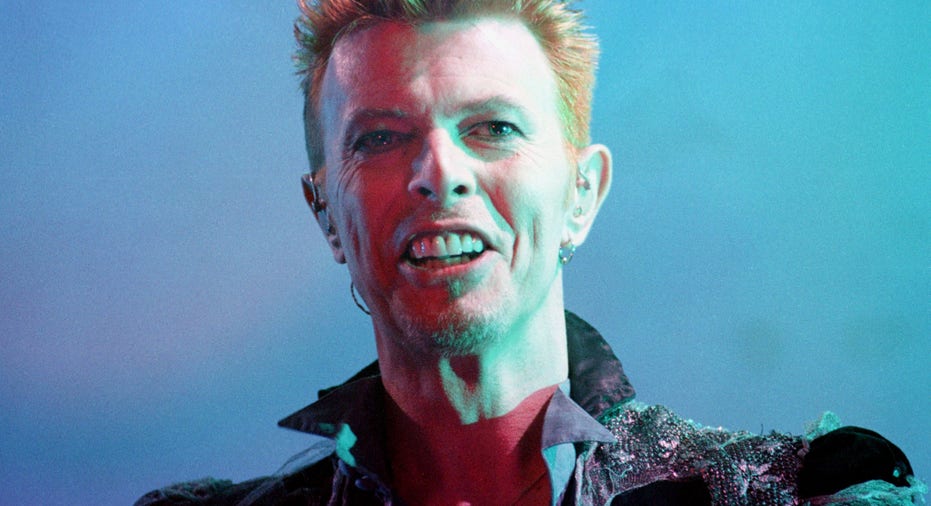 With a career spanning more than half a century, David Bowie, and his 1970s-era alter-ego Ziggy Stardust, will be remembered as one of the most prominent and influential singers, songwriters and producers in the music business. An inductee into the Rock and Roll Hall of Fame as part of the 1996 class, Bowie died in early January 2016 at the age of 69 after losing his battle with liver cancer.
On Friday, 18 artists will pay their respects to the music legend in a tribute concert at Radio City Music Hall in New York City.
1. 'LET'S DANCE' BOWIE'S MOST LUCRATIVE HIT
---
Bowie started his music career in the early 1960s and released his first single ["Liza Jane"] in 1964 with his band Davie Jones with the King Bees. During his career, Bowie released 27 studio albums, in addition to many live and compilation albums. In total, it is estimated that he sold 140 million records worldwide, with 1983's "Let's Dance" being his biggest seller.
2. $100 MILLION ESTATE
---
At the time of music legend's death, Bowie's estate was worth about $100 million, according to his will, which did not break down the finances. He left each of his two children 25% of his net worth, while his wife supermodel Iman received 50%. His personal assistant was left $2 million along with stock he owned in Oppossum Inc, while his daughter's nanny was left $1 million.
3. SALES SOAR AFTER DEATH
---
Following the singer's death, Bowie's combined album and song sales rose to 682,000, slightly more than 5,000%, according to statistics from Nielsen Music. Billboard ranks his "Let's Dance" at the top of their list of Bowie's 20 biggest Billboard Hot 100 hits. His latest album, "Blackstar," released on his January 8 (his birthday), topped Billboard's Billboard 200 chart making Bowie's first number-one album of his career.
4. "BOWIE BONDS"
---
Bowie wasn't just a superstar musician; he was also a trend-setter in the financial world. The rockstar, along with a banker and financial planner, developed what would be known as "Bowie Bonds." Issued in 1997, Prudential Insurance (NYSE:PRU) paid $55 million for the bonds. Backed by the current and future revenues of Bowie's 25 albums recorded before 1990. These 10-year asset-backed securities had an interest rate of 7.9%. The bonds emphasized the power of intellectual property as collateral.
5. BOWIE'S BUDDIES
---
Throughout his career Bowie teamed up with other famed singers and songwriters to produce well-known tunes. In 1972, Bowie produced Lou Reed's "Transformers" album, which featured the song "Walk on the Wild Side." A few years later in '75, ex-Beatle John Lennon helped Bowie co-write the song "Fame." Next, Bowie recorded with crooner Bing Crosby in 1977, producing the track "Peace on Earth/Little Drummer Boy" for the latter's Christmas TV special. In 1981, Bowie and British rock band Queen topped the UK charts with "Under Pressure." Then in '85 Mick Jagger, the frontman of the Rolling Stones, joined Bowie to record a cover of the Motown hit "Dancing in the Street." This collaboration once again allowed Bowie to sit atop the UK charts.