Dating App Connects Singles With Friends of Friends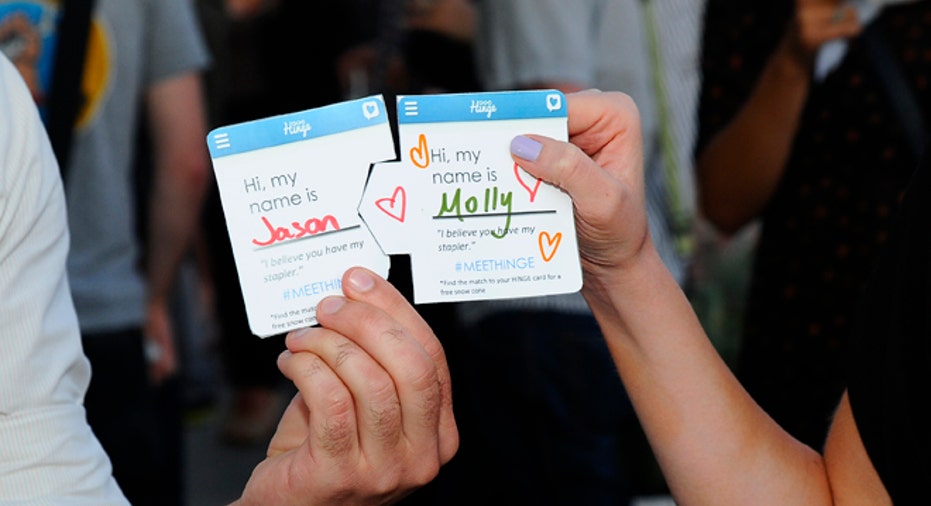 The founder of a new dating app isn't shy about explaining what he believes makes his service stand out in the crowded field of digital love connections.
"Hinge matches you with people with whom you have mutual connections, or similar interests -- somebody you'd actually be interested in dating as opposed to just a hookup like Tinder," Justin McLeod tells FOXBusiness.com.
McLeod, who himself meets potential mates via Hinge, launched the social dating app in 2011 while studying at Harvard Business School. The online dating club has grown to about 30,000 active users in the Washington, D.C. and New York City areas, and it launches in Boston next week. While Hinge doesn't claim to find people their soul mates, it does vow to increase the number of first dates people have, and to broaden their social circles.
McLeod says his goal is for Hinge to "disrupt conventional online dating."
Hinge may look like other dating apps on the surface, but McLeod says from a technical standpoint the app is very different.
At the app's New York City launch party this week, McLeod went through a brief history of online dating tools from eHarmony's launch in 1997, to Facebook's joining the field in 2005 -- although not a dating app, he believes it is key for the new generation of digital dating tools.
"Facebook gave people a sense of their social graphs," McLeod explained.
The free app functions like a social network, introducing users to single friends of mutual friends. Available on both iPhone and Android, the app uses "social proximity" information sourced from Facebook to connect users. Lists of potential matches are compiled and sent to users each day at noon. Users can either ignore the list, or connect with an attractive match by chatting with them right in the app.
Matches are picked using an algorithm that filters people based on friends in common, attractiveness, education, work and interests -- thus, the social graph's functionality. Attractiveness is gauged through how often people favorite, versus pass a user. The Hinge team says it connects people who have roughly the same ratio. When it comes to education, work and interests, Hinge techies manually categorize connections that they say otherwise wouldn't be obvious, such as similar, but different schools or companies.
One of the main tenets of Hinge is that it is not searchable, so users can't technically comb through a database for possible dates. The app is also not super private with users being regularly told how many of their friends got matched up on Hinge (and with whom).
Take Matt, for instance. The owner of a small consulting firm that makes iPhone apps in New York, Matt (who asked that his last name not be used) has tried Tinder, Acquaintable, OKCupid, even Match.com. He says Hinge works because the app "uses a proven system" where users log in using Facebook, and meet potential dates who can be vouched for by their mutual friends.
Matt explains the degree of accountability in meeting people "you're actually connected [with] means you take it a little more seriously," and is the reason for the app's success.
Hinge also throws events, like the launch party, where users can meet in person. As guests walked into the NYC launch, they were handed Hinge puzzle pieces and instructed to find their matches before they could claim Handsome Dan's spiked snow cones or Avion Tequila lemonades.
"It helps break the ice," said one partygoer.
With one-third of marriages in the U.S. resulting from online dating, according to the journal Proceedings of the National Academy of Sciences, it's no wonder investors constantly have their eyes out for the next best tool. And traditional online dating is evolving indeed -- think Grouper, the site that sets up groups of friends for meet ups, to see if there is a potential match within the crowd.
Hinge, which is based in D.C., received a small initial investment from angel investors as well as Fortify Ventures Team. McLeod says the team is not particularly focused on advertising right now, but rather relies on word of mouth for growth opportunities.
Dating is very addictive and naturally viral, according to Sergio Monsalve, a partner at Norwest Venture Partners (NVP). He says the key to a dating service's success is to "make it engaging enough on a daily basis that it broadens its user base."
According to McLeod, 70% of people on Hinge are repeat customers still using the app a month after initially signing up. Monsalve says this is the path to profitability: making sure users keep trying the app because they like the product and the way it works, even if it means they don't find a match right away.
"People always ask couples how they met," Monsalve explains. "If they say, 'we met on Hinge!' you'll want to try it, and investors will take a look at it for sure."