Culture Clash Ahead? $2B Banking Deal Faces Integration Hurdles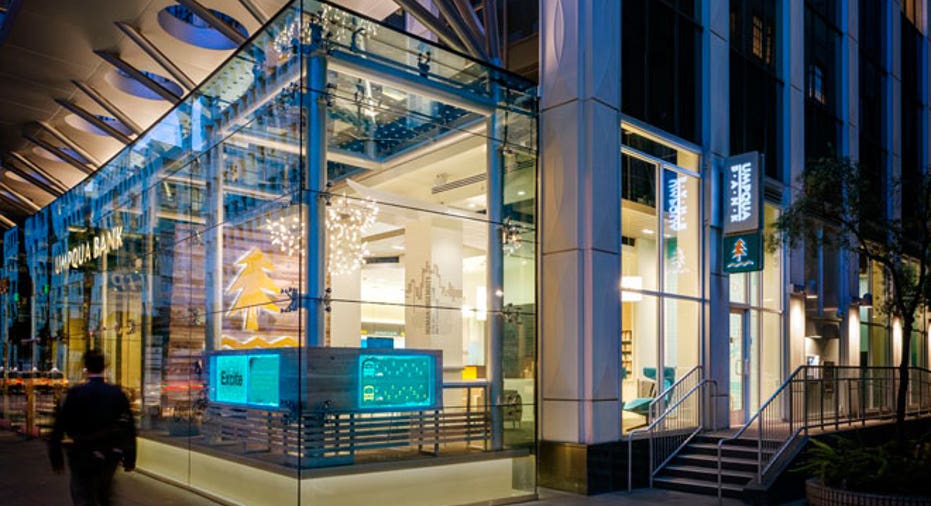 West Coast lender Umpqua (NASDAQ:UMPQ) prides itself on its somewhat-quirky culture, which it sees as its greatest asset in a world of one-size-fits-all banks.
The Portland-based bank insists on calling its branches "stores" and expects tellers and executives to answer the phone: "Umpqua Bank -- the world's greatest bank."  Umpqua customers can even reach the bank's CEO directly (not just his assistant) by simply dialing "8" in any store (branch).
But that unique corporate culture could be at risk as Umpqua -- which is no stranger to big deals -- absorbs fellow West Coast lender Sterling Financial (NASDAQ:STSA) in a $2 billion transaction that will create the country's largest community bank.
"If you're putting two $10 billion-plus banks together, at some point you're stretching the definition of a community bank," said Jeff Rulis, an analyst at D.A. Davidson & Co. who covers Umpqua.
Despite a slew of recent deals, Umpqua executives "have been able to maintain or perhaps even strengthen that image of service. This will be the greatest challenge to date to maintain that," he said.
In addition to the cultural challenges, Umpqua has to figure out which branches to shut down and ease concerns about job losses amid projections the deal will generate cost savings of 30%.
'If You're Big, You're Bad'
But Ray Davis, Umpqua's CEO, doesn't sound overly concerned about the integration challenges.
"We're not going to have any problems culturally," Davis said in an interview this week, pointing to his company's prior M&A track record.
While he doesn't sound worried, Davis does recognize the risk the deal poses to his bank's coveted cultural identity.
"Banks just get big and then bureaucracy takes over," he said. "There is a lot of sentiment that if you're big, you're bad. It's still there and we even have to fight it."
By joining forces, Umpqua and Sterling will have a combined $22 billion in assets, $15 billion in loans, $16 billion in deposits and 394 branches in five states. Umpqua believes the deal will boost its 2015 operating earnings by 12% and analysts project a boost to the bank's return on equity.
But there are plenty of instances in business history of two companies that are of a similar size teaming up to take advantage of back-office synergies.
"There are dramatically more examples of companies that have failed at doing that than succeeded," said Stephen Beck, founder of management consultancy cg42, which closely watches banks.
'Melting Pot of Bankers' 
"Acquisitions can be a major distraction. I can guarantee their major competitors are looking at this as an opportunity."
Yet Umpqua has been among the most successful acquirers and integrators in the West since 2000, Rulis said. He pointed to five deals the bank has made that were greater than one-fourth the size of Umpqua at the time of the acquisition and three that were more than one-third Umpqua's assets.
Davis said the key is that "you don't have to grow up" in the Umpqua culture to continue it. "We are sort of a melting pot of bankers," he said.
Rulis, who upgraded Umpqua to "buy" from "neutral" following the deal, concurs.
While there is the "potential for a culture clash," Rulis said in a note to clients that he believes "the frequency, substantial target size and ability to transfer culture offer reasons to support a smooth transaction."
The transition could be smoothed by the fact that Spokane, Wash.-based Sterling has moved away from its stance as a thrift bank, especially after nearly collapsing during the financial crisis.
In 2009, Sterling was slapped by an order from the Federal Deposit Insurance Corp. and state regulators that forced out senior management and called for $300 million in new capital to be raised.
"They were on death's door," Davis said, adding that he believes Sterling will be remembered as one of the biggest success stories in terms of rebounding from the crisis.
Job Cuts Ahead?
Even if the cultural issues are overcome, Umpqua has to worry about the deal creating a diversion that upsets customers who have grown accustomed to a certain level of service.
"Acquisitions can be a major distraction. I can guarantee their major competitors are looking at this as an opportunity," said Beck.
Davis says bring it on. Other bankers "don't want me to open a store across the street from them because I will kick their butt," he said.
Still, Beck said it is important for Umpqua to keep its "finger on the pulse" of its customers to check if they are being turned off to the bank by the merger.
"Make sure that if the seeds of frustration grow, you stamp them out quickly," he said.
Umpqua and Sterling employees are understandably concerned about what the combination will do to their jobs.
That's because about 11% of the two banks' branches are within two miles of each other, according to The Oregonian.
"There will be some consolidation," said Davis, who stressed it won't only be Sterling branches that will close. If an Umpqua and a Sterling branch are located across the street from one another, Davis said, they will keep "whichever one is better."
"This isn't about eliminating people. We will do what's right and we will find them jobs," Davis said.