Credit Card Rewards Options Abound for Sports Junkies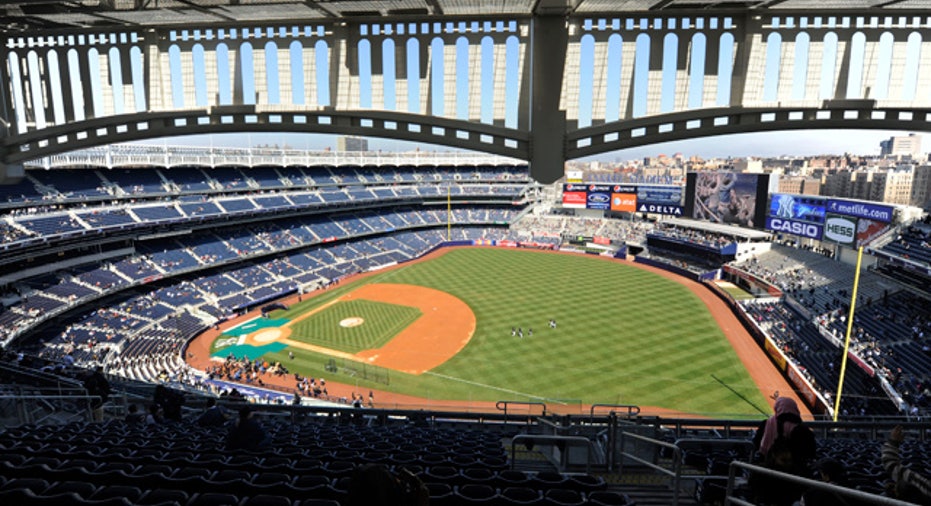 Dear Cashing In,
I just read a story about a guy who used rewards points to get on the sideline at an NFL game. How great is that? What's the coolest thing that you've seen that someone could buy with rewards points? 
- Tom
Dear Reader,
Coolness comes in as many packages as there are personalities, which is probably why credit card companies spend so much time coming up with reward categories. There are credit card rewards aimed at foodies, yogis and dog lovers. Adrenaline junkies might see the bungee jump you can win on Chase Ultimate Rewards or Capital One's tandem skydive as the perfect use of a few thousand points.
Personally, I'd prefer a week of snorkeling on a tropical island to a few moments of plummeting to the earth. I'm not alone. A quarter of those surveyed by Cap One last year said they'd take an expenses-paid trip to Hawaii over one to any other destination.
But this is football season, and you sound like someone who'd rather spend his Sunday afternoons cheering for his team than diving from a plane or getting sunburned on a beach. Dig deep enough into any generic rewards program and you may find a game in their somewhere. You will certainly find the means to fly there and even stay for free at a hotel near the stadium. However, there's a more direct route to the playoffs via credit card.
If your idea of the best life has to offer is a prime seat at a professional football game, I have the perfect card for you: the NFL Extra Points Visa. Barclays Bank just made that one even more enticing for football fans by upping their 2,000-point sign-up bonus to 10,000 points after first use. That bonus will get you an official team jersey -- and a 20% discount when you shop on NFLShop.com -- or a couple passes to the Green Bay Packers Hall of Fame at legendary Lambeau Field. For 15,000 points, you can attend a taping of the Thurman Thomas Show and perhaps even meet the Buffalo Bills' Hall of Fame running back.
Or, forget the merchandise and save up for a game. The NFL Visa offers free financing on game tickets. A pair of tickets for regular-season games or pre-game field passes requires 25,000 points. For 200,000 points, you and a friend can attend the Super Bowl like one of CreditCards.com's readers did. (Read "Susie's Super Bowl Adventure.") And for another 25,000, you can even be part of the on-field post-game celebration. (You better hope your team wins if you spring for that!)
You can also use your points to interview a player, have dinner with a coach, play a round of golf with a former player, or attend annual kickoff events. Offers vary depending on where you live and which team you're rooting for. The Barclay NFL Extra Points Visa has no annual fee and offers a point for every dollar spent. What's more, you can get it customized with the logo of your favorite team, choosing from 16 NFL and 16 AFL teams.
Baseball fans can charge their way into the game, too, although their rewards seem more family-oriented. Like the NFL card, the Major League Baseball Extra Bases credit card from Bank of America comes with no annual fee and a point for every dollar spent. You can earn 15,000 bonus points after qualifying transactions, redeemable for a $150 MLB.com gift card, MLB merchandise, or toward admission to a game.
Similar to the football card, the baseball version offers tickets -- stadium seats to see the Philadelphia Phillies play the New York Mets for 5,000-7,500 points or a suite for 15,000. They also offer "experiences" such as having the team's mascot appear at your kid's birthday party for 75,000 points or, for 40,000 points, a dugout visit for a child age 7-14 and four tickets to a game.
If the NFL card is for macho men and the MLB card for dads with baseball-loving kids, the golf-related rewards are aimed at big spenders interested more in status than tickets. A major selling point for the PGA Tour Platinum Plus Mastercard with WorldPoints rewards and Champions Tour Affinity credit cards, for example, isn't free passes to the tournament, it's funding the tournament -- i.e., providing "nearly $2.5 million in annual support to tournament-designated charities."
Likewise, the Marriott American Express cards' rewards catalog includes weekend packages at the swanky Sawgrass Golf & Spa Resort where you can play 18 holes on two different seaside Florida courses.
Like I said, there's a reward for everybody, including sports fans of every stripe.