'Crash trucks' drive themselves with military tech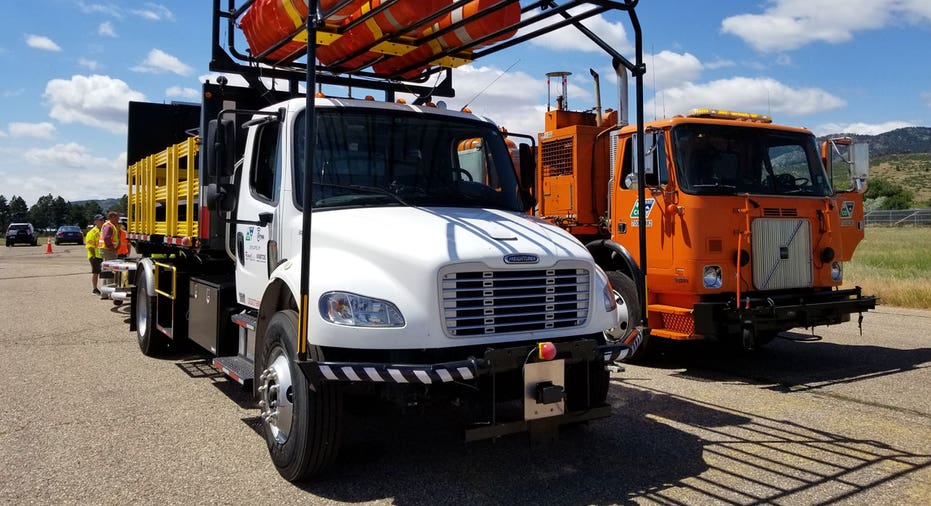 The world's first self-driving work zone vehicle is about to hit the road in Colorado.
The state's Department of Transportation partnered with Kratos Defense & Security Solutions (NASDAQ:KTOS), Pennsylvania-based Royal Truck & Equipment and British engineering firm Colas UK to create the Autonomous Impact Protection Vehicle (AIPV), which officials say is the first driverless construction truck to be put into action.
The company behind the technology is Kratos, a military contractor that develops drones and unmanned ground vehicles. San Diego-based Kratos created the technology for the U.S. Army, which is turning to driverless vehicles for dangerous missions like mine clearance. Kratos has brought the technology to the commercial market in the form of self-driving impact attenuators—known as "crash trucks"—that follow construction crews to protect workers near busy roadways.
The AIPV, unveiled Friday, borrows the leader-follower concept that Kratos developed for tactical convoy operations. The lead vehicle, which has a driver, sends data to trailing vehicles, which use the information to mimic the lead vehicle's path. Kratos has also utilizes leader-follower in its unmanned aerial systems, which rely on similar algorithms and software controls.
Crash trucks are in a dangerous position, "so the objective is to remove the driver from the vehicle," Maynard Factor, director of business development for Kratos's unmanned systems division, told FOX Business.
Kratos has talked to other states and international governments about bringing the AIPV to new markets, according to Factor. Kratos is exploring different applications as well. Factor said the technology could be used for "platooning multiple vehicles together like in shipyards, where multiple vehicles are operating back and forth, or delivery vehicles."
The company's vehicle automation kits can upfit a variety of vehicles. The kits, which control steering, braking and acceleration, turn existing fleets into driverless trucks that can be operated remotely or travel semi-autonomously.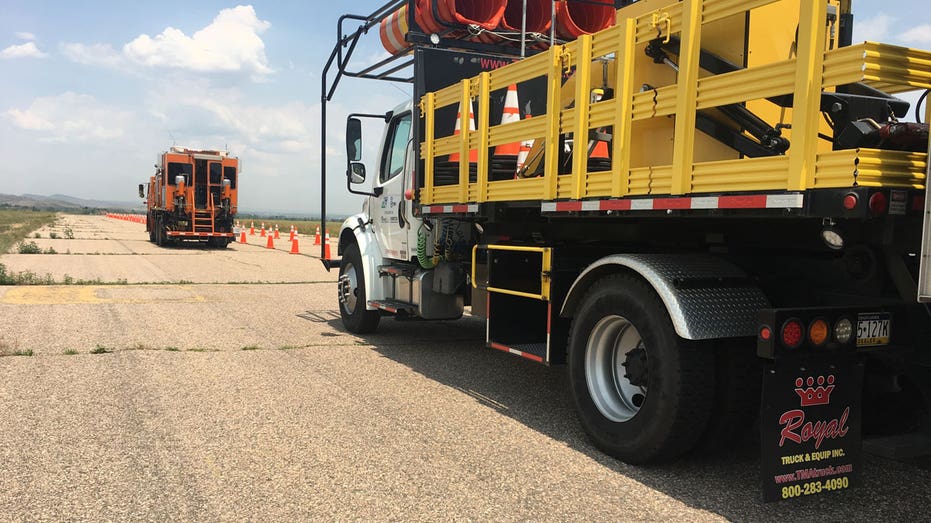 With autonomous crash trucks, crews no longer need a driver for one of the most dangerous roles on the jobsite. More than 21,000 crashes and 171 fatalities occurred in Colorado work zones from 2000 to 2014. Across the U.S., there are 70 crash-related injuries and 12 fatalities every week in work zones, according to the Federal Highway Administration.
Colorado DOT Executive Director Shailen Bhatt said the state loses about six crash trucks every year.
"This is not a Tesla. You're not going to go and put an order down on one of these. But my prediction is in the future, all state DOTs here in the country and internationally will be using technology like this," Bhatt said during an event in Fort Collins, Colorado.