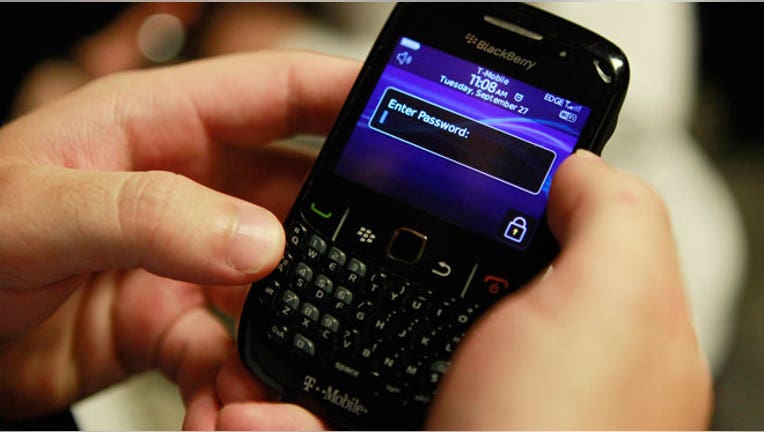 Research In Motion will be forced to slash the fees it charges carriers for BlackBerry service this year, an analyst said on Monday, cutting into a pillar of the struggling smartphone company's business model.
RIM runs its own network infrastructure, enabling it to encrypt, compress and push data to BlackBerry phones via a cellular network. The Canadian company earned almost $1 billion from the service last quarter, one-fifth of its total sales.
But RIM has moved too slowly to counter the threat posed by companies allowing their employees to use their own mobile devices for work, and carriers have soured on paying the fee, according to Northern Securities analyst Sameet Kanade.
"We now firmly believe that RIM does not have the luxury of time on its side," he wrote in a note to clients in which he cut his rating on RIM stock to "sell" from "speculative buy" and chopped his price target to $7 from $24.
RIM's make-or-break BlackBerry 10 smartphones, due out later this year, will require a new server software component called Mobile Fusion that also allows its core enterprise customers to manage rival devices such as Apple's iPhone and iPad and those using Google's Android software.
But Kanade said both traditional software companies and carriers are introducing similar products at a lower cost.
Kanade estimates RIM gets roughly $5 a month per subscriber, which could fall below $2 per user by February 2013. He expects service revenue to fall 48 percent in the next two years.
Northern's parent company owns Jaguar Financial, which has agitated for radical change at RIM including a break-up or sale.
RIM's shares fell 3.6 percent to $13.30 on Nasdaq. They have shed 80 percent of their value since last February amid falling U.S. market share, botched product launches and dismal earnings.
The stock was down 2.8 percent at C$13.22 on the Toronto Stock Exchange.
($1=$0.99 Canadian) (Reporting by Alastair Sharp in Toronto; editing by Rob Wilson)