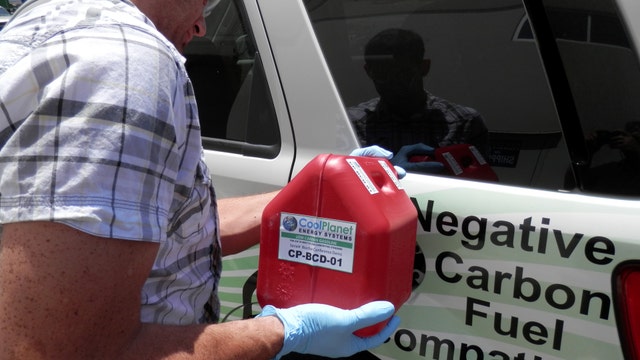 Cool Planet wants your car to run on wood chips – seriously.
The Denver, Colorado-based startup turns wood chips into high-octane gasoline, which can be blended into fuel for cars and other gasoline. The company just raised a $100 million Series D round to fund construction of biofuel production plants in Alexandria, Louisiana. According to the company, this plant will be the first large-scale commercial unit that will be able to provide fuel to partners like BP and ConocoPhillips.
The round was led by North Bridge Venture Partners and Concord Energy. Previous investors like BP, GE, ConocoPhillips and Google Ventures also participated in the round. According to Cool Planet, half of the investment batch came from new investors outside the U.S.
"Our design is to build plants that produce 10 million gallons of fuel per year," says Cool Planet CEO Howard Janzen. Ground has already been broken on the first plant, and the company has committed to building three plants in the state of Louisiana.
Demand for Biofuel
Cool Planet's gasoline product is chemically identical to conventional gasoline, says Janzen.
"Our technology really uses what Mother Nature uses. We use temperature and pressure to produce petroleum products," he says. The company heats wood chips and applies pressure until the chips release vapor. Cool Planet then uses a catalyst to turn the vapor into fuel.
Janzen says there is plenty of interest for Cool Planet's green fuel from the big energy players, including investors BP and ConocoPhillips.
"If you look at the traditional petroleum companies, they're very interested in this technology because they have obligations to try to produce increasing volumes of renewable fuels. So we help them meet that, and we also help extend their technology because we can bring a solution that's a reduced carbon solution or even a carbon-negative solution that uses their infrastructure," says Janzen.
In order to meet this demand, Cool Planet has plans to build 400 plants across the United States, located in heavily forested areas where there is easy access to the needed feedstock.
"We're building a large number of small plants, and the reason is we're bringing … the plants to the feedstock, instead of the feedstock to the plants. And that's very important, because the transportation of that biomass feedstock is very expensive, so we minimize the distance it's transported," says Janzen.
While the latest injection of capital will help fund the initial plant in Louisiana, Janzen says additional construction would require more funding.
"We do have plans to access both the public markets, and also we have some non-equity financing sources we're actively pursuing," he says.
For now, Janzen says he is concentrating his efforts on ensuring that the construction of the plant goes according to plan.
"We have no science risk, really, we've proven out the science: we've made fuel. Really our primary obstacle now to overcome is almost what I've called 'Project Management 101.' Can you build what we intend to build on-budget and on-schedule, and then can we do that on-scale as we roll out a large number of these plants?" explains Janzen.
While those questions remain to be answered, Janzen says he believes he's put the right team in place to ensure Cool Planet's success. The company recently moved headquarters from Camarillo, Calif. to Denver, where Janzen says he's been able to find plenty of clean-tech talent.
"We've been able to find very experienced, very talented people here, and we're actually staffing jobs in the field as we prepare for that plant operation to begin," says Janzen.