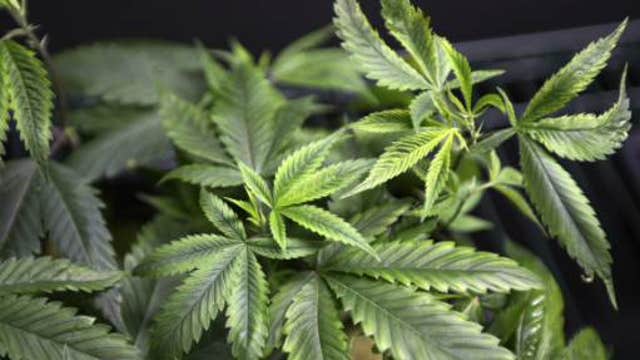 A plant-based pharmaceutical company is working on developing a medical marijuana treatment for chronic traumatic encephalopathy (CTE), a degenerative disease that affects people—particularly athletes—who have suffered repeated head trauma.
Dean Petkanas, the chief executive of KannaLife Sciences, expects the federal government to pave the way for medical marijuana within two years, he told Varney & Co. on Monday.
KannaLife Sciences, which focuses on using plants to develop treatments, just signed a license agreement with the National Institutes of Health (NIH) to allow the company to sell cannabis-derived medicines approved by the Food and Drug Administration (FDA).
The deal allows West Hills, N.Y.-based KannaLife Sciences to move forward with treatments for CTE.
"We're really looking at the athlete brain," Thoma Kikis, the company's chief visionary officer, told FoxNews.com. Their goal is to create a treatment that is both preventative and therapeutic for those already diagnosed with CTE.
Petkanas said early research from the company's scientific team has shown "positive results for nerve protection." He also responded to criticism over the treatments in development, saying most synthetic medicine already comes from nature.
"The anecdotal value has been there. Science is taking it a step forward," Petkanas said during an interview with FOX Business Network's Charles Payne.
CTE was at the center of a class-action lawsuit against the National Football League. The lawsuit, filed by retired NFL players, alleged that the league concealed the effects of concussions. An initial $765 million settlement was rejected by a federal judge for offering insufficient funds to compensate players. A new agreement that includes an uncapped monetary award fund received preliminary approval last month.
According to Petkanas, the company expects to file an investigational new drug application with the FDA at the beginning of 2015, then move to phase 1 clinical trials.
Petkanas said certain dangerous treatments have slipped under the FDA's radar, noting how synthetics can be very potent. Substance abuse and other issues need to be addressed going forward, he added.
"This is where as we open up the marketplace…we can get some critical review and feedback from doctors," Petkanas explained.
FOXNews.com's Nicole Kwan contributed to this report.