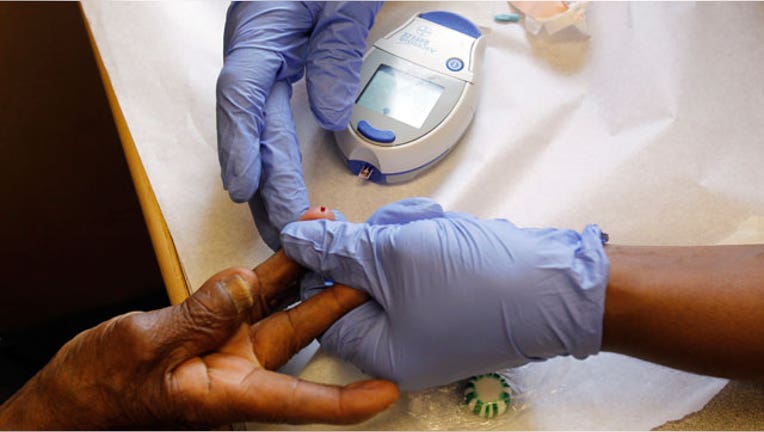 With the prevalence of diabetes growing at a startling pace and health-care reform that could widen access to insurance for millions of people looming, a bitter battle among drug makers is heating up.
Novo Nordisk (NYSE:NVO), Sanofi (NYSE:SNY), Eli Lilly (NYSE:LLY), Merck (NYSE:MRK), Amylin (NASDAQ:AMLN) and GlaxoSmithKline (NYSE:GSK) are among the    world's biggest pharmaceutical companies embroiled in a battle for next-generation diabetes products.
Rivalry in the sector "is intensifying with new drug development, new drug classes that are increasing competition for both insulin and noninsulin and new entrants coming into the market," said Damien Conover, a health-care analyst at Morningstar.
"We unfortunately don't see a decrease in diabetes but an increase."
Jefferies analyst Jeffrey Holford recently told clients that the key diabetes brands and markets will exhibit "sustainable high-single-digit growth," reaching about $54 billion annually by 2020 as the Western population continues to age, obesity rates rise, health-care reform boosts the amount of people who have access to key drugs and experimental therapies come on line.
The industry, focused on tapping a widening diabetes market with truckloads of unmet demand, is experimenting and racing to master a new class of GLP-1 drugs for the treatment of type 2 diabetes and other insulin- and non-insulin-based next-generation products.
Novo released data last weekend that showed its experimental ultra-long acting insulin drug degludec outperformed Sanofi's Lantus. Sanofi said Lantus, its best-selling drug with revenues of $4.9 billion, beat Merck's Januvia. Novo, which focuses 80% of its business on diabetes, also said its blockbuster once-daily GLP-1 analog Victoza topped Amylin's Byetta and Januvia.
"Novo and Amylin are really duking it out in this market," said Lauren Migliore, a health-care analyst at Morningstar who covers Amylin. "The diabetes market is very large and lucrative…it's an area of focus for a lot of firms."
There's also growing demand for oral insulin treatments in what many are calling the holy grail of diabetes treatments. Novo is said to be spending at least $2 billion to make a pill that will deliver insulin to the bloodstream, and other companies are racing to develop a pill strong enough to fight off the body's immune system and continue circulating through the body.
Holford said he expects Denmark's Novo Nordisk to remain the world's top diabetes company by revenue, while Lilly is expected to creep ahead of Sanofi as the world's No. 2 player by 2017.
Meanwhile, some 14,000 healthcare professionals and scientists convened at a conference in Philadelphia earlier this week dedicated to the epidemic. It's all ahead of a U.S. Supreme Court ruling later this month that will decide whether President Barack Obama's health-care reform law will continue to be rolled out or squashed.
"Health-care reform is probably going to expand the utilization of health care, and there's likely going to be an expansion in demand for drugs, including diabetes medicines," Conover said.
If the high court votes in favor of the law, insurers will be barred from denying coverage to people with pre-existing chronic conditions and will be forced to cover preventative care services such as screening for diabetes or high blood pressure. Insurers will also be banned from enacting lifetime limits that can prove a disadvantage to people with chronic illnesses who typically need more medicines and are at risk of complications.
"Before health-care reform, your children could be denied [coverage] if they had a pre-existing condition," said Dr. LaShawn McIver, managing director of public policy and strategic alliance at the ADA, which has long supported health-care reform. "In the average family, people would either forego necessary treatments they needed or go into tremendous debt."
Diabetes has become a major topic of discussion, from New York City Mayor Mike Bloomberg's viral fight against sugar-infested Big Gulp sodas to new numbers released at the ADA conference this past weekend that show a growing prevalence of diabetes among U.S. adolescents.
Type 1 diabetes rose 23% among young people during the first nine years of the 21st century, while type 2 increased by 21%, according to Dr. Dana Dabelea of the University of Colorado in Denver.
Diabetes is a chronic disease that impacts millions of people and contributes to the deaths of more than 230,000 Americans each year. About $174 billion was spent to treat diabetes in the U.S. last year, while chronic diseases in total accounted for about 75% of total health-care spending, according to the ADA.
The disease is "expanding dramatically" and can even be called a "pandemic," said the head of Novo Nordisk's U.S. business, Jerzy Gruhn. Some models forecast the number of affected people doubling to between 50 million and 55 million by 2025 from 26 million in the U.S. today, he said.
"We unfortunately don't see a decrease in diabetes but an increase," Gruhn said.
There are also millions of Americans that have yet to be diagnosed and are unknowingly living with type 2 diabetes, which has fewer symptoms than type 1 and often goes unnoticed without screening. Novo, which is currently expanding its workforce in the U.S. by 15%, said the undiagnosed represent more of a challenge to the health-care sector than those who don't have access to insurance.
"From our point of view, that's more important than coverage, because there's a much bigger group of people who don't realize they might already have diabetes," Gruhn said.
There are provisions in the health-care reform law such as expansions to Medicare and Medicaid and free preventative treatments that may encourage more people to seek tests.
"We do expect to see more people that were denied coverage or sort of fell behind having to pay very high premiums benefiting from the changes being made," McIver said.
Whether health-care passes or not, UnitedHealth (NYSE:UNH) has already announced that it will keep some of the provisions of the law, including preventative screening.
Either way, Novo has been ramping up efforts to expand in the U.S., including boosting its sales team by 500 representatives and building a new research and development center in Seattle and headquarters in Princeton, N.J.
At about $1.5 billion, the company has one of the largest private diabetes R&D budgets in the world second to the National Institutes of Health. It returns about 15% of its annual revenue back into R&D each year.
Andy Ajello, vice president of diabetes sales for Novo Nordisk, said the company needs to bring on more people in the U.S. to fuel the sale of new products, as it plans to announce one new product a year over the next five years.
"We've been operating lean but this is a time where we want to add a significant amount of people to our sales organization to carry today's product line," Ajello said.