Comcast Clears EU Hurdle in $29 Billion Bid for Sky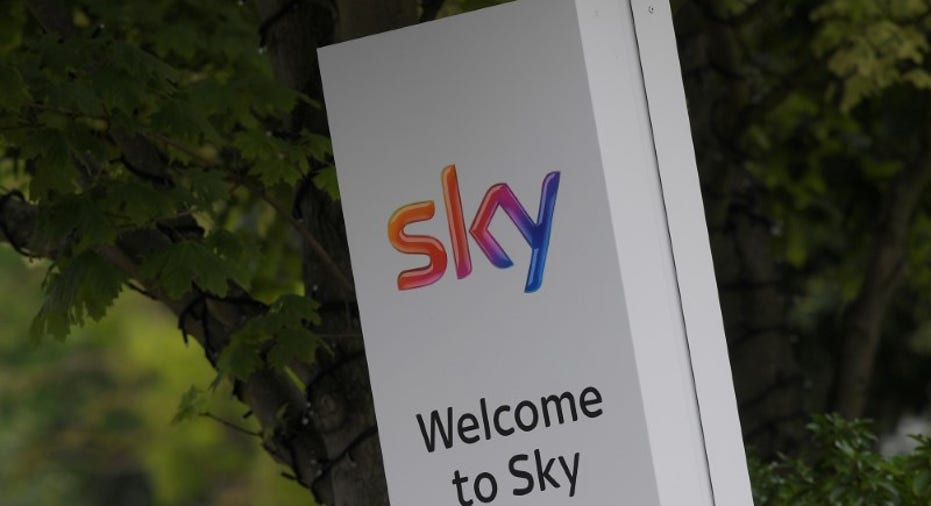 European Union regulators on Friday said they won't object to cable giant Comcast Corp.'s $29 billion bid for Sky PLC, clearing another hurdle in what is expected to be a bidding war for the British pay-TV giant with Walt Disney Co. and Rupert Murdoch's 21st Century Fox.
Ticker
Security
Last
Change
Change %
CMCSA
COMCAST CORP.
35.65
+0.12
+0.34%
FOXA
TFCF CORP.
31.29
+0.21
+0.68%
DIS
THE WALT DISNEY CO.
98.87
-0.01
-0.01%
The Sky battle -- which has played out for months -- more recently has been relegated to a side skirmish in a much bigger standoff between Disney and Comcast. Each are trying to buy a big chunk of Fox assets. Disney and Fox agreed to a $52 billion stock deal in December, but Comcast this week made an unsolicited $65 billion cash offer for the same Fox assets.  Fox already owns 39% of Sky. For 18 months, it has been trying to buy the other 61% for about $16 billion. Disney has supported the effort since it agreed to buy most of Fox. In February, Comcast entered the fray by announcing its own bid for Sky.
Comcast has offered GBP12.50 per share ($16.59), above Fox's GBP10.75. Sky's stock traded above both prices, GBP13.46, as of midday Friday as shareholders anticipated a bidding war. Hedge fund Elliott Management Corp. has built up more than 3% stake this year.  Both Disney and Comcast have said they consider Sky one of Fox's most appealing assets. Both are seeking to expand their international footprint, and both like the London-based company's business model.  Operating in seven European countries, Sky is a telecommunications carrier that sells TV, internet and phone services. It is also a media company that produces its own entertainment, sports and news programming.  Sky's American counterparts are trying to emulate its example of a corporation that owns not only the wires and airwaves but also the programming that flows through them. Analysts expect more mergers between telecom and media companies after a judge allowed wireless giant AT&T Inc.'s $81 billion purchase of media giant Time Warner Inc.  European Union regulators on Friday said the Sky bid from Comcast, which has limited business across the Atlantic, didn't raise competition concerns in Europe. That was Comcast's last major regulatory hurdle, after Britain's government said last week that it didn't raise similar concerns in the U.K.  Comcast Chief Executive Brian Roberts said in a statement that he "welcomes" the EU decision and looks forward to presenting the offer to shareholders. A Fox spokesman declined to comment.  The British government said last week it was optimistic it could reach a deal to clear Fox's bid for Sky. The government was concerned Fox's full ownership of Sky would give the Murdoch family too much influence in British media. The Murdoch family owns a 39% stake in both Fox and in News Corp, which publishes three U.K. newspapers as well as The Wall Street Journal.  The U.K. government said it would negotiate with Fox until next week to reach a deal in which Fox agrees to sell Sky's news operations to Disney, as Fox proposed, or another party. Then the government must give the public 15 days to review the proposal, meaning the Comcast-Fox bidding war might not begin until July.
(END) Dow Jones Newswires  06-15-18 1137ET  Copyright (c) 2018 Dow Jones & Company, Inc.