Coal Industry, Utilities Brace for EPA Carbon Rules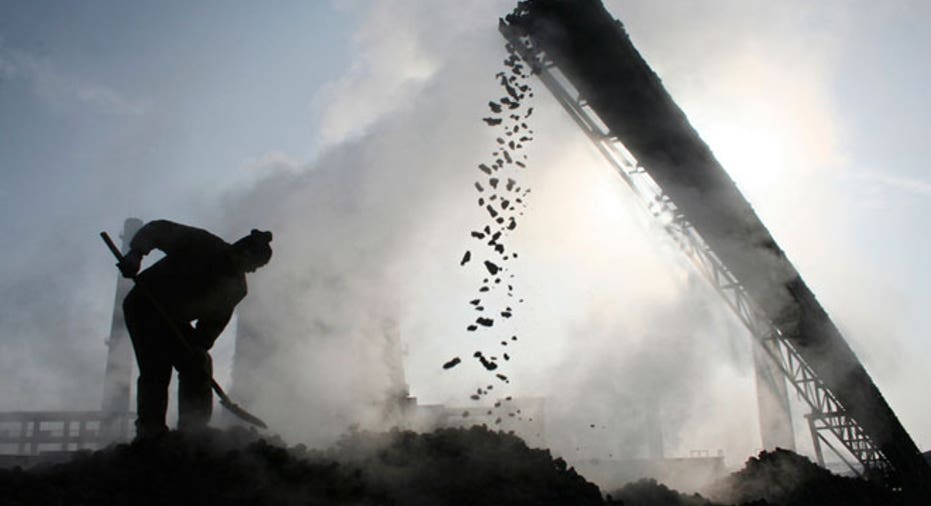 The U.S. Environmental Protection Agency is pushing to enforce new rules that would require existing power plants to reduce carbon emissions, raising more questions over the future of the coal industry and electricity rates.
Coal has already faced significant pressure from low natural gas prices in recent years.  The fossil fuel accounts for roughly 40% of the country's electricity generation, down from 45% in 2009. With the shale boom causing gas supplies to swell, prices sank to record lows and spurred utilities to use more natural gas to generate electricity.
Many companies, most notably Patriot Coal, have turned to bankruptcy amid the industry's struggles. Meanwhile, shares of coal miner Peabody Energy (NYSE:BTU) are down 17% over the last year.
"It's probably not a death knell, but definitely more bad news," Jim Fielding, a senior director at Standard & Poor's, said of the EPA proposal. "The environment is very tough for coal miners in the U.S. They're facing a lot of challenges. One of them is the regulatory environment, and also natural gas."
Many states like Indiana and Kentucky still count on coal to provide more than three-quarters of electricity, in addition to thousands of mining jobs. The Energy Information Administration, a division of the EPA, has projected that coal will account for 32% of U.S. electricity by 2040.
The EPA believes its proposal, which was announced on Monday, will bring coal's share of the electricity market to 30% by 2030.
"We were just starting to see signs of demand picking up. That basic trend is going to reverse if these rules survive," Fielding said.
Under the draft rule, states will be required to lower carbon emissions by a combined 30% from 2005 levels. Using an earlier base year eases the path to compliance, since the actual reduction would be smaller than if the EPA had sought a 30% cut from more recent levels.
States must submit plans by June 2016 but have the option to extend that deadline by one year. The EPA proposal, which is slated to be finalized next year, sets emissions goals for each state and provides guidelines for developing and implementing reduction plans.
Some states, including Washington, Oregon, Arizona and South Carolina, were given higher reduction targets compared to others. Those targets are subject to change.
The EPA suggested that states could meet reduction targets through more renewable-energy generation or programs that increase energy efficiency, among other options.
Analysts widely expect the final rule to give states the option of joining or creating cap-and-trade programs, which allow companies to trade credits for emissions. The draft released on Monday does not discuss that possibility.
"There are no commercially viable [carbon capture and storage methods]. That's why we expect cap-and-trade," said Michael Ferguson, an associate director at S&P who covers merchant energy producers.
After cap-and-trade legislation was defeated by Congress in 2010, President Barack Obama directed the EPA to work on rules that would regulate carbon dioxide emissions. The EPA opened the door to regulating carbon in 2009, when it declared that "greenhouse gases" are harmful to human health and the environment. As a result, the EPA has sought to reduce carbon emissions through the Clean Air Act.
Legal challenges to the Obama administration's carbon rules are widely expected, with opponents of the move arguing the Clean Air Act was not passed to regulate carbon emissions.
In April, the Supreme Court gave the green light to the Cross State Air Pollution Rule (CSAPR) -- referred to phonetically as "Casper" -- after the rule was struck down by lower courts. CSAPR seeks to reduce nitrogen oxide and sulfur dioxide emissions.
Ferguson said it remains unclear whether the new EPA proposal will see implementation in its current form. The comment period and legal challenges "could affect the implementation and structure" of the rule.
"What we do know is the Casper rule was a significant step. It was an endorsement of the EPA and its regulatory authority," Ferguson explained.
In a note to clients sent before the EPA draft was released, Morgan Stanley analysts said they expect litigation to challenge what could be seen as a broad interpretation of the Clean Air Act.
"Depending on the makeup of the government post-2016, Congress could be in a position to introduce carbon legislation," the analysts added.
Criticism from Coal and D.C.
The proposal received sharp criticism from Republicans and coal-state Democrats on Capitol Hill.
Senator Joe Manchin (D-W.Va.), issued a statement saying the EPA's proposal shows "little regard for rising consumer prices, the effects on jobs and the impact on the reliability of our electric grid." Manchin also cited data from the Energy Information Administration, which has forecasted that coal will account for nearly a third of electric generation through 2040.
In an interview with FBN's Rich Edson, Senate Minority Leader Mitch McConnell (R-Ky.) said the latest effort to restrict carbon emissions is "bound to be challenged in court."
"My point is, why did they think it took legislation in 2010 and it doesn't take legislation now?" McConnell asked. "This is the kind of executive branch overreaction to everything, and the belief that they can do anything by themselves."
Peabody Energy also came out swinging. The St. Louis-based company called coal "the most reliable and affordable baseload fuel," adding that coal provided 90% of America's increased electricity needs during the cold winter months.
"Energy inequality in the U.S. is an enormous challenge, and access to low-cost energy is a basic need. Yet proposed regulations will make energy more scarce and more expensive without any material improvement in emissions," Peabody said in a statement.
Peabody offered an alternative policy path that would increase investments in energy efficiency and promote research and development toward new coal technologies like carbon capture.
Future for Utility Bills?
S&P's Jeffrey Panger, who covers public sector utilities, noted how companies will have less flexibility to manage volatility in energy prices without coal to fall back on.
He also said rate increases in the past have been fairly manageable, but unlike other emissions, there is no commercially viable way to remove carbon. Under a cap-and-trade system, companies would then be required to pay for excess carbon emissions.
"We'll probably see more coal retirements and an increased move toward natural gas and renewables to meet reductions," Panger added. "Overall, the impact is going to be fairly significant in terms of their ability to balance out fuel diversity."
Utilities and their customers are keeping a close eye on carbon regulations. The EPA believes electricity rates will decline 8% by 2030 if its proposal moves forward, but higher costs for utilities and a heavier reliance on natural gas could create upward pressure on energy prices and electricity bills.
"There will likely be cost recovery through rates," said S&P director Gerrit Jepsen, adding that utilities could turn to mergers in order to spread out operating costs.
The S&P analysts said it remains too early to determine if the carbon regulations will have a negative impact on credit quality for utilities and miners.
Prior to the proposal's release, the U.S. Chamber of Commerce warned of heavy costs to the EPA's carbon rules, saying they would cost the economy an average of $51 billion and 224,000 jobs a year through 2030. The group also sees up to $28.1 billion a year in costs for utilities and customers.
The EPA is projecting compliance costs of $8.8 billion a year by 2030, under the assumption that energy consumption will decline.
Analysts at Goldman Sachs suggested the direct economic effects of compliance "do not appear to be large." In a note sent to clients on Wednesday, the investment bank said utility-related construction and equipment investment, as well as a rise in retail utility prices, should help offset a GDP decline of 0.1% or less.
However, Goldman Sachs also expects much of the costs to get passed down to consumers.
"Regulated utilities are typically able to pass through the costs of complying with environmental rules to rate paying consumers," the analysts wrote. "Some of the higher utility costs could be passed through indirectly through higher prices for other goods and services, which would increase the effect somewhat."