Clooney to Sony: Release 'The Interview' Online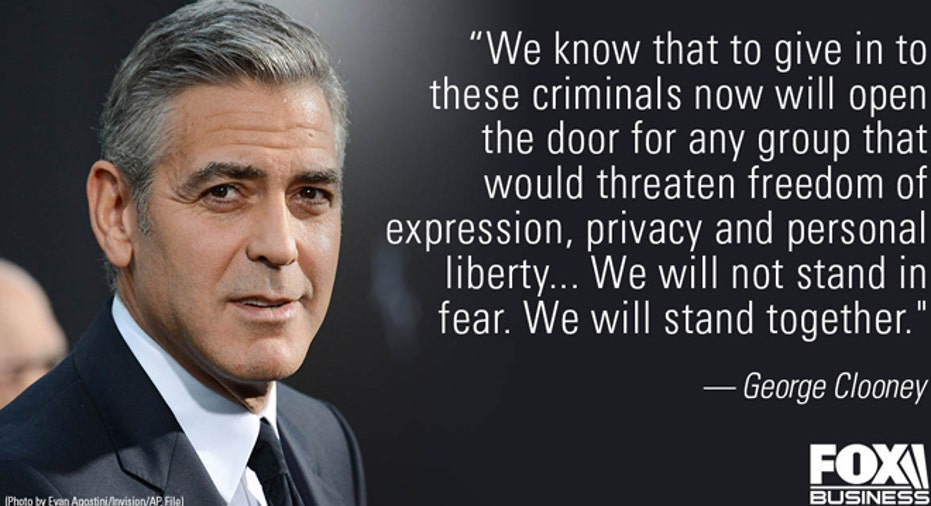 Sony's decision to cancel "The Interview" in the face of terrorist threats is already affecting the way Hollywood does business. It has outraged artists, killing their faith in studios to release edgy content. But it's also inspired a rare hush across a usually chatty industry as everyone from moguls to makeup artists takes stock of the scandal and how it could affect their jobs.
Actors, filmmakers, politicians and pundits roundly denounced Sony's decision on Wednesday to nix "The Interview" in response to theater owners' refusal to show the Christmas release in light of threats invoking 9/11. But after venting on social media, Hollywood mostly went quiet.
Gore Verbinski said Wednesday that Fox pulled out of plans to support his North Korea-set thriller, but his representative didn't respond to inquiries Thursday. Theaters that arranged to screen 2004's "Team America: World Police" in place of "The Interview" announced Thursday those showings had been canceled, but the studio behind the film, Paramount, declined to comment.
Jimmy Kimmel described the move as 'an un-American act of cowardice that validates terrorist actions and sets a terrifying precedent.'
"The Interview" stars Seth Rogen and James Franco as journalists tasked by the CIA with killing North Korean leader Kim Jong Un, who is shown dying in a fiery explosion.
"Sad day for creative expression," Steve Carell tweeted after its release was canceled. Jimmy Kimmel described the move as "an un-American act of cowardice that validates terrorist actions and sets a terrifying precedent."
As if the industry needed more reasons to drive people out of theaters. This action comes as Hollywood is already struggling against the lure of top-notch home entertainment systems amid rising ticket costs, notes Todd Boyd, film and culture professor at the University of Southern California.
Amplifying this challenge, artists could increasingly turn to the web as a way to distribute content without studio interference. Lizz Winstead, a creator of "The Daily Show," suggested the creative community may have to go even further.
"Do performers and artists need to start buying theaters so we aren't beholden to the multiplexes now?" she asked. "I feel like if this is the message from the studios, what is going to be the action for all of us who see how profoundly we can all just be cut off at the knees."
George Clooney says Hollywood's creative community should take action now by pushing for the immediate release of "The Interview" online.
"We should be in the position right now of going on offense with this," Clooney told the trade site Deadline on Thursday. "I just talked to Amy (Pascal, Sony Pictures co-chair) an hour ago. She wants to put that movie out. What do I do? My partner Grant Heslov and I had the conversation with her this morning. ... Stick it online. Do whatever you can to get this movie out. Not because everybody has to see the movie, but because I'm not going to be told we can't see the movie.
That's the most important part. We cannot be told we can't see something by Kim Jong Un, of all f---ing people."
Silencing creative expression in response to terrorists' demands stifles the very thing art seeks to explore, Winstead said.
"So now, creatively, when we can't respond as a catharsis, as a reflection of where society's at, because somebody can intimidate the creative process, what are we gonna be stuck with?" Boyd, however, said it was naive of Sony to proceed with the film without expecting some blowback from the North Korean government. Free speech is an American value, he said, not a North Korean one.
"It's provocative to make a film where a living figure is assassinated, in spite of what you may think about that figure," Boyd said. "To do so in a comedy seems especially arrogant and inconsiderate and naive, and as it turned out, Sony had to pay the price for making a bad decision."
Other studios are likely to carefully consider films that take swipes at the reclusive nation, he said. Oscar-winning screenwriter Aaron Sorkin blasted the studio and the media at large for their reactions to the Sony hack.
"Today the U.S. succumbed to an unprecedented attack on our most cherished, bedrock principle of free speech by a group of North Korean terrorists who threatened to kill moviegoers in order to stop the release of a movie," he said in a statement Wednesday. "The wishes of the terrorists were fulfilled in part by easily distracted members of the American press who chose gossip and schadenfreude-fueled reporting over a story with immeasurable consequences for the public."
Of course, the most damaging corporate hacking in American history has implications far beyond Hollywood. Is it OK to joke about it?
"'The Interview' is now poised to shatter the world record for 'spite viewings,'" comedian Patton Oswalt wrote on Twitter. He later added: "All joking aside, we just gave a comfy foothold to censorship & it doesn't get any better from this point on."