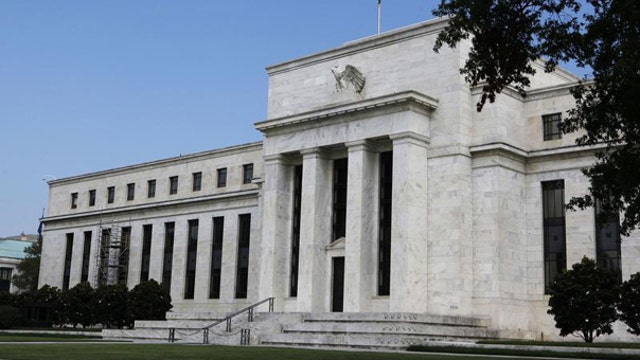 The Dow Jones Industrial Average hit a new intraday high of just over 17,167 on Tuesday, and came very close to hitting a new record close.
The reason for that move? The markets got a pop today after the Wall Street Journal's top Fed watcher and FBN contributor Jon Hilsenrath shed some light on what language he expects the fed to use when it releases its interest rate decision at 2 p.m. ET on Wednesday. Hilsenrath says it is unlikely the Fed will remove the phrase "considerable time" when referring to when it might increase rates. But he does expect the central bank to qualify this phrase.
Head to FOXBusiness.com/OnCall to check out the exclusive interview with Hilsenrath.
And what's in a new name? The company formerly known as Clear Channel is getting a makeover. As of today, it will be known as IHeartmedia. Starting on Wednesday, it will begin trading under the ticker symbol "IHRT." In another FOX Business exclusive, Chairman and CEO Bob Pittman spoke about the real source of revenue for the company, and how it is able to compete against Pandora (NYSE:P), Spotify and Apple (NASDAQ:AAPL).
We have all seen the ads -- the racy Carl Juniors ads that feature celebrities like Kate Upton and Paris Hilton. But, is the campaign working? And, does the company occupy the sweet spot between old fast food players and the new ones like Chipotle (NYSE:CMG)? CKE Restaurants CEO Andy Puzder joined FOX Business to talk about how he is handling rising commodity costs and about his feelings on raising the minimum wage.
Now, here is what you need to watch for on Wednesday: All eyes are on the Fed. The policy committee will release its decision on whether to raise interest rates at 2 p.m. ET, and Federal Reserve Chair Janet Yellen will give her news conference at 2:30 p.m. ET.
Be sure to tune into FOX Business for live coverage.
Check out all of today's interviews on FOXBusiness.com/OnCall and watch Countdown to the Closing Bell every week day at 3 p.m. ET.