China eyeing rule change that could aid Tesla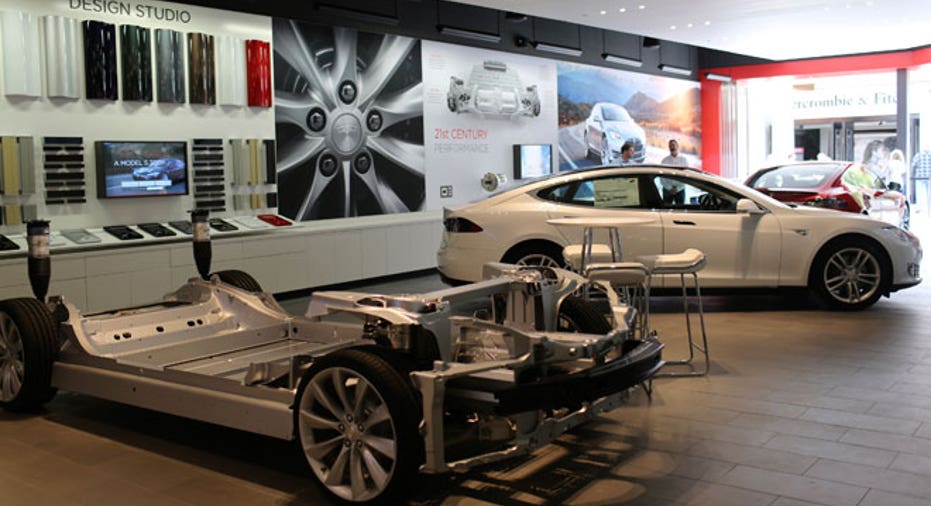 Tesla Inc. (NASDAQ:TSLA) has long dreamed of planting its flag in China, but it now finds itself the only notable auto maker without public plans to manufacture electric vehicles in the world's biggest EV market.
This could be about to change. In recent weeks, Chinese officials have suggested that rules requiring foreign auto makers to have a Chinese partner--a sticking point for Tesla--could be relaxed, according to people with knowledge of the situation.
While there has long been talk of easing these rules, U.S. President Donald Trump's decision last month to launch an investigation into Chinese trade practices likely accelerated discussions, these people said.
Under a draft proposal shared with auto-industry executives, China is preparing to allow foreign companies to manufacture electric vehicles in free-trade zones without a Chinese partner, though the cars would be still subject to import tariffs if sold in the country, the people said. The plans were reported earlier by Bloomberg.
China's commerce ministry spokesman Gao Feng declined to confirm those plans when asked by state-owned broadcaster CCTV at a press briefing Thursday. But he said the government, in the future, would roll back policies limiting foreign investment in EVs, without mentioning joint-venture rules.
Industry watchers said such a change would be a limited concession by China, as long as a 25% tariff on imports remains in force. Last year, in a comparable move, China allowed foreign battery companies to set up wholly owned companies in selected free-trade zones, including Shanghai.
Even so, the development could be significant for Tesla, which analysts said is concerned that a joint venture could compromise its technology.
The Silicon Valley auto maker, led by Elon Musk, is under mounting pressure to open a Chinese base. General Motors Co. (NYSE:GM), Volkswagen AG, Ford Motor Co. (NYSE:F) and many other foreign manufacturers with established operations in China have recently announced plans to begin or substantially increase electric-car production here as Beijing moves to phase out traditional gas and diesel vehicles.
Tesla said in June that it was talking to Chinese authorities about building a factory in Shanghai and that it hoped to have an announcement within 2017. On Friday, Tesla said it had no comment beyond that statement.
Analysts said Tesla appeared to be holding back on manufacturing plans in hope that China would ease rules require foreign auto makers to set up 50-50 joint venture if they want to build cars here.
The free-trade-zone plan for electric vehicles would be more cosmetic than a game changer for many companies, said Jing Yang, an associate director at Fitch Ratings. Companies operating in those free-trade zones will almost certainly still incur a 25% tariff levied on imported cars and not qualify for China's generous EV subsidies, Ms. Yang said.
But that may be less of an issue for Tesla, a luxury brand with unquestioned cachet here. Even with the tariffs, Tesla sold about 11,000 cars worth over $1 billion here in 2016--enough to make China its second-largest market, after the U.S.
That figure is dwarfed by the market potential, however, with Beijing targeting 7 million electric-car sales in 2025, and 15 million in 2030.
Other foreign auto makers are overcoming their concerns about intellectual-property protection by building entry-level EVs with no cutting-edge technology. GM, for example, just launched its first pure-electric car for China, the Baojun E100, with a $5,300 price tag. Its premium U.S. offering, the Chevrolet Bolt, is unavailable here.
But Tesla doesn't make low-end vehicles. Even the $35,000 Model 3 would be one of the priciest electric models in China.
At the same time, Mr. Musk has long hoped to set up shop in China, having first discussed plans for a Chinese plant in Beijing in 2015. He most recently visited China in April to meet top officials.
In March, Mr. Musk gained a powerful friend in internet giant Tencent Holdings Ltd.--which bought a 5% stake in the company for $1.8 billion--creating an alliance that could help smooth talks with Chinese officials.
A representative of one foreign car company cautioned that Chinese officials had been discussing the potential reform for months, adding that "there's really nothing on the table yet."
Even with the rule change, this person added, foreign auto makers already established in China wouldn't abandon their existing joint ventures, which they have invested heavily in and spent many years building.