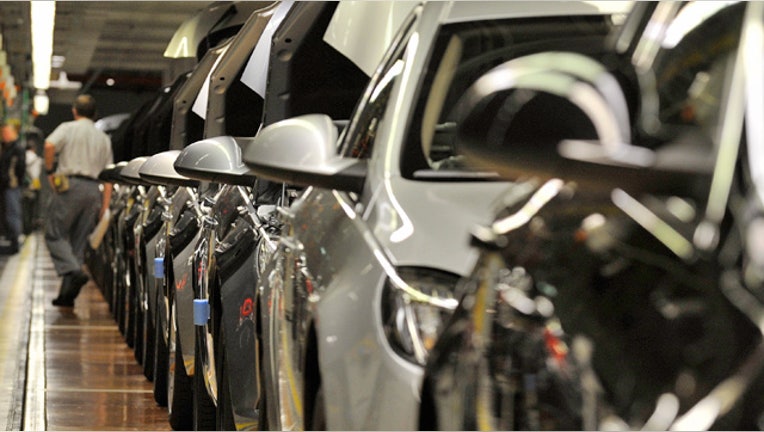 General Motors (NYSE:GM) revealed Thursday that its newest electric vehicle, the Chevrolet Spark, will cost 38% less than the larger Volt hybrid, beating most of its competitors on price.
The Spark will sell for as low as $19,995 after taking into account a federal tax credit of $7,500, the automaker said. Chevrolet's Volt, which launched in the fall of 2010, sells for about $32,500 including the tax credit.
When the 2014 Spark EV goes on sale next month in California and Oregon, it will become one of the least expensive electric cars on the market. Nissan's all-electric Leaf has a price tag of $28,800 before federal tax savings, while Toyota's plug-in version of its Prius starts at $32,200.
California residents who purchase the Spark EV could qualify for an additional $2,500 in state tax credits and incentives, according to GM. The car will also lease for as little as $199 a month for 36 months with $999 due at signing.
"The Chevrolet Spark EV is the most efficient—and now one of the most affordable—EVs you can buy," Chris Perry, GM's vice president of Chevrolet marketing, said in a statement.
GM has said the Spark EV will have the ability to travel twice as far on a single charge than the plug-in hybrid Volt can go on just its electric power.
The Spark EV's combined city and highway range of 82 miles, according to estimates from the U.S. Environmental Protection Agency, is more than double the Volt's 40 miles on an electric charge. The Spark EV also has a gas-equivalent rating of 119 miles per gallon on a combined city/highway basis.
Chevy's Spark is the latest offering from GM that incorporates electric technology. In gasoline vehicles, GM started an eAssist system that uses a compact electric motor and lithium-ion battery to visit fuel efficiency. The company in April introduced the Cadillac ELR, a plug-in coupe that is set to hit showroom late this year.
By 2017, GM expects to build up to 500,000 vehicles a year that include some form of electric engine power.
Shares of GM were down 1.26% at $32.81 in late morning trading.