Chevrolet Gives Malibu More Firepower in Sedan Battle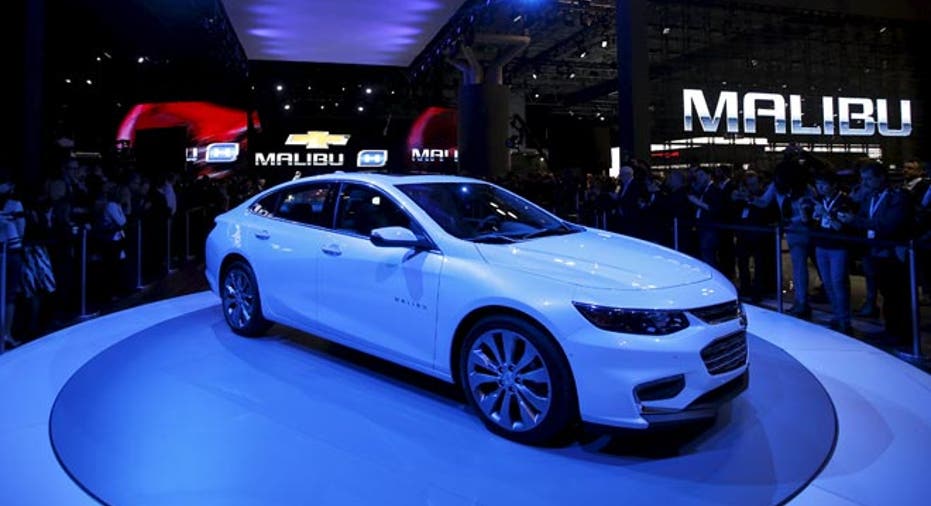 General Motors (NYSE:GM) wants a bigger piece of midsize car sales, and the automaker is giving the Chevrolet Malibu more firepower to do it.
Japanese rivals have long maintained a stranglehold on the segment. Toyota's (NYSE:TM) Camry has been the best-selling passenger car for 13 consecutive years. The Honda (NYSE:HMC) Accord is No. 2 among midsize sedans, followed by Nissan's Altima.
GM is determined to up its game in the segment. Chevrolet sold 188,519 Malibus last year, good for sixth place. Malibu sales were down 6% in 2014, while Chevrolet sold 4.4% more vehicles overall.
While the company isn't predicting a first-place victory, GM believes the Malibu will win over more car buyers when the 2016 model goes on sale late this year.
"We're not in it to tread water," said Steven Majoros, Chevrolet's marketing director for cars and crossovers. "If this is a race, we're coming around hot on the outside, and I think we'll pass some people."
The 2016 Malibu, introduced at the New York International Auto Show, got a new sleek look with a sloping roofline. Chevrolet said the Malibu is slightly longer than its predecessor, offering more interior room, but the sedan still lost 300 pounds.
A new turbocharged four-cylinder engine will help the Malibu get improved fuel economy. GM estimates fuel economy of 37 miles per gallon, up 1 mpg over the current model. The Malibu is also getting a hybrid model, which GM expects to get 47 mpg combined.
GM is "bringing the kitchen sink" of technology and safety features, Majoros added. Teen Driver, a new feature from GM, will let parents view their children's driving habits. Parents can also enable speed warnings and set limits on sound volume.
The Malibu will continue to offer 4G LTE wireless Internet, consistent with the rest of Chevrolet's lineup.
Jessica Caldwell, a senior analyst at Edmunds.com, sees the 2016 Malibu as an improvement in most areas.
Midsize car buyers "tend to be more rational about their purchase," Caldwell said. "The Malibu checks off many of those boxes."
Car Sales Fading
But there's one issue that complicates matters for all competitors in the segment. Car sales have taken a back seat to sport-utility vehicles, a growing segment where automakers are benefiting from a consumer shift to crossovers.
According to research firm Autodata, U.S. sales of passenger cars are down 0.2% so far this year. Meanwhile, sales of light trucks, including SUVs, pickups and vans, are up 11%.
Toyota has bucked the trend in 2015, recording a 6.6% increase in Camry sales to 100,505 vehicles. Yet Ford Motor Co.'s (NYSE:F) Fusion sedan has posted sales of 71,470 units through March, down 7.9% year-over-year. The Accord is having a worse year, as sales have dropped 13% to 68,645 vehicles. Malibu sales are down 12% at 42,401.
Despite shrinking sales, midsize cars represent a massive segment that attracts consumers looking for both interior space and fuel economy.
"There's room for everyone" in the segment, Caldwell said. "It's just a question of how big a piece of the pie you're going to get."
After redesigning most of its headline vehicles over the last two years, moving onto the Malibu is the next step for GM as it tries to maintain Chevrolet's momentum. On Tuesday, GM announced Chevrolet first-quarter deliveries in the U.S. climbed 5%, driven mostly by trucks and crossovers.
GM, which will report earnings Thursday, said global sales rose 1.9% to 2.42 million vehicles. Volkswagen edged GM with sales of 2.49 million, up 1.8%, while Toyota will release sales figures next week.
Something to Prove
Chevrolet has revamped several important vehicles over the last two years, including the Corvette, Impala, Tahoe and Suburban. The sixth generation of the Camaro, Chevrolet's iconic muscle car, is scheduled for a reveal next month.
Towering over all those nameplates is the Silverado, perhaps the most important vehicle on dealer lots. Pickup trucks are highly profitable for manufacturers like GM, which rolled out a new Silverado and GMC Sierra for the 2014 model year. GM also revived the Chevrolet Colorado and GMC Canyon mid-size trucks last fall.
"I love trucks. They are a huge part of our portfolio," Majoros said, "but I like to say it casts a large shadow over our entire portfolio. It puts doubts on our ability to follow through on cars."
Majoros conceded Chevrolet has "made some missteps" in the past, but he said Chevrolet has learned valuable lessons from launching other cars like the Impala and the compact Cruze. For one, Chevrolet is putting emphasis on the parent brand. When people buy a Malibu, they are buying into the Chevrolet brand.
GM also needs to release a perfect car right out of the gate, Majoros added. The current Malibu received an update mid-cycle for the 2014 model year. GM added rear leg room, among other features, in response to customer feedback.
"When you can deliver outstanding design, quality, technology and safety features, we're pretty bullish on the future of the Malibu," he said.
So can the 2016 Malibu put Chevrolet back on the map for family sedans? Sales growth should be an attainable goal, although breaking up the Japanese stranglehold will be a difficult task.
"The Camry and Accord have such a dominant presence that people return to those products without much regard for anything else," Caldwell said.