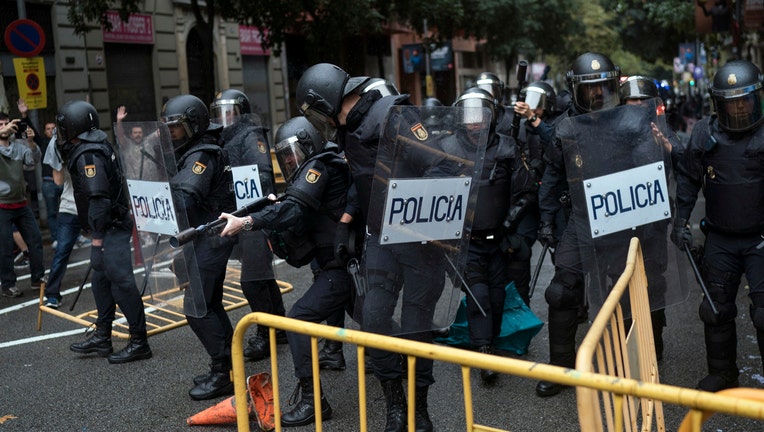 The leaders of Catalonia said voters in the restive Spanish region voted overwhelmingly in favor of independence on Sunday in a referendum that was boycotted by opponents and marred by violence, putting Spain on the brink of a political and constitutional crisis.
Catalan leaders said preliminary results showed that 2.02 million votes, or about 90% of the total, were cast in favor of a split with Spain. Those ballots represent about 40% of voters Catalan authorities declared eligible for the referendum, which was outlawed by the central government in Madrid as unconstitutional.
Many opponents of independence, or those who felt the referendum was illegitimate, boycotted the vote, which likely skewed the results in favor of a "yes" vote. Catalan authorities proceeded with the ballot in defiance of Madrid, which sent in thousands of extra security forces to Catalonia, triggering stark scenes of police battling civilians on Sunday. The clashes left 844 people injured.
Shortly before the results were announced, Catalan President Carles Puigdemont said he would set in motion a potential secession based on the results. "Catalonia's citizens have earned the right to have an independent state in the form of a republic," Mr. Puigdemont said in a televised address.
In the next few days, he said, the Catalan government will send the results of the vote to the parliament, paving the way for a declaration of independence. Separatists have a majority in Catalonia's parliament.
A unilateral declaration of secession by Catalan officials could trigger Prime Minister Mariano Rajoy to invoke constitutional laws and revoke Catalonia's autonomy -- the first-ever use of those powers and a move that could precipitate a full-blown political crisis. Mr. Rajoy, a conservative, would face pressure from hard-liners in his party to strip Catalonia of its autonomy. That would at least involve replacing some or all of the members of the government in the region, which has considerable powers and oversees its own police force and health and education systems.
Mr. Rajoy, head of the center-right Popular Party, has a voter base that largely supports a tough stance against attempts by Catalonia to split with the rest of the country, a sentiment that is likely to have deepened after Sunday's events. Still, he heads a fragile minority government and the scenes of injured voters threaten to sap some of his political support. Sunday's events have hardened positions across the political spectrum, leaving Mr. Rajoy little room to summon the political support to broker a solution to the crisis.
"It would have been easier for everyone to turn a blind eye while they carried out a serious attack on our democracy," Mr. Rajoy said late Sunday before Catalan authorities announced the preliminary results. "We did what we had to do."
The Spanish crisis is also an irritant for other European Union members, many worried that a vote in favor of secession could fuel discontent in independence-minded regions such as the U.K.'s Scotland and Belgium's Flanders. And if it distracts Mr. Rajoy from dealing with economic problems dogging Spain, such as high youth unemployment, it could take the shine off one of the region's brightest recovery stories.
Pro-independence groups defied the Rajoy government on Sunday, opening thousands of polling stations in schools and other local buildings for a ballot on whether Catalonia should break free of Spain.
Starting Friday evening, thousands of referendum supporters -- including families with small children -- occupied more than 1,000 polling stations throughout Catalonia to avoid their closure for Sunday's vote, Catalan officials said. Officials from the central government said the figure was closer to several hundred.
Early Sunday, in Barcelona and a number of towns across Catalonia, officers from Spain's national police forces, dressed in riot gear, forcibly removed people occupying polling stations, using hammers to break down doors as helicopters flew overhead.
Police blocked people from entering some polling stations, forcing their way into the buildings and removing ballot boxes from the hands of volunteer workers, according to witnesses. People outside one building in Barcelona building chanted, "We will vote."
A Catalan official said there were "dozens and dozens" of shootings by Spanish police using "rubber bullets," which seriously injured some people. A Spanish government official said police fired "rubber pellets" in what the official described as an "isolated incident" when police felt threatened.
Mr. Puigdemont denounced "police brutality" on the part of the national police. Catalan officials said national police officers broke the fingers of one woman. Television images showed police throwing another woman down the stairs of one polling station and attempting to drag another person by her hair.
"The unjustified, unchecked, irresponsible violence by the Spanish state today didn't just fail to stop Catalans' will to peacefully and democratically vote," Mr. Puigdemont said. It also made clear "what is at stake for us," he said.
Long queues began forming before dawn at schools and other designated polling centers through the region. Despite the fact that the central government had seized about 10 million ballots and other voting material, workers had piles of blank ballots ready to give to those who arrived to vote. Catalan officials said about 2,000 polling stations were open to voters. In a number of cities, lines of voters snaked around city blocks.
"This is a lifelong dream come true for me," said Josep Navarro, a 37-year-old teacher, who turned up at 7 a.m. to vote at a polling station in Tarragona, a small Catalan city. "Casting the vote gave me a wonderful feeling....Changes take time. It won't be tomorrow, next month or year, but in a few years we'll be independent."
The large number of polling stations open for voters raised questions about the cooperation of Catalonia's 17,000-strong regional police force, the Mossos d'Esquadra. Mossos officers were seen doing nothing to stop voters waiting outside a number of polling stations in several Catalan cities.
Enric Millo, the central government's top official in Catalonia, said Spain's two national police forces, the Civil Guard and the National Police, took action to forcibly remove voters and confiscate voting materials after the Mossos didn't fully follow court orders to close polling stations.
The Mossos answer directly to the Catalan interior minister, who, like the rest of the regional government, supports independence. A spokesman for the Catalan government said, "As always, we follow court orders."
For Mr. Rajoy, Sunday's vote is damaging because the Catalans managed to pull off a large-scale ballot -- despite aggressive judicial and governmental actions over the past month to halt it -- and also won sympathy due to the police crackdown. "It's kind of the worst of all possible worlds for the central government," said Federico Santi, a Eurasia Group analyst.
Marc Quintana, a 34-year-old carpenter who was forcibly removed by police in Sant Julià de Ramis before he could vote, said, "The only thing this will do is make those undecided people vote 'yes' to independence."
The Catalan leadership "has been instilling hate in young people," said Juan De La Torre, a 47-year-old Barcelona resident. "I don't agree with police action, but the vote was illegal."
Mr. Rajoy defended the response of Spanish police and his tough stance on the vote. "As prime minister, my principal obligation is to enforce the law and ensure it is enforced; protect and guarantee democracy, but also protect coexistence and harmony," Mr. Rajoy said Sunday.
At the same time, Mr. Rajoy may lack the parliamentary support he would like to move ahead with revoking Catalonia's autonomy. Mr. Rajoy -- who relies on external support from smaller parties to pass legislation -- was unable to pass his 2018 budget because Basque nationalist lawmakers, whose votes have been crucial for the prime minister, said they would withhold their support while the Catalan crisis unfolds.
"This is bad for the resolution of the clash, because the more entrenched it becomes, the harder it is to find a resolution," said Antonio Barroso, a political analyst at Teneo Intelligence, a consulting firm.
One wild card is the separatists themselves. Despite fiery rhetoric in favor of secession by some leaders, the movement is divided as to whether to move ahead with a unilateral declaration of independence.
Should the crisis drag on, Mr. Rajoy could decide to call early elections. Some opposition parties were already calling for his resignation Sunday evening.
"Today Mariano Rajoy should resign," said Ada Colau, mayor of Barcelona and a member of a leftist party that is in opposition to Mr. Rajoy's center-right Popular Party. "If he doesn't I think it is everybody's duty to call for fresh elections."
Kavita Mokha, Marina Force and Oliver Griffin contributed to this article.
Write to Jeannette Neumann at jeannette.neumann@wsj.com and Jon Sindreu at jon.sindreu@wsj.com