Candy Stores Take On Recession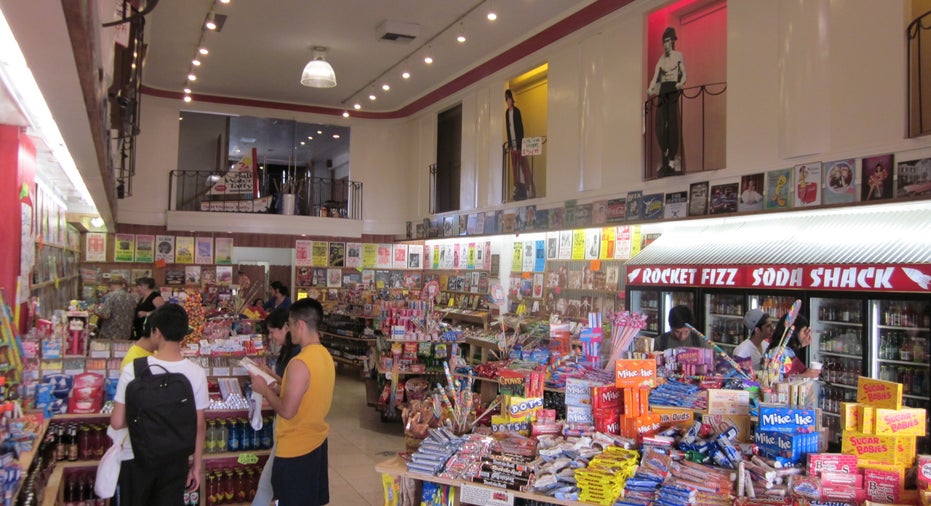 Opening a candy store in a recession may seem like a tricky proposition, but some California-based entrepreneurs might have found a sweet spot in a sour economy.
While California's unemployment remains at a staggering 11.9%, the second highest in the nation, consumers may be cutting back but they are still satisfying their sweet tooth.
Laura Reyer, the owner of Carlsbad Chocolate Bar in Carlsbad Calif., opened for business in 2008, right in the height of the financial collapse, but that might have been to her advantage.
"There was a lot more competition five years ago that there is today," said Reyer, who was able to move the business to a better location in July because of the weak demand in commercial real estate. She also expand her offerings beyond chocolate to products like espresso drinks, gift baskets as well as retailing wine.
To keep people interested in her products all year round, she creates seasonal products. Right now, she called autumn latte and desserts her "sweet spots."
While homemade turtle candies, toffee sticks and peanut butter cups are best sellers all year round, Reyer tries not to rely on the same products to bring in revenue and is constantly looking to add her to selection.
Carlsbad Chocolate Bar is open seven days a week from 9am until 10pm; she gets the coffee crowd in the morning and the late-night candy cravings as well.
"It's important that your customer service [is strong] and that you are able to provide different options," said Reyer. "I am not a chain, and I can be flexible and providing different things that are interesting and attractive to customers that come in."
Conventional thinking might lead on to think that candy-based holidays like Halloween are a boon to a candy business, but that's usually not the case.
Rocket Fizz, a soda pop and candy franchise that opened in 2009,  does not experience a bump in business in October according to Co-Founder Robert Powells.  He said, "It's not a huge month but it's basically an average month for us. Right before the end of the month, we have a decent upsurge."
Rocket Fizz Founders Ryan Morgan and Robert Powells have opened 20 stores since 2009, quite a feat when consumer spending and sentiment remains weak.
The pair said their success secret is their uniqueness and the concept itself. Rocket Fizz bottles, manufactures and imports most of its products. Its true growth began when the business got franchise approval in 2010.
"We create our own soda pop labels and brands and sell them to other stores as well," said Powells. "It is a unique industry to break into. That has been a big part of our growth, the uniqueness."
Rocket Fizz usually rolls out five products a month. For Halloween, it introduced pumpkin soda.
Morgan said that Halloween presents new opportunities for creativity, but is selective with what they carry since any holiday-specific products become discounted come Nov. 1.
We have crazy flavors of high-quality taffy and we do candy corn and pumpkin taffy, which is popular this time of year," said Morgan.
Rocket Fizz aims to identify candy and beverage trends in their early stages, and wants to be a trailblazer in the soda pop industry.
Powells said that investing time and money into creating trends "is the most fun part of the business." Rocket Fizz is trying to "sell fun" according to Morgan, but his hours might be anything but.
Both Powells and Morgan put in 70-80 hours a week to finding the perfect recipe for success. Yet, despite the continued success of the company, Powells said that banks have not been open to extending credit and "personal sacrifices" have to be made in order for a business to thrive now.
"[Business owners] need to go in better capitalized and really understand what they are getting themselves into, said Morgan. "It's all about passion and believing in yourself."