Can We Talk...About The Joan Rivers Auction for Charity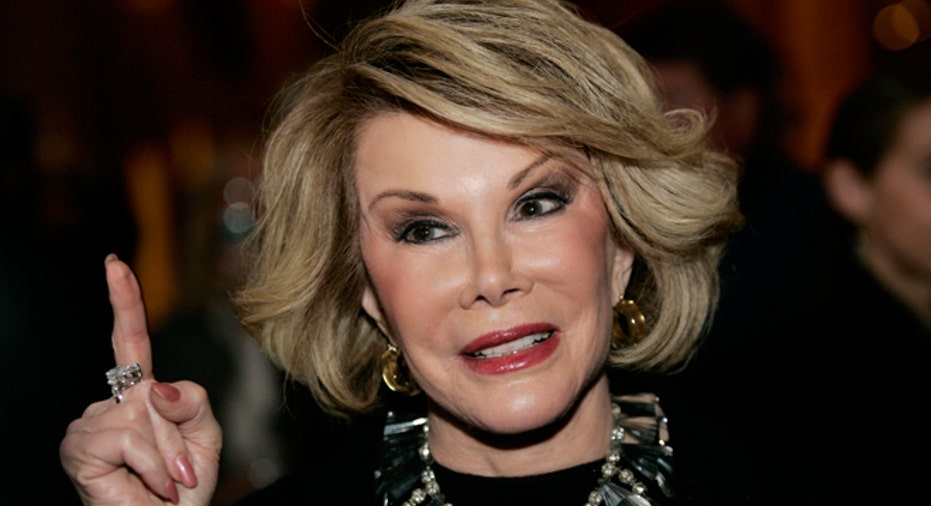 Personal items from the Manhattan Upper East Side estate of  late comedienne Joan Rivers are set to be auctioned off with a portion of the proceeds going to charity.  Expectations are for the auction to bring in at least $1.5 million.  The auction, conducted by Christie's, includes everything from furniture to handbags, gowns and even jewelry from Rivers' vast collection.
Rivers' daughter, Melissa, explained how she decided what to offer up for auction, and what to keep as mementos of her mother's life.
"The things that were most important to me were things that people wouldn't want in the auction.  You know, things from her night stand, etc," Melissa said.
A portion of the proceeds from the auction will go to benefit two charities. The first, God's Love We Deliver, a New York-City based organization focused on providing meals to individuals too sick to shop or cook, and the second, Guide Dogs for The Blind. It seems fitting one of the more unique items on the auction block is a Tiffany dog bowl. Spike, whose name is engraved on the bowl, was one of Rivers' beloved dogs.
Christie's Deputy Chairman Jonathan Rendell explained the factors involved in deciding how to price Rivers' belongings.
"With sales like this, we price them at what we think the market price is.  We don't put in the celebrity factor.  You can't really factor that in, but it always seems to have a huge effect," Rendell said.
According to him, the item that could fetch the biggest price tag is a diamond brooch.
"I think that the big diamond brooch is something that people are really going to go for, Harry Winston, designed by Joan Rivers, it's a very personal object for her," Rendell said.