Can Tesla's Affordable Model 3 Stay Ahead of Challengers?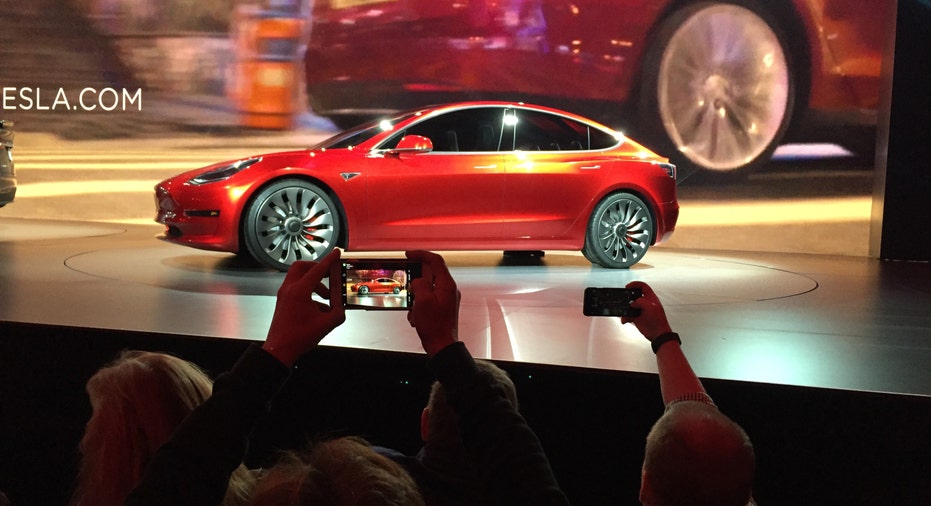 Tesla's (NASDAQ:TSLA) Model 3, its cheapest car to date, will face greater competition when it arrives next year.
Tesla offered a first look at the lower-priced sedan during an event at the electric car maker's Los Angeles design studio Thursday night. Analysts have been closely watching the development of the Model 3, which is seen as the key to Tesla's plan to hit a sales target of 500,000 cars annually by 2020. Tesla also sees the Model 3 as paving a road to profitability. Despite stronger sales, the company's annual loss tripled to $900 million in 2015.
The Model 3, priced at $35,000 before tax incentives, is a big bet that a long-range electric car can gain mass acceptance. A prototype unveiled by CEO Elon Musk has five seats, a panoramic glass roof and Tesla's large touchscreen in the center console. The Model 3 will also include semi-autonomous driving capabilities. Musk said a single charge will allow the Model 3 to travel at least 215 miles.
In just 24 hours, Tesla received 115,000 orders from customers who placed a $1,000 deposit to reserve a Model 3.
If the Model 3 is now on your shopping list, you'll have to be patient. Tesla has begun accepting deposits, but the Model 3 won't go on sale until late 2017. Musk said he feels "fairly confident" in Tesla's timeline.
By the time Tesla kicks off sales, competing automakers will have their own affordable, long-range electric cars to rival the Model 3.
Rival Cars
For one, take the Chevrolet Bolt from General Motors (NYSE:GM). When it goes on sale later this year, the hatchback will have a price tag of $37,500 before a federal tax credit worth up to $7,500. The Bolt is estimated to sport a range of at least 200 miles, and it will be packed with technology including built-in 4G LTE WiFi, a 10.2-inch display and both Apple (NASDAQ:AAPL) CarPlay and Android Auto.
Customers will also have access to a slew of Chevy dealers and service centers. Chevrolet counts 3,000 stores in its U.S. dealer network, compared to just 100 Tesla locations.
| Ticker | Security | Last | Change | Change % |
| --- | --- | --- | --- | --- |
| TSLA | TESLA, INC. | 672.37 | +8.83 | +1.33% |
| GM | GENERAL MOTORS CO. | 58.94 | +0.29 | +0.49% |
| F | FORD MOTOR CO. | 11.80 | +0.06 | +0.51% |
| TM | TOYOTA MOTOR | 153.61 | +0.72 | +0.47% |
Meanwhile, Toyota (NYSE:TM) is reintroducing a plug-in hybrid to its Prius lineup with the 2017 Prius Prime. At the New York International Auto Show last week, Toyota said the Prius Prime will get an equivalent of 120 miles per gallon, which would lead the industry. Sales are slated to start later this year. In the fall, Hyundai will begin selling the Ioniq, which has an electric range of 110 miles.
The Tesla Model S and Model X, the company's current sedan and crossover, have largely enjoyed little direct competition as all-electric luxury cars. The Model S starts at $71,000, although analysts believe both vehicles sell for around $100,000 on average. By offering a more affordable car in the Model 3, Tesla will take on mainstream brands like Chevrolet and Toyota.
But Musk has shrugged off competition from the likes of the Bolt and Prius, saying the Model 3 will join its Tesla siblings in the luxury market. Musk suggested the Model 3 will be playing in the same sandbox as premium compact cars such as gas-powered offerings from BMW and Audi. The base 2016 BMW 3-Series starts at $33,150, while the 2017 Audi A4 costs at least $37,300.
Tesla Enthusiasm
Another factor in Tesla's favor is the enthusiasm that has engulfed the upstart automaker. Tesla, which doesn't spend on traditional advertising, has built an ardent following mostly by word of mouth, new technology and headline-grabbing features like "Ludicrous Mode."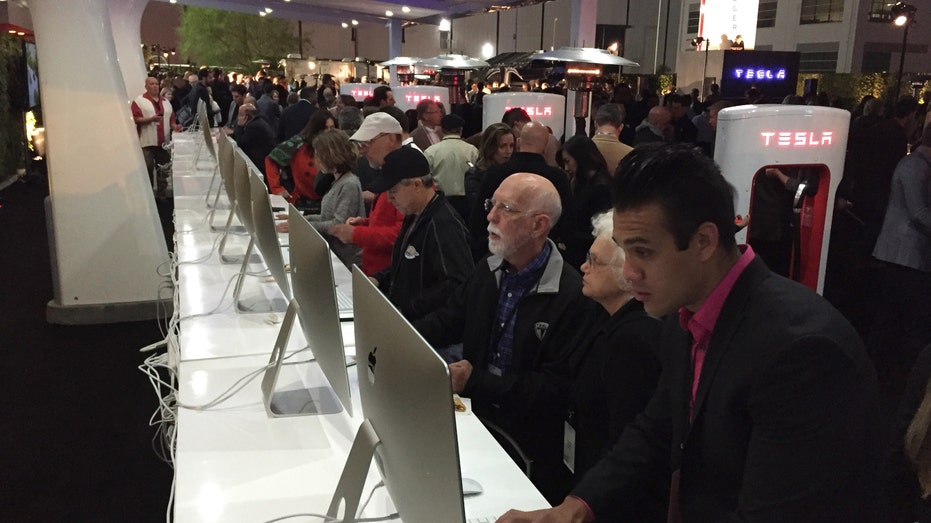 Jessica Caldwell, director of industry analysis at Edmunds.com, said customers have shown a willingness to give Tesla some leeway until the automaker can increase its retail footprint. On Thursday, Tesla said it plans on doubling its worldwide store count to 441 by the end of next year. Tesla's plans also include doubling its Supercharger stations to 7,200.
Also, Tesla has continued to report sales growth during a period of cheap gas. With gas prices down and consumers flocking to SUVs, electric and hybrid vehicles held a smaller U.S. market share of 2.3% for the first two months of the year, according to Edmunds.com.
"Tesla is a different beast," Caldwell said. She believes customers looking at the Model 3 won't be the type to shop around, at least in the early going. "This kind of enthusiasm can't be sustained forever, but for a few years, it could be."
Similar to Apple iPhone launches, thousands of Tesla fans camped out at showrooms ahead of the Model 3's Los Angeles debut. Early buyers can take advantage of the $7,500 federal tax credit, which is phased out once an automaker reaches a cumulative total of 200,000 in U.S. electric car sales. Tesla could reach that mark within the next three years.
Current Tesla owners and the company's employees will be placed at the front of the line for a Model 3. Production will start with pricier models equipped with more options. According to Morgan Stanley, the first Model 3s to be delivered will likely have price tags of $60,000.