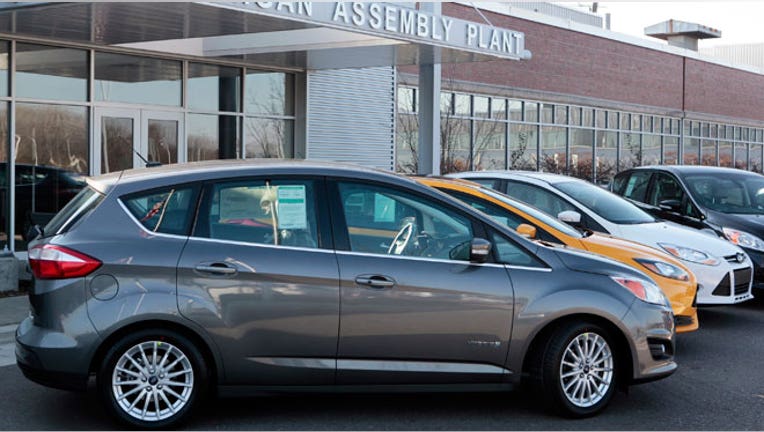 A rumored hybrid from Ford Motor Co. (NYSE:F) could be the automaker's best chance yet to outpace the Toyota (NYSE:TM) Prius.
Ford, the nation's No. 2 seller of cars and trucks, plans to launch a new hybrid gasoline and electric car in late 2018, according to a recent report from Reuters. It would be the company's first dedicated hybrid, rather than an electrified version of an existing model.
Like Toyota, Ford reportedly wants to offer different body styles of the new hybrid, as well as different powertrain options. Reuters said Ford expects to offer a more expensive plug-in model.
The future Ford hybrid would be built on the company's C2 global platform, which will provide the foundation for the next-generation Focus compact car and Escape sport-utility vehicle as well. The hybrid is also expected to outpace the Toyota Prius and other competing models in fuel efficiency and range.
Ford spokeswoman Monique Brentley said the automaker does not comment on speculation about future products. Shares were trading a penny higher at $17.42 on Thursday.
Current sales of hybrid vehicles remain stuck in the mud. Analysts have said high sticker prices are holding back sales, especially when consumers see the improved fuel economy of gasoline-powered cars.
Meanwhile, many automakers are finding it difficult to offer hybrid powertrains and electric vehicles at the right price. During an appearance in Washington, D.C., in May, Fiat Chrysler Automobiles chief executive Sergio Marchionne said he hopes people don't buy Fiat's 500e electric vehicle because the company loses money with each sale.
General Motors (NYSE:GM) has delivered 10,635 of its Chevrolet Volt plug-in hybrid so far this year, a 9% drop compared to 2013. That's despite a price cut of $5,000 last year. The Volt starts at roughly $35,000 before dealer incentives and tax credits.
For Ford, the C-Max hybrid has seen weaker demand this year, but sales of the Fusion hybrid have climbed 24% to 31,092 through the first seven months of 2014. The hybrid version of Ford's mid-size sedan still accounts for less than 17% of all Fusion sales in the U.S.
Kelley Blue Book senior analyst Karl Brauer said many car shoppers have balked at paying more for some hybrids that get only slightly better fuel economy.
"The technology was novel 10 years ago, and I think that alone had a certain amount of pull with consumers. But anytime you did hard analysis, most hybrids didn't make sense," Brauer explained. "What's happened is that non-hybrids are getting much better fuel economy. The novelty of the technology has worn off, plus non-hybrids are getting closer and closer."
Ford has found success with its EcoBoost engines, adding turbochargers to smaller engines to maximize both power and fuel efficiency. The company's aluminum-bodied F-150 will be offered with a 2.7-liter, six-cylinder EcoBoost engine that Ford said will perform like a traditional V8.
Brauer also pointed to the Ford Fiesta and its 1-liter EcoBoost engine, which helps the Fiesta reach up to 43 mpg on the highway.
Toyota's Prius has an entry price of $20,000 and is the leading hybrid in most major markets, but its sales are still down 11% this year at 127,776. Toyota plans to introduce a new Prius for model-year 2016. Chevrolet has a Volt redesign planned for next year, according to multiple reports.
While the Prius has held a cost advantage over competitors—Kelley Blue Book ranked it as the cheapest hybrid or alternative-energy car to own over a five-year period—Brauer sees an opportunity for Ford to lap the Prius in fuel economy.
"Ford has done more technological development in the last 10 years than Toyota," Brauer said, adding that Toyota's latest Prius redesign failed to provide a significant increase miles-per-gallon.
"Basicially, give me the Fiesta they have now with the 1-liter engine, and I think they can get 60-plus mpg ratings, which Toyota needs to get with the next Prius. Ford has laid more groundwork for its next hybrid than Toyota."