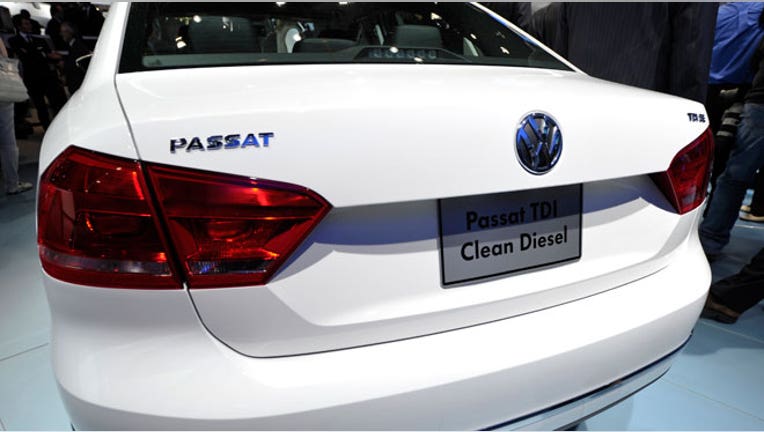 With drivers looking to visit gas stations less often, automakers are slowly bringing more diesel-powered cars to showrooms.
Diesel, an option that's more common in commercial vehicles and heavy-duty trucks, has largely been absent from passenger cars and sport-utility vehicles in the U.S. Unlike in Europe, diesel engines have failed to gain widespread acceptance despite a greater focus on fuel economy.
The differences between the American and European car markets were highlighted recently by Ford Motor Co.'s (NYSE:F) decision to forgo a diesel-powered Focus ST in the U.S. Ford unveiled the 2015 version of its high-performance hatchback at the U.K.'s Goodwood Festival of Speed last month.
In Europe, it's not only the longer range and higher torque that attracts drivers to diesel cars, as most countries in the region have lower taxes for diesel compared to unleaded gasoline. On this side of the pond, consumers are faced with higher prices for diesel fuel, and manufacturers must deal with stricter U.S. emissions regulations that increase the cost of a diesel engine.
Misperceptions over the performance of modern diesel engines have also prevented sales from taking off, Kelley Blue Book analyst Akshay Anand noted. Diesel-powered passenger vehicles have a U.S. market share of roughly 2.8%, up from 2.5% in 2010 based on registration statistics compiled by IHS Automotive. Half the cars on European roads run on diesel.
"There's a need for consumer education," Anand said. "Diesel is getting lost in the alternative-fuel shuffle."
For Ford, developing hybrid powertrains will remain a priority over diesel cars in the automaker's home market. Chris Terry, a Ford spokesman, said the company has no plans to add diesel cars to its fleet, noting the cost differential between diesel in Europe and the U.S.
"We think it's a better deal for consumers to go the hybrid route," Terry added. "You get the fuel economy for about the same cost."
According to the Environmental Protection Agency, the 2014 Ford Fusion Hybrid gets combined city and highway mileage of 42 miles per gallon. The car has a starting price of around $26,270. By comparison, Volkswagen's 2014 Passat with a turbocharged diesel engine is rated at a combined 35 mpg and has a starting price of $26,675.
"I would be shocked if more than one out of 10 people know about the range of diesel cars."
Volkswagen Leads the Diesel Charge
Volkswagen AG has been one of the biggest diesel players in the U.S. The Volkswagen brand gives customers the option of choosing a diesel engine in most of its models, including the Passat, Jetta, Beetle and Golf.
The German auto giant's TDI models – an acronym for turbocharged direct injection – has made Volkswagen and Audi two of the most notable brands for diesel cars in America. TDI clean diesel provides 30% better fuel economy than comparable gas engines, according to Volkswagen's website.
Volkswagen spokesman Mark Gillies said customers often report getting better mileage than the EPA sticker, since most drivers spend their time on the highway. Diesel engines are at their best in steady cruising, he added.
Diesel accounts for approximately 15% to 30% of Volkswagen-brand sales, while some car lines count on diesel for more than 50% of sales. Volkswagen is responsible for about 70% of all U.S. diesel car sales.
"We offer a diesel option in as many cars as we can," Gillies said. "Volkswagen has been traditionally strong in diesel and turbo. Long term, we've made it clear that we'll have a multi-tiered approach" to fuel-efficient vehicles such as hybrids, plug-in hybrids and all-electric cars, he explained.
Beyond Volkswagen, consumers are left with few options to buy a diesel car. But more could be on the way.
General Motors (NYSE:GM) entered the segment last year with a diesel-powered Chevrolet Cruze. The nation's top seller of cars and trucks says the 2015 version will get 46 mpg and offer better horsepower and torque than the Jetta TDI.
Chevrolet also touts the range of its diesel compact, another benefit of diesel fuel. The Cruze can travel 717 miles on a single tank. Owners of the gasoline-powered 2014 Cruze, which according to Edmunds.com is rated at 38 highway mph and has a 15.6-gallon tank, need to fill up every 592 miles or less.
"Customers are looking at how they drive and match that up with the vehicle," said Richard Kwiecien, assistant marketing manager for the Cruze. "Some are looking for vehicles that give them a longer range."
Steven Majoros, Chevrolet's marketing director for cars and crossovers, added that Chevrolet seeks to deliver "what the customer is looking for," and consumers are becoming more educated about the benefits of diesel.
"Diesel is a misunderstood technology. The numbers make it feel real for people," Majoros said.
Chrysler Group is also dipping its toes into the diesel market.  The soon-to-be Fiat Chrysler Automobiles swapped a three-liter, six-cylinder EcoDiesel engine into the Ram 1500 and Jeep Grand Cherokee, giving customers a diesel option in the pickup truck and SUV starting last year.
Ram will soon have a competitor in the market for light-duty trucks. Nissan plans to bring a turbocharged eight-cylinder diesel from Cummins (NYSE:CMI) to its Titan pickup truck.
"As other automakers come in, you'll see more acceptability over time," Gillies said of the diesel market. "Engines have gotten quiet and refined, and the range is pretty amazing. People don't like filling up."
Niche market?
Still, diesels have been slow to make inroads nationwide. Anand, the Kelley Blue Book analyst, said the rather limited model selection eliminates diesel as an option for consumers who are interested in popular vehicles like the Honda (NYSE:HMC) Civic.
"[Manufacturers] are unsure of how regulations will look in five years," Anand added, noting that Hyundai executives have indicated that diesel isn't on their radar. Instead, Hyundai is introducing a 2015 Tucson SUV powered by hydrogen.
With diesel cars accounting for a small percentage of the market, Ford sees no business case to introduce any of its European diesels to U.S. consumers. "It doesn't mean we can rule it out categorically in the future," Terry added.
Manufacturers like Ford have to "consider the added cost for after-treatment. For heavy duty and trucks, that's an entirely different equation," Terry said. Ford offers a 6.7-liter, V8 diesel engine in the F-350 Super Duty. "It's not that we're not pro-diesel. We are. Our customers love our diesels in Europe, and we're happy to supply them."
A Kelley Blue Book survey found that 12% of car shoppers might consider diesel, compared to 28% who are interested in hybrids. One-third said they won't consider an alternative-fuel vehicle. When asked why they are looking at buying a new car, 28% of respondents said they need better fuel economy.
"In terms of performance, it can be a niche," Anand said. "I would be shocked if more than one out of 10 people know about the range of diesel cars."
Noting how diesel remains a niche market in the U.S., Kwiecien described the Cruze as a worldwide vehicle that was fine-tuned for American consumers.
Kwiecien also said the Cruze diesel, as well as a version of the Impala that runs on compressed natural gas, can bring people who may not have considered Chevrolet into showrooms. Currently, the diesel version of the Cruze makes up 3% to 5% of the model's total sales, which Chevrolet says is meeting the company's expectations.
So would Chevrolet consider adding diesel engines to other models? "Certainly, why not?" Majoros said. "A larger segment of the population is learning about diesel. We have people constantly working on what's the right powertrain strategy."