Campus Cards Generate Big Rewards, But Not for Cardholders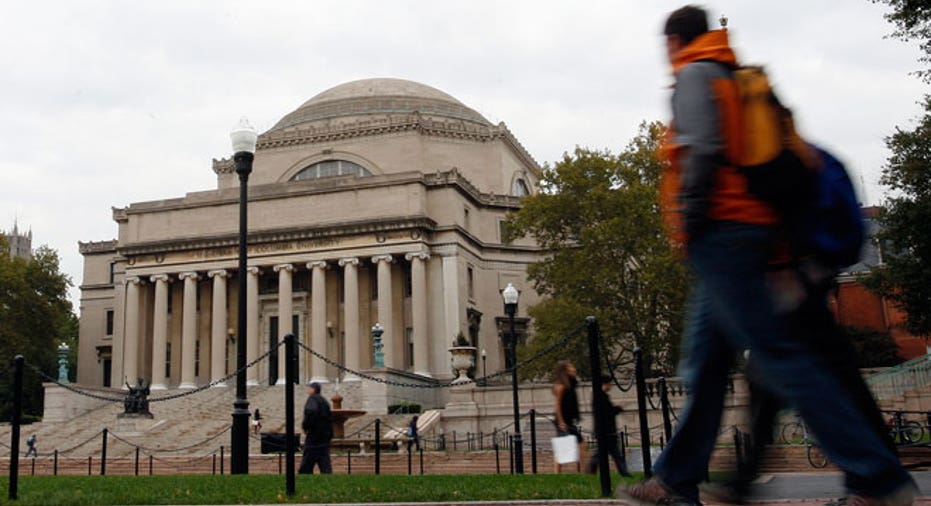 The multipurpose campus card is a powerful piece of plastic. It can open doors to university buildings, check out books from the library, get loaded up with financial aid, plus pay for pizza and other necessities.
It's an ID card, a debit card and a rewards card. But the students who use it aren't the ones getting the rewards -- colleges are. Schools that sign exclusive deals with banks get a slice of the banking business that students generate.
Campus cards have drawn complaints about their fees and captive-audience marketing for years. Now they're catching more heat as concerns about student debt ratchets up. Federal regulators are drafting new restrictions and calling on schools to reveal the terms of these card deals with banks.
Nearly 900 colleges with a combined 9 million students issue hybrid ID-and-debit cards to students, a 2012 study by the U.S. Public Interest Research Group found. Schools can deposit financial aid into the card-linked accounts quickly, which is a powerful draw for students.
With banks paying schools for exclusive rights to market these cards to students, "there is a clear need for strong rules to address potential conflicts of interest," U.S. Sen. Robert Menendez wrote in an Aug. 11 letter to regulators at the Education Department and Consumer Financial Protection Bureau.
"Put simply, students should not be charged extra fees to access their financial aid funds," Menendez wrote in his letter, "and schools should not be steering students toward high-fee products."
Inside campus deals with banks
So how much are colleges collecting from card deals with banks? Few schools have revealed their agreements with banks, leaving their financial gains largely a mystery. The U.S. Consumer Financial Protection Bureau surveyed the 14 schools of the Big Ten conference and found that only one -- Iowa -- revealed the financial terms of its campus card deal. That's despite calls for transparency from the National Association of College and University Business Officers.
Judging by the few agreements available, the deals are not small change. The University of Iowa stands to collect $1.6 million over five years from Hills Bank and Trust Company, the bank behind the Iowa One card, according to its agreement. The figure includes a one-time signing bonus of $125,000, annual royalties of $50,000 a year, branch rent of more than $600,000, plus a cut of swipe fees that exceed $50,000 a year. Swipe fees are generally paid by merchants who accept the cards.
About 30 percent of entering students opted for the Iowa One debit card features in the past two years, university spokesman Tom Moore said. With its total student head count of 35,000, according to the U.S. Education Department, the school's projected revenue amounts to $31.57 a year per average cardholder, on a running basis.
Asked what the school was doing to protect students from paying excessive fees, Moore pointed to the open public bidding process the school used to choose its bank partner, and to the public availability of the agreement itself.
"By being open and transparent, we're laying all the details out there, so people know what's involved," Moore said. Students can opt for the debit card or not, although on-campus branches and free ATM use make the Hills Bank account attractive. And the school puts revenue from the card deal into a scholarship fund, Moore said, so essentially the money is going back to students -- just not necessarily the same ones who generated the revenue.
Paying bounties
Some campus card agreements contain volume-based incentives -- such as per-student or per-account bounties -- which regulators say are problematic. Unlike a flat royalty payment for the use of the school logo or rent for branch space, volume-based payments motivate the school to boost enrollment in the cards -- whether or not they're the best deal for students.
Financial incentives "created the potential for conflicts of interest" that could influence college officials to steer students to expensive cards, the U.S. Education Department concluded in a March report on campus cards. While Iowa's volume payments are based on swipe fee revenue that's typically collected from merchants, other campus card deals contain significant per-student bounties.
According to a 2004 contract for the NCard at the University of Nebraska, Wells Fargo agreed to pay the 27,000-student school $15 annually for each account opened at the bank by students and staff, provided that a minimum of 15,000 accounts were opened. The bank also paid Nebraska a $250,000 signing bonus and royalties of $300,000 a year.
The contract, which ran through 2012 with three optional one-year extensions, also contains provisions that protect account holders. NCard bank accounts should have the same terms "generally applicable to the same class of Bank's other customers," the contract says. They also get fee-free transfers from other bank accounts and free electronic bill payment in return for enrolling in paperless statements.
At the University of California-Davis, with about 35,000 students, U.S. Bank agreed to pay as much as $650,000 a year in royalties based on the number of active accounts, according to its 10-year contract. The maximum payment is based on 20,650 or more accounts, which averages to $31 each. The school also receives a $30,000 annual payment, plus $8,333 a month in rent for branch space. The contract gives U.S. Bank exclusive rights to operate a branch on campus.
Agreements between TCF Bank and four Big 10 schools -- Illinois, Michigan, Minnesota and St. Cloud State -- all contain bonuses for the schools based on the number of active student accounts. However, the amount of the bonuses, along with other dollar figures, has been blacked out in agreements that the bank posted online.
Bankers say Cards Carry Benefits
What do schools say about their rewards deals?
Rather than steering financially unsophisticated students into expensive cards, as some critics charge, the deals between colleges and banks provide a controlled financial environment, a leading bankers group said. In an open letter to the CFPB Aug. 20, the head of the Consumer Bankers Association objected to the regulator's suggestion that campus cards are risky.
"[R]elationships between banks and schools often provide students with great benefits by providing much needed financial literacy, safe and secure debit cards, low or no-fee checking accounts and access to convenient on-campus branches and ATMs," the letter from CBA head Richard Hunt said.
Some schools, however, seem to do just fine without a deep-pocketed banking partner. In Alabama, Auburn University asked banks to submit proposals for a campus debit card, but then shelved the idea because of the uncertainty about future banking rules.
"We decided it was not the time, or the direction we really wanted to go," said Bob Ritenbaugh, vice president for auxiliary services.
The lack of a bank-backed campus card isn't hampering students, he said. Auburn's existing non-bank campus card has a stored-value feature that lets students pay for meals and other on-campus items with money they've deposited. For more robust financial services, students have a choice of ATMs from four different banks on campus.
"Students often come to school with a debit card from a bank," Ritenbaugh said.
Convenience or Fee Trap?
Experts are split on whether the campus cards emblazoned with the school logo are necessarily a bad deal -- especially considering that alternatives for students can be limited. A February report by the Government Accountability Office found that costs for campus cards were generally in line with alternatives from mainstream banks, with some exceptions. But some consumer advocates have a different take.
"Students should stick with the account they already have," said Christine Lindstrom, program director for higher education at U.S. PIRG. Although campus cards aren't the only bank accounts that come with fees, she said, experience with the ins and outs of a particular account can help students keep banking costs to a minimum.
Lindstrom, who has studied campus cards for years and testified about them before Congress, says the notion of college students as financial novices is no longer accurate. The typical student in 2014 is someone well out of their teens who has had more than one part-time job, and likely has banking experiences to draw from.
"If they've had [the account] a little while, they've probably already encountered a fee here and there, and basically learned avoidance," she said. "Stick with the devil you know."
Having a campus ID card is required, but signing up for a bank-backed debit account or stored-value account is optional. Under Education Department rules, financial aid must be available by check or electronic ACH transfer, not only as a credit loaded onto a campus-approved bank account. The department is expected to issue new rules that will take effect by mid-2015 putting other restrictions on campus cards. A draft proposal indicates that schools will be required to hand out aid to independent bank accounts just as quickly and easily as they do to accounts at their partner banks.
In the meantime, there are signs that card issuers are reining in fees. Higher One, the largest campus card provider, said it has dropped its inactive account fee, which was a focus of complaints. Company officials say they expect to pay up to $70 million in refunds and fines under pending regulatory orders aimed at the company's marketing of OneAccounts. Changes in the company's business practices could also result.
See related: 3 must-ask questions for multiuse college campus cards