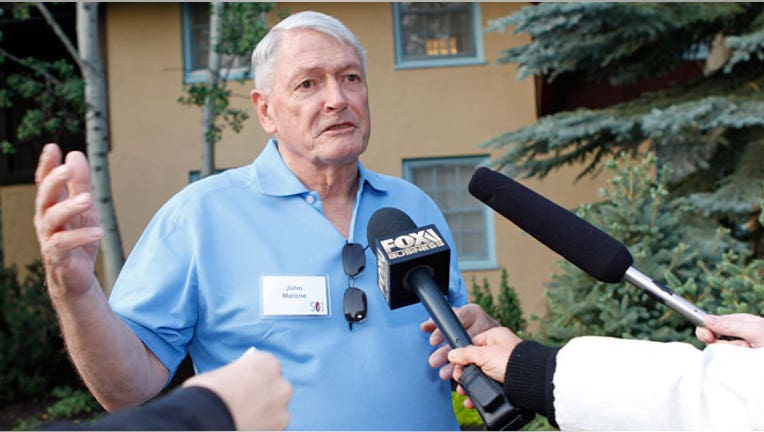 Liberty Media (NASDAQ:LMCA) Chairman John Malone is reportedly looking into ways Charter Communications (NASDAQ:CHTR) could acquire Time Warner Cable (NYSE:TWC), despite being initially rebuffed by the company.
According to Bloomberg News, Liberty Media is working on structuring an offer that would win over Time Warner Cable investors in a hostile takeover attempt. Time Warner Cable, the second-largest cable company, has resisted a deal and doesn't think Liberty and Charter can present an attractive offer, Bloomberg added.
Liberty Media agreed in March to buy 27.3% of Charter, the fourth-largest cable company, in a $2.62 billion deal.
The report added that Charter is also considering an outright acquisition of Cablevision. In February, Charter bought Cablevision's (NYSE:CVC) western U.S. cable systems, Optimum West, for roughly $1.6 billion in cash, allowing the company to continue its focus on small and mid-sized communities.
Shares of Time Warner Cable jumped 4.9% to $108.70 in late afternoon trading, while Cablevision rose 4.5% to $16.12
Charter was up 4.1% at $123.93. Liberty Media was trading 2.3% higher at $127.23.
Bloomberg News said Liberty Media is weighing options such as borrowing against its own balance sheet or Time Warner Cable's assets to raise the cash for an offer. Comcast (NASDAQ:CMCSA) used a similar strategy in 2011 when it acquired NBC Universal from General Electric (NYSE:GE).
Despite being rejected early on, Liberty and Charter are still interested in getting a friendly deal done in the coming months, the report noted.
Either way, a transaction would be a difficult task. A deal could reach a premium of at least 20%, bringing the price to $37 billion or more. And Time Warner Cable's market value of more than $31.5 billion is more than Charter and Liberty Media combined.
Cablevision, No. 5 in the cable industry, would be an easier target for Charter. But a deal would face its own obstacles, such as getting the support of the Dolan family that has controlled the company for 40 years.
Spokespeople for Cablevision, Charter and Time Warner Cable each declined to comment. A Liberty Media spokesperson was not immediately available for comment.
Earlier this month, Malone said at Liberty Media's shareholder meeting that he envisions Charter becoming "a horizontal acquisition machine."
"The whole name of the game in the cable business is scale," he added.