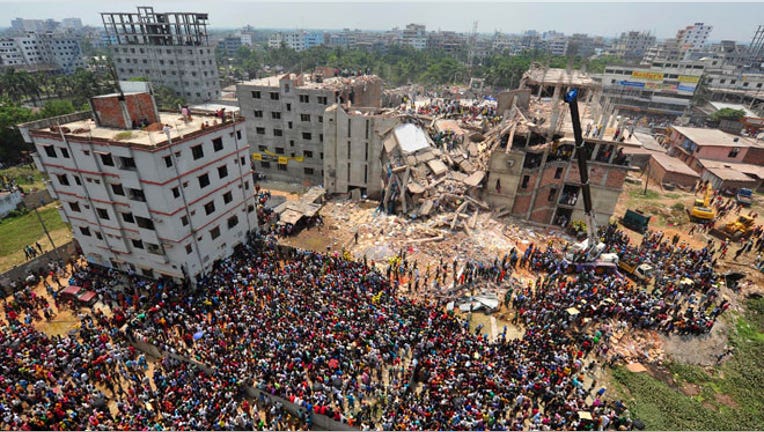 Apparel companies are weighing their options in the wake of a factory collapse in Bangladesh that killed more than 500 people, choosing between improving facilities there or pulling out of the country altogether.
But even before last week's incident, brands were already showing cold feet over maintaining production in Bangladesh.
Walt Disney Company (NYSE:DIS), the world's largest licenser, revealed on its website this week that in March it put a stop to production of branded merchandise in Bangladesh, following a factory fire last year that killed 112 people.
Boxes of licensed sweatshirts set to be shipped to Wal-Mart's (NYSE:WMT) stores were found at the factory that had a fire. Walmart said the products were moved there for storage without its knowledge.
Other clothes makers are instead looking to maintain Bangladesh's extensive garment industry and ensure the country's facilities are up to par.
The country, which has about three million people working in the sector, is the world's second-largest apparel exporter after China. Last year, Bangladesh recorded more than $18 billion in apparel exports, which comprise 80% of the country's total exports.
Joe Mimran, the designer behind Loblaw's discount clothing brand Joe Fresh, said at a press conference that remaining in Bangladesh will help the industry tackle safety issues.
"I believe we can do more good and drive lasting change by staying in Bangladesh, and we are committed to doing that," Mimran said, according to Reuters.
The top executive at Loblaw, Canada's largest grocer, said the company plans to keep operations in Bangladesh while taking steps to improve factories. Joe Fresh clothing was made in the building that collapsed.
"I am deeply troubled. I am troubled that despite a clear commitment to the highest standards of ethical sourcing, our company can still be part of such an unspeakable tragedy," Executive Chairman Galen Weston said.
Weston criticized other companies for their "deafening silence," adding that as many as least 30 international retailers had goods manufactured in the collapsed building.
Meanwhile, representatives from major retailers like Walmart and J.C. Penney (NYSE:JCP) met near Frankfurt, Germany, for a meeting aimed at garnering support for plans to make existing buildings safer.
The collapsed building was constructed without mandatory safety permits, and the mayor of Savar, outside Dhaka, was suspended. Police arrested the building owner and the owners of the five factories housed in the building.
Like Disney, Walmart took action after last year's factory fire, announcing last month it would donate $1.6 million to start fire safety training for Bangladeshi workers.
Walmart did not respond to a request for further comment.
A spokesperson for Target (NYSE:TGT) said the retailer reduced the number of factories it works with in Bangladesh by nearly 50% over the past several years and consolidated business with factories that have committed to better safety standards.
"This consolidated factory base also enables us to better and more closely monitor the factories we use," the spokesperson said.
In addition, Target uses internal auditors who make unannounced checks in Bangladesh to ensure vendors meet certain standards, while the company has an expanded auditing process specifically for Bangladesh. According to the company, its audit length in Bangladesh is the longest for any country from which it sources.
Like Target, Nike (NYSE:NKE) said it did not have production in the building that collapsed.
"Bangladesh has been on our high-risk country list, so unlike many suppliers we have kept our footprint there very limited," a Nike spokesperson said.