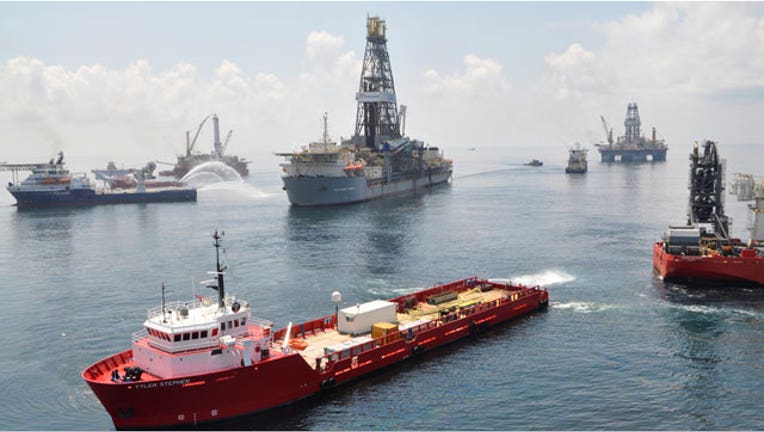 BP (NYSE:BP) pleaded guilty on Thursday to criminal charges related to its Deepwater Horizon explosion and oil spill in 2010 that killed 11 workers and spewed millions of gallons of oil into the Gulf of Mexico.
The company also said it would pay an extra $4.5 billion over the next six years, which is on top of the tens of billions of dollars it has already paid for the U.S.'s worst-ever offshore oil spill.
The fine marks the largest corporate criminal penalty ever assigned by the DOJ, topping the $1.2 billion fine imposed on drug giant Pfizer (NYSE:PFE) in 2009.
The British oil giant pleaded guilty to 11 felony county of misconduct or neglect related to the deaths of 11 rig workers, one misdemeanor under the Clean Water Act, another misdemeanor under the Migratory Bird Treaty Act and a felony count of obstruction of Congress for lying about how much oil was actually spilling from the Macondo Well.
The settlement, which protects BP from further federal criminal charges related to the April 2010 disaster, is subject to U.S. federal court approval.
"All of us at BP deeply regret the tragic loss of life caused by the Deepwater Horizon accident as well as the impact of the spill on the Gulf coast region," BP CEO Bob Dudley said in a statement. "We apologize for our role in the accident, and as today's resolution with the U.S. government further reflects, we have accepted responsibility for our actions."
The British oil giant had been trying to prepare for the losses associated with the disaster by shedding unprofitable assets over the last 30 months and spinning off other businesses while looking to expand into new oil-rich areas like the Arctic.
At the same time, BP had been working with a federal task force assigned with conducting interviews and sorting through documents related to the worst offshore oil spill in U.S. history. It was also working with the Department of Justice and Securities & Exchange Commission in an effort to reach a resolution related to the spill that killed costal wildlife and drenched beaches with oil.
The Macondo is estimated to have spewed some 206 million gallons of crude oil during the months that BP failed to cap it, which washed up along the Gulf Coast shores of states like Louisiana and Florida and killed birds and sea animals.
Deepwater Horizon became the worst U.S. oil spill, surpassing the Exxon Valdez spill off the coast of Alaska in 1989. Exxon (NYSE:XOM) ultimately paid the U.S. government $1 billion.