BP Oil Arrest: First of Many or Act of Desperation?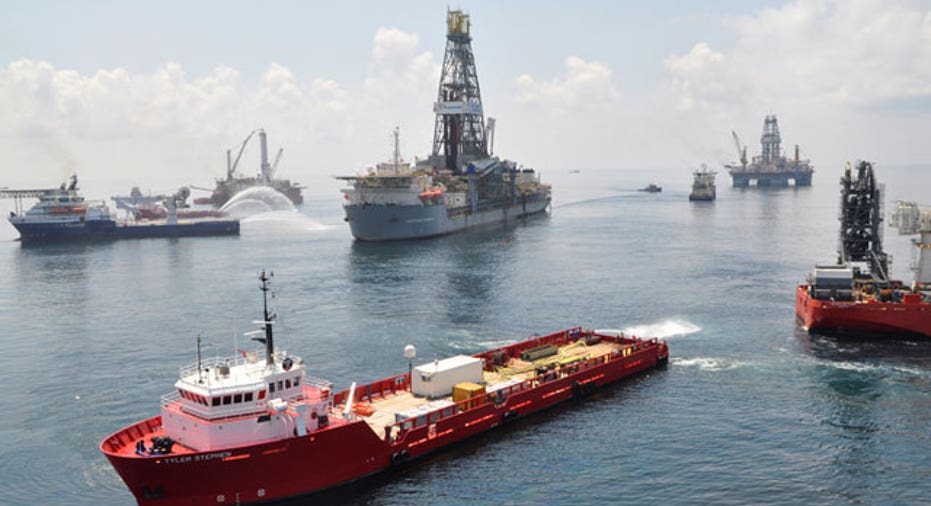 U.S. officials made a splash last month with their first arrest in the BP (NYSE:BP) oil spill case, but many legal experts say the arrest was heavy-handed, perhaps even an act of desperation.
Former BP engineer Kurt Mix was arrested in April for allegedly deleting text messages that showed the oil company may have realized more oil was spewing from its ruptured Macondo well than it publicly let on.
While lawyers say his actions may make him guilty of tampering with evidence during a federal investigation, they say prosecutors are probably more interested in using him to reach high-level executives with more sensitive knowledge of the disaster.
"He's kind of an island looking at a huge criminal investigation, and the hope is he'll flip, give them some good evidence," said Seth Pierce, a partner of Mitchell Silberberg & Knupp who focuses on electronic discovery, class action defense and commercial litigation.
Mix was just a project engineer for BP at the time the Deepwater Horizon rig exploded two years ago, killing 11 people and gushing millions of gallons of oil into the Gulf of Mexico over the course of three months.
But he had ties to the team charged with plugging the hole and worked on internal BP efforts to estimate the amount of oil leaking from the well.
That connects Mix to a series of unsuccessful clog attempts that may provide critical insight into how much oil actually spilled, information the prosecution could use as leverage against BP.
The $10 Billion Mystery
The U.S. and BP have widely different estimates on the total amount of gallons released, with the agency overseeing the investigation forecasting up to 206 million gallons, and the oil giant accusing the government of overestimating by 20% to 50%. The actual number is important because it will determine how much BP owes the U.S. in pollution damages.
"The aim is to try to establish through this arrest who knew what, when, and how far up the food chain, to see if it leads to further criminal liability."
According to the Clean Water Act, BP could be fined $1,100 for each barrel spilled, or up to $4,300 a barrel if investigators can prove BP committed gross negligence or willful misconduct. With each barrel containing 42 gallons, the difference in opinion equates to tens of billions of dollars.
"The government is hoping it becomes aware of instances where BP said one thing publicly about the amount of oil that was released and knew something different privately," said Christopher Karagheuzoff, partner of Dorsey & Whitney who practices e-discovery and class action litigation.
Some of Mix's deleted texts, several of which were recovered forensically, shine light on discrepancies between what BP apparently knew internally during the operation and what it was telling the public.
For example, just prior to the failed three-day "top kill" operation, which involved piling heavy drilling fluid into the well located 5,000 feet below sea level, Mix told a BP supervisor that the well had a flow rate of more than 15,000 barrels of oil a day.
That was three times what the London-based oil explorer was claiming publicly and far surpassed the maximum that BP engineers said could sustain that type of approach - but it moved forward with the doomed operation anyway.
"The aim is to try to establish through this arrest who knew what, when, and how far up the food chain, to see if it leads to further criminal liability," Karagheuzoff said.
Unhitching the Weakest Link
Pierce called Mix the "weakest link" in a massive case that extends much higher in the pecking order.
His lower-level status and the fairly benign nature and impact of his alleged crime makes Mix a "low-hanging fruit," Karagheuzoff said.
On the other hand, the arrest could be seen as an act of desperation, Pierce said, simply an effort to show the public that the government is making progress as pressure continues to mount.
The public announcement of Mix's arrest could also be a loud warning to others who may be withholding knowledge or tampering with evidence in the Deepwater Horizon case, that the government will come out strong against those who get in the way.
"The Justice Dept. has very little patience with people who don't preserve evidence," said Phil Nichols, associate professor of legal studies and business ethics at the University of  Pennsylvania's Wharton business school.
Since investigators are "under a lot of pressure to nail BP," Nichols said it's possible they're coming down hard on Mix because it temporarily appeases the verdict-hungry while it slogs through years-worth of evidence to determine if there's criminal liability.
"I may be biased but the federal government, they're quintessential bullies," said Bruce Barket, partner of Barket, Marion, Epstein and Kearon, a high-profile criminal defense law firm.     "They're always looking for leverage to get someone to testify."
Even if federal prosecutors can't persuade Mix to testify, the arrest helps tilt the case in the government's favor, Karagheuzoff said, assigning blame to BP by claiming it may have known the leak was greater than it claimed at the time.
That can be "very powerful evidence" for the government, he said.
Damning Evidence
Either way, Mix's actions bring to light just how impersonal personal text messages and emails are no matter how private they seem.
Perhaps more importantly, they remind corporations that digital documents can be subpoenaed by the government and used as potential evidence no matter how easy they are to delete.
While a murder last century was solved using a blood stained shirt, the key piece of evidence in today's crimes are strings of emails or text messages that tack a suspect to a crime, sort of like a "perpetual witness," said Jonathan Armstrong, a partner of Duane Morris who practices corporate law.
"After Enron, people don't concentrate on what the evidence was, everyone talks about the shredding," Armstrong said. "The fact that you deleted [text messages] can be more damning than what you did in the first place."