BlackRock's Fink Hoping Hillary is Ticket to Treasury Post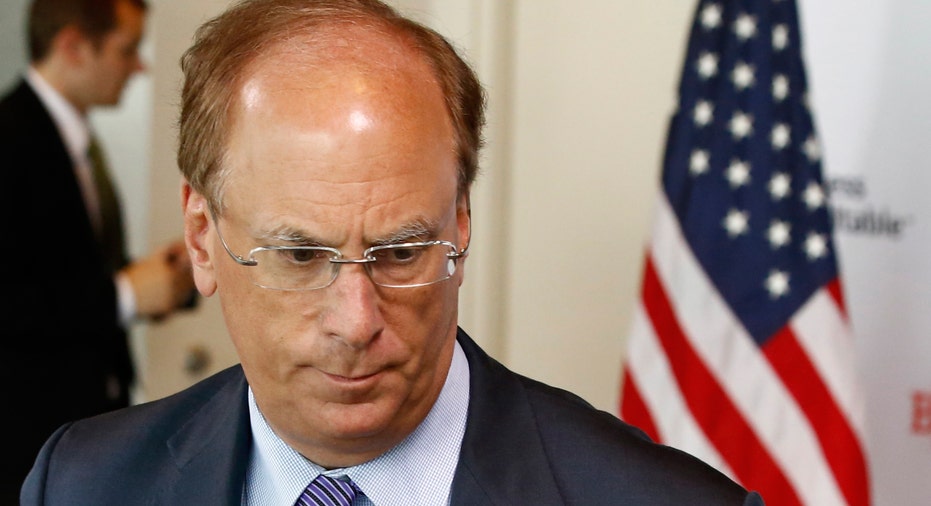 Correction: A previous version of this report stated Larry Fink was a bond trader at Credit Suisse. Fink in fact worked as a bond trader at First Boston.
Laurence "Larry" Fink has achieved much during his long career on Wall Street, including creating almost from scratch what is the largest and arguably the most successful money management firm in the world of finance, BlackRock.
But people who know him say that for all that he has accomplished, Fink believes his career is incomplete unless he achieves the one goal that has eluded him for years -- a presidential appointment to become U.S. Treasury Secretary.
People close to Fink, one of Wall Street's most prominent Democrats, say that he's now hoping his next chance to become Treasury Secretary is if Democratic front-runner Hillary Clinton wins the presidency in 2016.
One major sign that he's angling for the job, they say, is his October 2013 appointment of Democratic political operative and Hillary Clinton confidant Cheryl Mills to the BlackRock (NYSE:BLK) board of directors.
Another sign can be found in campaign contribution documents; since 1990, more than 61% of all political contributions from BlackRock executives have gone to Democratic candidates. Goldman Sachs (NYSE:GS) also favors Democrats over Republicans, albeit to a lesser extent (55%), but other Wall Street firms and banks such as Citigroup (NYSE:C), Morgan Stanley (NYSE:MS), Bank of America (NYSE:BAC), Wells Fargo (NYSE:WFC) and JPMorgan (NYSE:JPM) all favor Republicans.
Fink himself has heavily favored Democrats; though he has recently told friends he might raise money for former Republican vice presidential candidate Paul Ryan, 84% of all of Fink's political contributions have gone to Democrats while just 7% to Republicans.
Fink's bid for one of the most powerful jobs in government also comes as questions mount about how long he will remain at BlackRock, the money-management behemoth he founded in 1988. Fink, a former bond trader at First Boston who played a key role in creating the mortgage-backed security, created BlackRock initially as an arm of the private equity firm Blackstone (NYSE:BX), which extended him a $5 million line of credit.
Over the next two decades, through a series of successful acquisitions, the company grew into the world's largest money-management firm with more than $4 trillion in assets, and Fink became one of Wall Street's most powerful players. Over the past five years, shares of BlackRock have risen more than 200%,  compared with a 128% increase in the Standard & Poor's 500. Last week, BlackRock reported sharply higher fourth-quarter earnings.
With BlackRock's success over the years, Fink has told friends he would like to end his career in much the same way former Goldman chief Robert Rubin had, by shaping economic policy as Treasury Secretary.
"When a company gets as big as BlackRock, it becomes difficult for it to continue to grow, so the timing is perfect for him to move into a government position and away from the private sector," said Dick Bove, financial analyst at Rafferty Capital Markets.
BlackRock insiders say that if the 61-year-old Fink left the company, the top job would likely go to current president Robert Kapito, also one of the BlackRock's founding partners. But the matter of who will lead BlackRock in the post-Fink era is hardly settled, investment bankers say. One possible outside candidate is Fink's close friend and former investment banker, Morgan Stanley wealth management chief Gregory Fleming.
A BlackRock spokesman would not deny Fink's interest in becoming Treasury Secretary, but added: "Larry has repeatedly said very publicly and very clearly that he believes he already has the best job in the world and he intends to be at BlackRock for as long as the board wants him to stay. He has committed to the board that he will be here for years to come and intends to live up to that commitment."
Friends and business associates say Fink has had his eye on being the Treasury Secretary since at least 2007, when he was one of the earliest Wall Street supporters of then presidential candidate Barack Obama.
Even after Obama's election as president in 2008, Fink has vied for the spot; when Tim Geithner announced he would step down as Treasury Secretary in 2011, he began to quietly lobby White House officials and Washington insiders for the job, these people say.
Fink's name ultimately surfaced on a list of potential candidates, people close to the matter tell FOX Business. Still, it's unclear how seriously the Obama White House considered Fink for the post, which ultimately went to the president's then chief of staff, Jack Lew.
Renewed talk about Fink's interest in the job came in October after the appointment of Mills to the BlackRock board. Mills has little financial experience, BlackRock insiders concede, though she is skilled in politics, having served in the administration of President Bill Clinton, and as chief of staff to Secretary of State Hillary Clinton during President Obama's first term.
People close to Fink say he met Mills through his long affiliation with New York University, where among other roles he serves on the school's board of trustees. Mills had been the university's general counsel before serving on the Obama White House.
People at BlackRock say Mills is well qualified as a board member of a large financial services company in the post-banking crisis world because policy-making in Washington plays such a central role in  Wall Street's affairs.
But Mills, these people concede, is also just the type of political insider who could help Fink overcome skepticism among the left-wing of the Democratic Party of Wall Street types playing a role in government if Hillary Clinton becomes president, as many Wall Street Democrats are betting on.
Fink appears to be one of those, and he has guessed right in the past. His support of Obama back in 2007 came when many Democrats in the financial business believed Hillary Clinton was the odds on favorite.
Fink has also toyed with leaving BlackRock in the past; he shopped a chunk of the firm to both Morgan Stanley and Merrill Lynch in 2006 with an eye on becoming chief executive of either firm, people close to him say. Fink settled on a deal with Merrill Lynch -- arranged by Fleming, then an investment banker and senior executive at Merrill Lynch -- which purchased just under half of BlackRock.
After Stan O'Neal was ousted as Merrill's CEO during the early stages of the financial crisis, Fink became a leading candidate for the job. In fact, people who know him say that following conversations with   Merrill's board, he believed the job was his to lose.
But Fink was the one who lost, with the Merrill board selecting former New York Stock Exchange chief John Thain as chairman and CEO. Thain would be forced out of Merrill in 2008 after its purchase by Bank of America.
By then, Fink had turned his future ambitions to politics, and told friends he was looking to end his Wall Street career as Treasury Secretary, people close to him say. Fink's interest in the job has at times fueled tension within the BlackRock executive ranks and among the firm's board members.
"Whenever some reporter mentions that Larry wants the job, he gets called on it," said one person with direct knowledge of the matter. "It becomes an annoyance."
Because of that, Fink has had to temper his public remarks about the subject. At a Goldman Sachs investor conference in 2012, he stated he "will be at BlackRock as long as my board wants me here. And I have had those comments internally, I wish the press would listen to me, I've never ever even evoked the statement that I wanted to go to Washington."
When asked in a 2012 Reuters interview what he would do if he received a call from President Obama to become the next Treasury Secretary, Fink said he would "certainly take the call and I would be a good listener."
Being a "good listener" is certainly one of Fink's strong suits. Though Fink can be brash and outspoken,  he's also regarded as a Wall Street sage during times of crisis. In fact, he was on speed dial dispensing advice to many top executives, including former Morgan Stanley chief John Mack, during the 2008 financial crisis.
But Fink's loquaciousness with Wall Street's top players also comes at a cost. He's gotten the rap as a gossip, which recently hurt his chances of replacing Geithner as Treasury Secretary, people with direct knowledge of the matter tell FOX Business. "Larry talks too much, and the Obama people knew that," said one Wall Street chief executive who asked not to be named.
Not even Fink's detractors will dispute his abilities or what he's accomplished at BlackRock since he was ousted from the Wall Street firm First Boston in the late 1980s after a large bond-trading loss.
Since that time, Fink has dedicated his career in understanding market risk (BlackRock now advises companies on how to limit trading risks that led to the 2008 financial collapse) and has something else that sets him apart from the typical Wall Street executive: the confluence of politics and finance.
Over the years, he developed relationships with key government finance officials, including Tim Geithner, the former president of the New York Federal Reserve Bank and most recently Treasury Secretary.
The Fink-Geithner partnership served BlackRock well; in the aftermath of the 2008 financial collapse, BlackRock managed assets of many of financial companies that were either liquidated or bailed out by the federal government. People close to him say he sought to reward Geithner, offering him a senior position at BlackRock. Geithner ultimately took a post with private equity firm Warburg Pincus.
A hurdle for Fink to achieve his ambition to be Treasury Secretary, of course, is the anti-Wall Street sentiment that permeates the Democratic Party these days. As an early supporter of President Obama, Fink often referred to the president as a "moderate," but Fink is far less complimentary of Obama these days, people who know him say. He's particularly upset by the president's class warfare attacks against Wall Street "fat cats" and financial reforms such as the Volcker Rule, named after Obama economics adviser Paul Volcker, which prevents banks from proprietary trading or using their own capital for trading securities.
"When you ask Larry these days if he's happy he was an early supporter of Obama, he just smiles and shakes his head," said one business associate.
One thing is certain: Fink hasn't shown any signs of slowing down. Earlier this year, Fink spent 77 hours traveling to South America, Asia, parts of Europe and the West Coast of the United States, according to a speech he gave on October 11 at the Institute of International Finance Annual Membership Meeting. Fink noted that on these trips, he met with central bankers, finance ministers and other high-ranking officials.
He also hasn't slowed down on the politics. Despite being a heavy supporter of Democrats, Fink has recently told people he's impressed with former Republican vice presidential candidate Paul Ryan, the congressman from Wisconsin and the powerful chairman of the House budget committee. People close to Fink say he has indicated he will raise money for Ryan -- someone Fink believes he will be dealing with much more in the future, whether he's in Washington or remains on Wall Street.
A BlackRock spokesman would only say that Fink "thinks highly (of Ryan) and respects him greatly."