Black Gold: Oil Extraction In the U.S. Boosting Economy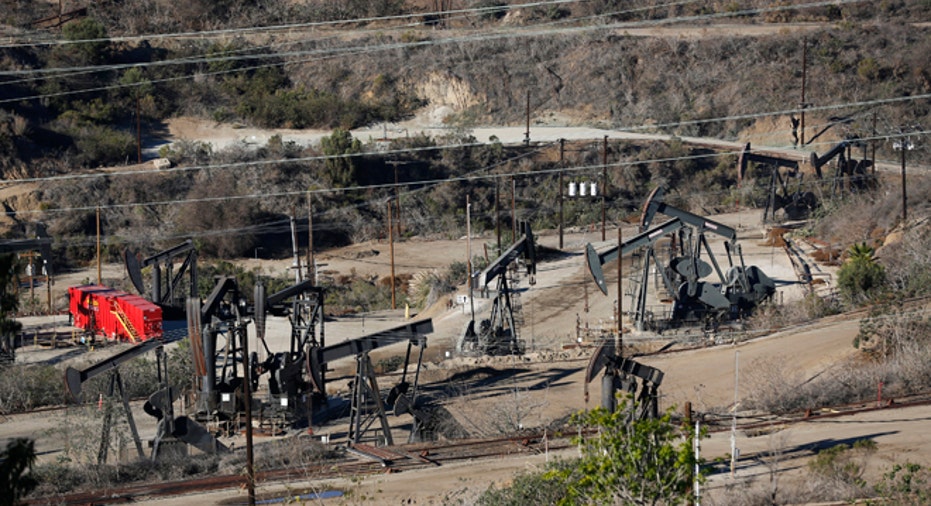 "Black gold" is back.
The shale revolution in America is helping to bring oil prices lower, keep gas prices down, and give the economy a boost in the process. But an oil-extraction process known as horizontal drilling and hydraulic fracturing, or fracking, has taken the spotlight for a number of different economic and environmental reasons.
Crude oil and natural gas production has grown rapidly in the Eagle Ford oil basin in south Texas and Marcellus region in the Northeast. Nationwide, the Energy Information Administration (EIA) reported a 15% year-over-year increase in production of crude oil.
Located in Pennsylvania and West Virginia, the Marcellus Basin accounts for almost 40% of domestic natural gas production and is projected to produce enough natural gas to supply heating for all of New York, New Jersey, Delaware, Maryland, and Virginia this year.
According to the EIA, this production could ease natural gas imports from Europe and Canada into the East Coast of the U.S.
"It's clear that the U.S. production has moved higher because of horizontal drilling and shale and the technologies attached to it. It has very little to do with politics," Tom Kloza, president of Oil Price Information Service, said.
In North Dakota, the Bakken Formation produced one million barrels per day in April and May of 2014. The site's remarkable success rate, according to the EIA, is based on its "low thickness and low permeability" of the reserves, which makes routine search-and-find exercises for new wells more accurate and more efficient.
But will a buyers' market for energy prices remain sustainable into 2015?
Kloza said there is no reason to think otherwise. On average, he said over the next year the expectation is for gas prices to move between six and 10 cents lower than prices from the previous year.
Robert Ambs, a professional engineering recruiter in South Texas, said several projects in the Bakken aren't expected to reach peak production until 2025. And companies in the petrochemical industry are adjusting asset expansion plans to accommodate the refining potential brought about by the increase in crude oil and natural gas in America.
According to a recent report issued by the EIA, U.S. refineries have taken in a record high 16.8 million barrels per day which has benefited the Gulf Coast region tremendously, as sales of refined petrochemicals has grown from Texas' "access to growing markets" on the coast. The increase in extraction of these resources has lowered energy prices over the past few years and continued to show benefits for American consumers.
Meanwhile, fracking has been "very favorable in terms of the costs of energy," Kloza said.
"Crude is down $10 a barrel," Kloza noted. "That will lead to cheaper gas, oil, jet fuel, and heating prices in the next 30 to 90 days or so. For gasoline, we will probably bottom out below $3 a gallon at the lowest."
Positive Boost for the Labor Market
While the phenomenon of falling prices has pushed energy costs lower, this dip and the expansion of development infrastructure has had a positive impact on the labor market. South Texas, which has seen unprecedented growth levels of fracking, saw unemployment fall 1.1% year-over-year, according to the Bureau of Labor Statistics (BLS). And Oklahoma City, a newfound hub of "black gold" production, has listed "petroleum engineer" as its highest paying job, with a wage of $76.04 dollars per hour, according to the BLS.
As the need for mechanical and chemical engineers in "black gold" regions grows -- where the compensation for the work starts around $80,000 a year -- the increase in production has also increased demand for "degreed" and "non-degreed" jobs near "high-profile shale sites," according to Ambs. Ambs, who has worked as a professional recruiter for more than  a decade, said the boom in engineering opportunities in the U.S. is directly traceable to energy extraction. In fact, he said the link is quite clear.
"Before the shale, all the growth was going oversees to the Middle East and after the shale discovery, a lot of [commerce within the petrochemical industry] is coming back to the United States… I have never seen so much expansion at one time in the U.S. chemical industry. I've never seen such a continued demand for engineers," Ambs said.
The growth of petrochemical production in America, however, is not without cost, and industry insiders like Ambs are quick to point out that "everyone wants high-priced oil, but often when you get the oil you get the low-priced gas with it." Hence, the EPA and states cracking down on "flaring," which is a process companies carry out when they don't possess pipelines to store shale natural gas.
Furthermore, the practice of burning off the excess methane gas is widely seen as financially and environmentally damaging. However, with a rate of production so high, companies are targeting the most value product -- crude oil -- and delaying investing in assets to store the natural gas. Ambs argues the infrastructure problem is not one of quality, but rather about quantity.
"In the United States, we have excellent midstream infrastructure, but it is simply being outstripped by the lack of assets," Ambs explained.
If you step back and look at the broader picture, other industries in the U.S., such as auto makers, are making inroads in improving fuel efficiency to reduce emissions. Still, environmental questions still loom, and in drought-weary areas, the conversation pivots to what is being done about the water.
According to the EPA, hydraulic fracturing produces wastewater and "over 90% of the water produced during oil and gas operations is disposed of underground." These liquids run risk of contaminated aquifers with liquids that "contain a wide range of contaminants that pose a risk to groundwater quality," the EPA report later noted.
Last week, Exxon Mobil (NYSE:XOM) released a report on fracking, stressing that procedures can be put in place to minimize potential environmental concerns. The company, which is the largest natural-gas producer in the U.S., said "the application of sound risk management practices that protect human health and the environment can be deployed to continue supporting the significant benefits of resource development."
Even as statewide environmental councils scramble to carve out rules to encourage best practices, the oil and gas industry, heeding Americans' call for cheaper gas at the pump and more job opportunities, will continue to churn out supply.
"We've become the privileged country … with cheaper natural gas and crude oil," Kloza said.