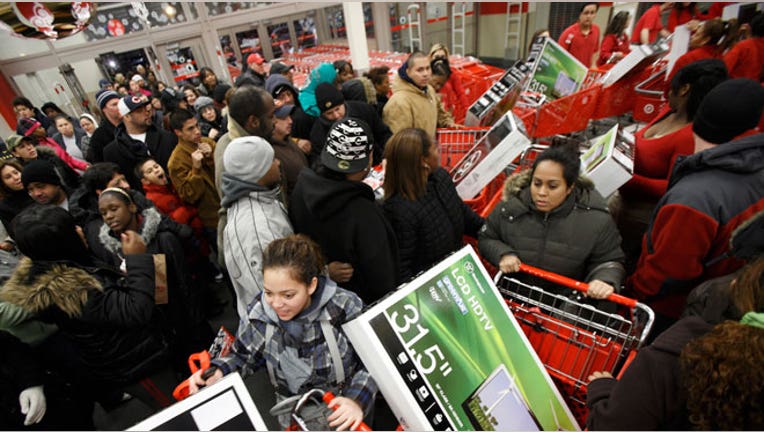 It's still more than a month away, but retailers are gearing up for their Black Friday sales, and the discount predictions are rolling in.
Black Friday marks the unofficial start to the holiday shopping season, and hitting the stores at the break of dawn still in a Turkey coma has become part of the festivities. Even with the struggling economic recovery, retailers are expecting a strong turnout and high sales numbers. Last year, 225 million shoppers spent $52.4 billion over Black Friday weekend both in stores and online.
The mega-shopping day originally got its name for being the day that retailers would become profitable for the year, but as the industry and shoppers habits have evolved, that's no longer the case.
"Retailers can't afford to break even until the fourth quarter," explains Cynthia Cohen, president of  Strategic Mindshare, a retail consulting firm. "Now the day is an indicator on how the entire season will play. The day is not a store's best margin day because of the heavy discounting but it's planned discounting and it's the time to connect with and gain customers."
If the sales numbers for Black Friday aren't good, shoppers can expect even more discounts to roll out through December.
It seems that stores have been setting up their holiday decorations and unrolling their discounts earlier each year. "They've moved up on when they share their Black Friday promotions, we've already seen an ad leaked two weeks earlier this year compared to last year," says Dan de Grandpre, co-founder and CEO of dealnews.com. "It will eventually get to the point that the day itself is anticlimactic with all the early sales, posts sales and month-long sales."
When it comes to luring shoppers, it's all about how early retailers can get bargain-hungry shopper through their door. Last year many retailers, including Target (NYSE:TGT) and Wal-Mart (NYSE:WMT) ruffled some turkey feathers by opening on Thanksgiving Day, but it's those early shoppers that tend to spend the most.
"There's a race with the doorbusters…those early shoppers spend the bulk of their money early in their first few stores and then they get tired out," says Cohen. She adds that the stores that are able to lure those early-bird shoppers into their stores and then get them to also spend money on items that aren't being heavily discounted will reap the most rewards.
Retailers are often beefing up their online sale offerings knowing that some people prefer to stay in the home and shop in the pajamas. "More stores are offering that attractive option of in-store pickup and we are going to see the line for the buy online and pick-up in store  rival the one out the door," says Michael Effle, Dealio CEO.
What's Going to Be On Sale  
Electronics have always dominated the Black Friday circulators and this year will be no different. "Electronics always get a lot of play because they are big-ticket items, offering 20% off a $1,500 item,    that's a good deal. That is better than 30% off a $49 sweater," Cohen said.
In the last few years, HD TVs have been the hottest-ticketed sales items for the day, but this year consumers should expect focus to be on tablets.
"We are at the tail end of the TV upgrade cycle," says Effle. "This year the deals are going to be centered on the secondary screen rather than the primary screen, that one has already been purchased and now consumers want to put the money on getting a secondary screen they can take with them."
Experts expect significant discounts on tablets, especially as that marketplace heats up and technology giants Apple (NASDAQ:AAPL), Amazon (NASDAQ:AMZN) and Google (NASDAQ:GOOG) all fight to get the biggest share. Effle expects hefty discounts on seven to 10-inch screen tablets, but this shift to smaller, more portable screens isn't great for all retailers.
"The shift to tablets drops the price point from $500-$1,500 per item to $100-$500," says de Grandpre.
Effle also expects cameras to go on sale this season. "Both Nikon and Canon rolled out new cameras this fall and they are going to want to fight for their share in the future."
Travelers can also expect to score a deal on Black Friday as many of the discount airliners put their fares on sale. "JetBlue and Virgin had interesting sales on Black Friday last year and so did hotels," says de Grandpre. "Last year JetBlue offered the best fares of the year on their routes and we expect them to do the same this year."
Apple lovers might also be able to score a deal. "A mini iPad is rumored to be coming out soon and the iPad 3 has been out for awhile and you can plan to see some significant discounts on that," says de Grandpre.
While Apple is heavy handed with the pricing and marketing of its product, it does offer its once-a-year sale around Black Friday. "They've done a sale on Black Friday for six or seven years, but they are coy about it, they don't advertise the sale until 10 or so days ahead of time. They are good at managing buzz, but you can expect that sale. But the best deals on its products aren't through Apple, it's actually at Best Buy, MacMall and MacConnection."
Shoppers can also expect hefty discounts on kitchen electronics and apparel.  "When it comes to apparel, there is going to be a lot of self-purchasing; things like boots, coats and Christmas dresses tend to get mark downed," says Cohen.
Surprisingly, the experts say the "it" toy of the season has yet to be established and one is not likely to come to the spotlight. "There is no toy being promoted as 'toy of the year' and shoppers can often get better prices of 30-50% off two or three weeks into December," says de Grandpre. He adds that the "magic toy" will be the Wii U since it's the first major video game console to hit the market since 2006. "Nintendo will have very limited stock, it will be impossible to get and they will end up on eBay for hundreds or even thousands more than they cost."
Effle says the trend for kids toys will be in those that are interactive, hand-held and learning toys. There might also be a blast from the past. "There is some movement that the Ferbie might be making a comeback with kids this year."
No matter how heavily discounted a product is, Effle says at the end of the day, consumers are still looking for value. "In this economy it is less about volume and quantity. People want to buy things that are going to last."