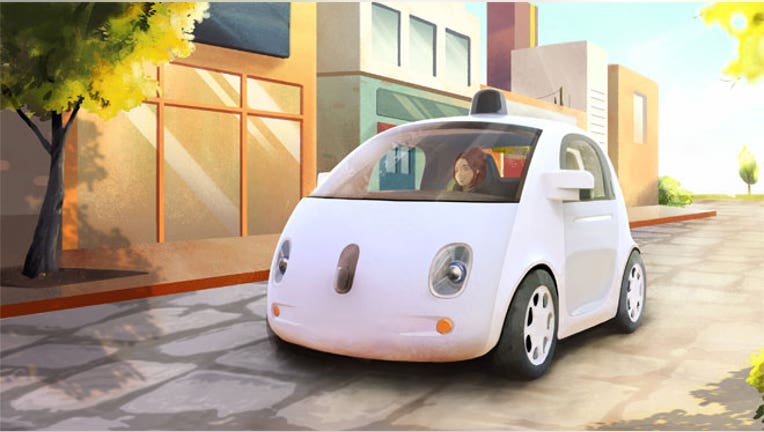 Google's (NASDAQ:GOOGL) driverless car may look more like a cartoon character than a revolutionary product, but don't be fooled -- investment in robotic cars is set to soar over the next few years whether the public is ready for it or not.
Manufactures will spend a significant amount of money on developing advanced systems for autonomous vehicles over the next seven years as they seek to transform the personal transportation industry, one industry group says.
As humans relinquish more control to machines on the road, these systems will be expanded from simply providing alerts in hazardous situations (such as beeping if you are backing up too closely to a car when parallel parking) to direct intervention in order to avoid accidents.
"In active-control systems, the mechanism takes over if the driver does not react to warnings so that the vehicle can avoid an accident or minimize the impact of a collision," said Akhilesh Kona, IHS analyst for automotive semiconductors.
For example, these advanced systems would physically help to keep a car from drifting out of its lane if it senses the car is veering sideways and the driver has not switched on the vehicle's turn signals. Today, the car would at most just emit a warning beep.
If the car senses a collision, an active-control system would apply full or partial breaks to stop or slow the car down significantly, an effort to avoid or lower the severity of a collision.
Many manufacturers, including Toyota (NYSE:TM), have started to implement semi-autonomous features onto their cars and invest in a future where machines -- not humans -- are controlling vehicles on the highway.
To many, this is still a frightening thought. But money is pouring into the industry anyway.
In fact, worldwide revenue for active-control systems in vehicles is set to reach $883.9 million in 2020, up from just $187.3 million last year, according to new data from IHS (NYSE:IHS). The seven-fold increase equates to a compound annual growth rate of 25% over seven years.
This year alone, revenue is projected to climb 31% to $246.1 million.
But don't freak out just yet -- IHS warns full adoption of autonomous vehicles is still far off.
An entire ecosystem of driverless cars must be put in place before this can fully launch. That will require new, standardized industry regulations and extensive testing from manufactures, which will take time and lead to high production costs.
Last week, Google, which has been working on this for years, unveiled some prototypes of cars that it says will eventually be able to operate safely and autonomously without human intervention. These cars won't have steering wheels, accelerator, or brake pedals.
"Our software and sensors do all the work," Google said.
Of course, these vehicles are still a ways off.
For now, Google planning to build about a hundred prototype vehicles. Later this summer its safety drivers will start testing early versions of these with manual controls and "if all goes well," Google says it is aiming to run a small pilot program in California in the next couple of years.