Best Buy's Profit Falls 16%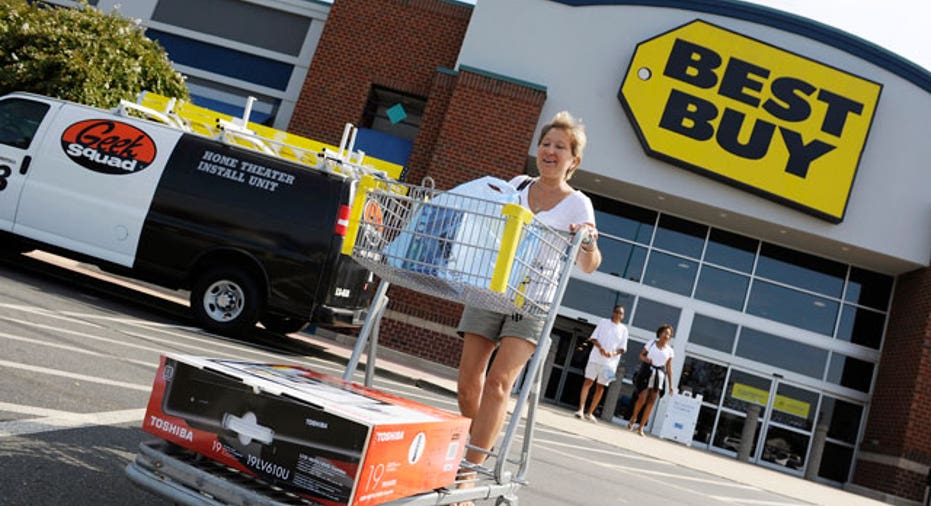 Electronics heavyweight Best Buy (NYSE:BBY) disclosed on Thursday a 16% drop in fiscal fourth-quarter profits, but strong smartphone sales kept the company's bottom line above the Street's view.
Richfield, Minn.-based Best Buy also issued a somewhat cautious view that didn't seem to faze shareholders, who bid the stock 2.8% higher ahead of the opening bell.
The company said it earned $651 million, or $1.62 a share, in the quarter ended February 26, compared with a profit of $779 million, or $1.82 a share, a year earlier. Excluding one-time items, it earned $1.98 a share, topping forecasts for $1.84.
Sales slipped 1.8% to $16.26 billion, trailing consensus calls for $16.3 billion. Domestic revenue slumped 4% to $12.1 billion, compared with a 4% rise to $4.1 billion overseas.
Same-store sales declined 4.6%, while online sales jumped 11%. Gross margins grew to 24.3% from 24%.
"Overall demand for key consumer electronics products was a challenge for the industry last year," CEO Brian Dunn said in a statement. "Thanks to the hard work and dedication of our employees, we accomplished several key initiatives during the year that helped to both partially mitigate these challenges."
Best Buy countered slipping notebook sales with growth in new tablet computers and a low double-digit increase in mobile phone sales.
For the new fiscal year, Best Buy said it expects non-GAAP EPS of $3.30 to $3.55 on sales of $51 billion to $52.5 billion. Analysts had been looking for EPS of $3.56 on stronger sales of $52.13 billion. Same-store sales are seen flat to down 3%.
The modest rise in Best Buy's shares despite the mixed results and outlook helped erase some of the 7% decline in the company's stock so far this year. Best Buy has tumbled more than 22% from a year ago.