Autonomous Mining is Coming to the U.S.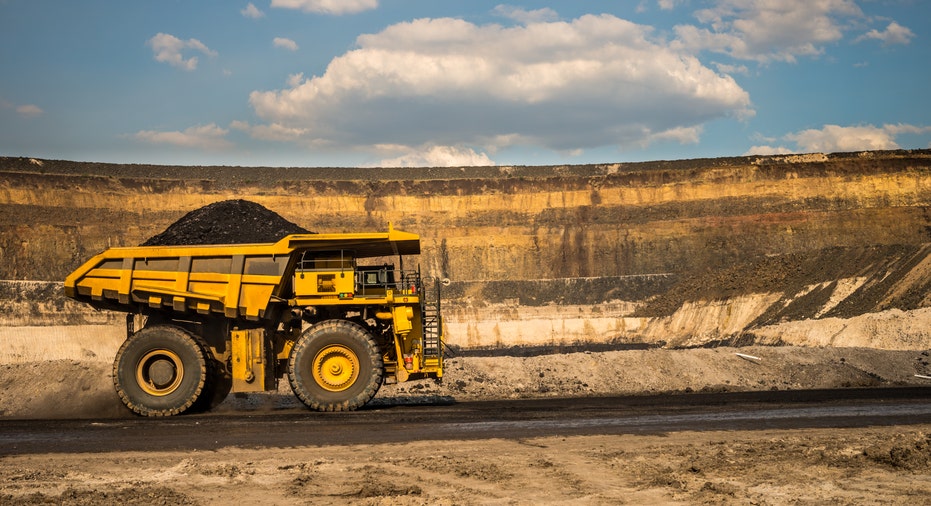 Don't blink, you could miss it. Technology is advancing at an unprecedented pace, forcing companies to either adapt or get left behind.
"There is no limit as the technology evolves as to what we can do with a lot of this autonomous capability," Charles Clowdis, transportation analyst for IHS, said. "We just scratched the surface."
Agriculture, trucking and other industries have all invested in the use of autonomous vehicles, and now mining has set its sights on the technology, with Caterpillar (NYSE:CAT) and Komatsu leading the charge.
In Australia, Rio Tinto (NYSE:RIO), BHP Billiton (NYSE:BHP), and Fortescue Metals Group have all incorporated self-driving vehicles in their operations, using unmanned trucks to haul ore.
"Our autonomous truck fleet has safely moved 240 million tons and now comprises 54 Caterpillar 793F trucks, representing approximately three quarters of the productive material movement for the Solomon Hub," Nev Power, CEO of Fortescue, told FOXBusiness.com.
And it has seen much success, not only in assuring safety, but also in efficiency. At Fortescue's Solomon Hub operations, the mine utilizing self-driving trucks resulted in a "20% productivity improvement compared to the regular fleet," said Power.
Commodity prices have hit all-time lows, resulting in sluggish sales for equipment manufacturers and mining companies. So, why aren't mines employing the technology in the United States in an effort to revitalize an industry in need of a new strategy?
"Everyone knows autonomy is coming, and a lot of them are taking small steps. There just hasn't been the availability of capital or appetite," Drew Larsen, director of business development for ASI System Integration: Technology consulting + System integrators, said.
But that appetite is changing.
"It's going to be a really critical technology for our mining business going forward. There's tremendous pull from our customers now, starting really with their truck fleets and their drills," Jim Hawkins, director of technology enabled solutions for Caterpillar, said. "I would expect in the next couple of years, we'll have autonomous trucks running in North America."
Unlike a truck with a person behind the wheel, autonomous vehicles don't need to take lunch breaks, or go to the restroom – they can run 24 hours a day, seven days a week with only minimal stops for refueling.
Self-driving technology can result in a 15% to 20% increase in production, as well as reducing costs in fuel and maintenance, according to a study by the International Institute for Sustainable Development.
But as technology improves, the fear of job loss becomes a prominent issue. Just like in other transportation sectors where autonomous vehicles are eliminating the need for human drivers, mining companies' self-driving fleets pose the same problem.
"You used to have to have a driver that climbed up the ladders to get into those thousand-ton behemoths that hauled ore around from the pit to the smelter or whatever," said Clowdis. "Now, if you can automate that, which I understand Broken Hill [in Australia] and all those big, big miners are doing, then yeah I can see [how] that could be an issue for jobs – yeah absolutely."
However, Clowdis went on to add that he believes the "workforce will adapt."
Although Caterpillar acknowledges there will be fewer truck driving jobs, Hawkins noted that the technology offers new opportunities in different areas such as a control center, where people can manage these self-driving trucks remotely.
More and more mining companies are developing a serious interest in autonomous technology, and Caterpillar has a "number of deals kind of in negotiations and development at this point," said Hawkins.
Although Newmont Mining (NYSE:NEM), one of the larger mining companies in the U.S., wouldn't directly state whether they're testing or planning to incorporate self-driving vehicles at their sites in the U.S., CEO Gary Goldberg said the company is, "harnessing advances in automation, and integrating its information and operation technology systems to achieve the next tranche of safety and productivity improvements."
He went on to add, "We use semi-autonomous equipment that can be operated remotely in our underground mines, and automated drill rigs that drill blast patterns more quickly and accurately in our surface mines."
The functional capabilities of this technology have offered new life to the mining industry, a report by Deloitte found, even claiming that companies could ultimately operate fully-autonomous mines in the U.S.
"Absolutely. The technology is really there to do it today, it's just a question of investment – you know time and money to go do it," said Hawkins. "The investment today is probably prohibitive to make a mine fully autonomous relative to the value prop, but that's quickly changing."
There is no doubt that mining is on the cusp of a major revolution, and autonomous technology is at the forefront of it all.
"It's going to come faster than any of us are prepared for," said Clowdis.