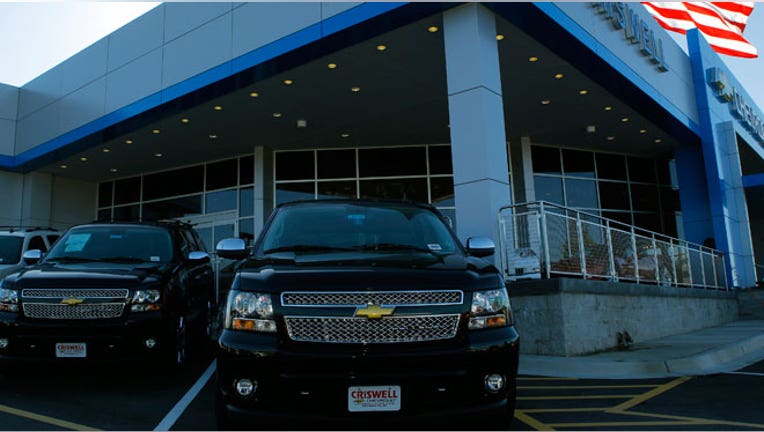 Demand for new vehicles continued to slump in February amid a spate of snowy weather. However, automakers are hoping sales momentum late last month is an indication of things to come this spring.
Auto sales were on a tear for much of 2013, thanks in part to low interest rates, an uptick in housing activity and a strong energy sector. But sales froze in December and January, with manufacturers widely blaming record amounts of snow across the U.S.
Analysts have said the weather will likely create pent-up demand and boost sales during the spring. Meanwhile, some car sellers like General Motors (NYSE:GM) are providing new discounts to help drive demand.
"We should see a rebound in sales alongside a rebound in temperatures," Kelley Blue Book senior analyst Karl Brauer said.
Industry researchers Kelley Blue Book and Edmunds.com expected the weather to further dampen sales last month. Meanwhile, Kelley Blue Book said Monday the average transaction price for light vehicles in February rose 1.9% year-over-year to $32,160.
Despite the rough February for most automakers, Autodata said industry-wide sales hit 1.2 million vehicles to break even with the year-ago month. Total sales were 18% higher compared to January. The seasonally adjusted annualized rate checked in at 15.34 million units, also the same as last year.
Chrysler Group reported an 11% increase in total U.S. sales during the latest month, aided by strong demand for sport-utility vehicles and pickup trucks.
The company sold 154,866 vehicles, up from 139,015 a year earlier. Truck sales led the way with a 27% gain, while car sales slid 15%.
Chrysler met expectations for the month from Edmunds, which was looking for an 11.6% increase. Kelley Blue Book projected 6.5% growth in sales volume.
A large chunk of Chrysler's sales gain came from the new Jeep Cherokee, which was introduced late last year. The Cherokee added 11,795 vehicles to the company's February sales total.
The smallest of Detroit's Big Three automakers, now fully owned by Italian manufacturer Fiat, provided an upbeat report for the second consecutive month. While most automakers saw sales decline in January, Chrysler bucked the downward trend and rejected the notion that snow was a negative factor.
Chrysler reiterated that sentiment for February sales, as its Jeep and Ram Truck brands soared 47% and 28%, respectively. With 45,946 vehicles sold, Jeep set a new monthly record for the brand.
"The severe weather has been ideally suited for our legendary Jeep 4x4 capability," said Reid Bigland, Chrysler's head of U.S. sales.
The namesake Chrysler brand logged a 1% increase in sales, while Fiat climbed 5% on the addition of the new 500L. Dodge was down 11%.
Chrysler finished the month with an 85-day supply of inventory. February had 24 selling days, even with last year.
The strength of Jeep and Ram compared to the rest of Chrysler's portfolio provided more evidence the weather is keeping car buyers away, Brauer explained.
"Brands that are more truck-heavy are doing well," he said. "Whoever is out there shopping, the weather is probably driving them more to trucks and SUVs."
Chrysler is nearing the completion of a merger into Fiat Chrysler Automobiles, which will likely start trading in New York by Oct. 1. Fiat said it anticipates completing the combination by the end of this year following a $4.35 billion deal to acquire the 41.5% of Chrysler it didn't already own.
Larger rival Ford (NYSE:F), the nation's second-largest automaker behind GM, said its February sales dropped 6.1% to 183,947 vehicles.
A slight 0.4% increase in truck sales wasn't enough to offset soft demand for cars and utilities. Car sales fell 13.6%, while utilities were down 4.4%.
Kelley Blue Book predicted a 7.8% decline overall. Edmunds saw a 5% drop in sales.
Sales surged in the final week of February to provide some momentum going forward, according to John Felice, Ford's vice president of U.S. marketing, sales and service. Felice also pointed to F-series trucks and Lincoln luxury vehicles as bright spots for Ford.
F-series pickup trucks rose 2.6% to 55,882 units, although the number was down from sales totals in excess of 60,000 in recent months. Sales during the month still marked the best February for F-series trucks in eight years.
Lincoln sales climbed 36.4%, the fifth straight month of positive sales for the Dearborn, Mich., company's high-end brand.
Lincoln's performance was due in large part to strong sales of the MKZ and MKX. Brauer said the MKZ is primarily being sold in the Sun Belt for demographic reasons, while the MKX, a crossover, likely appealed to buyers in snowy areas.
"There's a lot to suggest it's a cold-weather thing," Brauer added, referring to the weaker sales over the last two months. "The more you look at the numbers, the more you look at the weather."
Fleet sales last month were off by 10% year-over-year. Ford said winter weather "again delayed a portion of fleet orders," but the company expects volumes to be made up in March.
Shares of Ford retreated 1.6% to $15.15 late Monday afternoon.
GM recorded a smaller-than-expected drop in its February sales. The company said it sold 222,104 vehicles, down 1% as increased marketing during the Olympics buoyed sales later in the month.
The Detroit-based company noted that its sales were up 30% compared to January, which GM said is 10 percentage points better than the industry as a whole.
Kelley Blue Book forecasted a steeper 4.2% decrease in GM sales for the month, while an estimate from Edmunds called for an even bigger drop of 5.4%.
Buick's 18.8% sales growth helped offset declines at its three GM siblings. Cadillac and Chevrolet sales both went 2.9% in reverse, and GMC ticked 0.6% lower.
February was another difficult month for Chevrolet Silverado pickup trucks, which were redesigned for model-year 2014 and hit showrooms in the second half of 2013. Total Silverado sales were down 12.1% at 36,584 units, although the new GMC Sierra helped boost sales of the truck by 0.7% to 14,232.
In an effort to boost sales, GM is offering significant discounts during its "Truck Month" promotion in March. For instance, a new 2014 Silverado 1500 All Star Edition in the crew-cab configuration is being sold for $7,541 less, including a price discount and cash allowance.
The launch of the Silverado may have come at a difficult time, with competing trucks being sold at cheaper prices ahead of their own redesigns. Ford plans to launch a new F-150 later this year.
"GM is in a tough spot," Brauer said, calling the price competitiveness and weather an "unfortunate combination of events" that spurred GM to offer the discounts. "They probably didn't expect to be discounting this early after the launch."
On the other hand, the upcoming launch of the Chevrolet Colorado and GMC Sierra, both mid-size pickup trucks, makes now the best time to jolt Silverado sales, Brauer said.
"With the smaller trucks coming, GM can't let the prices get too close. If there's a glut of Silverados, it's better to get through that now," he explained.
Sales of the Chevy Tahoe and Suburban and GMC's Yukon also stumbled, as buyers wait for new versions of the large SUVs. GM recently began to ship the SUVs to dealerships.
GM said February retail and fleet sales were each down 1% as well.
"Weather continued to impact the industry in February, but GM sales started to thaw during the Winter Olympic Games as our brand and marketing messages took hold," said Kurt McNeil, U.S. vice president of sales operations at GM.
McNeil also commented that GM has a strong mix of pickup sales. Overall, despite a slow start to 2014, he said the company expects to have a strong year amid "plenty of new products and what should be the strongest GDP growth since the end of the recession."
GM shares were down eight cents at $36.12 in recent trade.
Toyota (NYSE:TM) provided a preliminary sales report showing a 4.3% decline in U.S. sales last month, worse than the 2.6% drop estimated by Kelley Blue Book. The Japanese car maker sold a total of 159,284 vehicles. Shares were recently trading 1.6% lower at $113.50.
Volkswagen's sales fell 13.8% to 27,112 units, while Nissan reported 16% growth. Hyundai said its sales fell 6%, as the weather "really hurt traffic" to dealerships.
Honda (NYSE:HMC) announced total sales of 100,405 vehicles, down 7.6% year-over-year. U.S. shares of the company climbed 29 cents to $36.34.