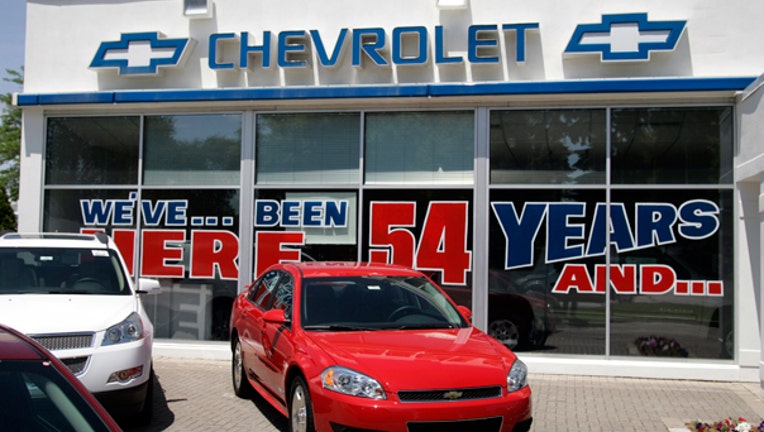 The auto industry bounced back in March after a lackluster winter, as demand for pickup trucks and sport-utility vehicles fueled sales.
Low interest rates, as well as demand from the housing and energy sectors, contributed to U.S. auto sales that raced higher in 2013. However, over the first two months of 2014, record amounts of snow dragged down sales.
Analysts expected sales to return to form during the spring, anticipating some pent-up demand from consumers who put off buying a car.
Jack Nerad, Kelley Blue Book's executive editorial director and market analyst, said the better-than-expected results in March confirm that winter weather delayed sales.
Car information provider Kelley Blue Book said the average transaction price for light vehicles in March increased 1.4% to $31,995. Prices were down 0.6% compared to February.
General Motors (NYSE:GM) reported a better-than-expected 4.1% increase in March sales amid a sharp increase in truck sales.
GM sold 256,047 new vehicles last month, compared to 245,950 a year earlier. Kelley Blue Book and Edmunds forecasted growth of less than 1%.
Chevrolet sales climbed 3.3%, GMC rose 7.4% and Buick's total sales were up 13.4%. Cadillac was the lone GM brand to log a sales decline. The luxury brand was down 6.3%.
Despite recent struggles to sell new models of its pickup trucks, GM saw a 6.8% increase in sales of the Chevrolet Silverado and a 22% gain for the GMC Sierra.
GM is dealing with the fallout from a long delay in recalling 2.6 million vehicles with defective ignition switches. On Tuesday, chief executive Mary Barra appeared on Capitol Hill on Tuesday to answer questions from lawmakers.
The nation's largest automaker has also announced several additional recalls to fix separate issues.
Unlike a similar situation at Toyota (NYSE:TM), GM's recall troubles shouldn't have a big impact on sales, Nerad said. GM has identified an ignition-switch problem in now-defunct models. By the end of 2010, Toyota recalled more than 10 million vehicles, some of them newer models, to address problems causing sudden acceleration.
"GM needs to put this to bed, and I think they're doing all the right things to make that happen," Nerad explained.
Shares of GM closed Tuesday down eight cents at $34.34. The stock has fallen 16% since the start of the year.
Chrysler continued to lead the pack in March with a monthly gain of 13%, thanks to strong demand for trucks and the company's new Jeep Cherokee.
The Auburn Hills, Mich.-based company said Tuesday it sold 193,915 vehicles in March, compared to 171,606 a year earlier. Truck sales surged 34%, offsetting a 25% decline in car sales.
Chrysler beat estimates from both Kelley Blue Book and Edmunds, which projected sales growth of 7.2% and 11.1%, respectively.
In recent months, Chrysler has benefited from strength at its Jeep and Ram brands. Sales of Ram vehicles, including pickup trucks, were up 29%. Ram pickups recorded their best March in 10 years.
The addition of the Cherokee SUV, which hit showrooms last fall, held the Jeep brand book a sales gain of 47%. Chrysler sold 13,796 units of the Cherokee during the month, and sales of the larger Grand Cherokee climbed 26% to 15,940.
Without the Cherokee, Chrysler's total sales would have been up 5% year-over-year.
According to Nerad, automakers are generally doing well in the SUV market. The Cherokee and smaller SUVs like the Nissan Rogue are "striking the right chord with consumers," he explained.
Fiat sales rose 24%, while the namesake Chrysler brand slumped 23% amid weak demand for the Chrysler 200 mid-size sedan. The nation's third-largest automaker is expected to launch a redesigned version of the 200 early this summer.
"We are entering the spring selling season on a high note as our Jeep and Fiat brands recorded their best sales months ever," said Reid Bigland, Chrysler's head of U.S. sales.
Chrysler finished March with a 71-day supply of inventory, down from 85 days at the end of February. March had 26 selling days, one less than last year.
Demand for pickup trucks also lifted Ford (NYSE:F), which reported sales growth of 3.4% in March.
John Felice, Ford's vice president of U.S. marketing, sales and service, said the nation's second-largest car manufacturer saw March sales turn "noticeably higher" halfway through the month.
Retail sales continued to expand at the fastest rate in the nation, he added. Overall, Ford reported that retail sales increased 3% to 166,030, the best March result in eight years.
Total unit sales hit 244,167, up from 236,160 vehicles. Kelley Blue Book was looking for a 1% improvement, while Edmunds had an estimate of 1.6% growth.
At 70,940 vehicles sold, sales of Ford's F-series trucks surpassed the 70,000 mark for only the fourth time in the last seven years. Last month also reflected the highest March sales volume for F-series trucks since 2008.
Ford is expected to launch a redesigned F-150 this summer. Nerad expects the price war between Ford, Chrysler and GM to continue.
GM launched a new lineup of Chevrolet Silverado and GMC Sierra pickups last year. After sales failed to gain steam, GM turned to incentives earlier than many analysts anticipated.
"I think it will be very hotly contested," Nerad said of the market for pickup trucks. "It will be a major battle through the rest of the year."
A strong performance by the Fusion sedan boosted Ford's namesake brand, whose sales rose 2.6%. The Lincoln luxury brand sold 8,969 vehicles, rising 31.4% for its sixth consecutive month of sales gains.
Across both brands, Ford saw an uptick in sales for all vehicle types. Car sales increased 2.6%, utilities were up 3.6% and truck sales climbed 4.1%.
Shares of Ford rallied 4.6% to $16.32, adding to a 1.1% gain over the first three months of the year.
Toyota (NYSE:TM) said its March sales were up 4.9% at 215,348 vehicles, topping expectations. The Toyota division saw a 2.5% improvement in sales volume, while luxury brand Lexus grew 23.3%.
U.S. shares of Toyota rose 32 cents to $113.22.
Honda booked a 2% drop to 133,318 cars sold during the latest month, sending shares 0.4% lower. Kelley Blue Book projected Honda's sales to remain at breakeven.
Hyundai reported a 1.9% decline in sales to 67,005 vehicles, while its Kia unit sold 54,777 vehicles. Combined, Hyundai's sales leaped 3.7% to 121,782. Analysts at Kelley Blue Book and Edmunds expected the company's results to show red ink.
Sales at Nissan rose 8.3% to 149,136, easily beating estimates amid growth at the company's namesake brand and Infiniti.
Volkswagen continued to struggle in America, logging a steeper-than-expected 28% drop in sales to 36,717 vehicles. However, combined with Audi, the company's sales were roughly level year-over-year, while Kelley Blue Book expected a 7.8% decline.