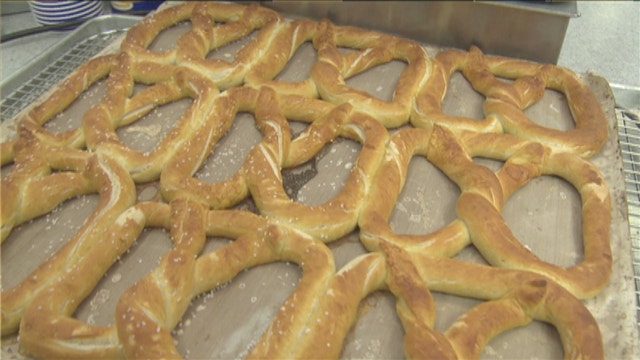 Continue Reading Below
Advertisement
In the year to come Auntie Anne's is set to add 100 new U.S. stores and 118 international locations to its total of 1350, a solid follow-up to its best year for openings ever. In 2012, the company opened 117 domestic units and 85 international stores.
Auntie Anne's opened up its first overseas location in 1995 in Jakarta, Indonesia and has focused on international growth ever since, Dunn said. The company also develops local flavors, including a seaweed-flavored product in Singapore, which allows it to remain brand consistent with local flare.
"The international market continues to be a tremendous opportunity for us to expand," Dunn said. "But we continue to grow and find success in pursuing malls, colleges, Wal-mart stores and military bases."
And Dunn said the company's main key to success is in its dough, literally. Since it was first made in 1988, the recipe for the company's basic pretzel has not changed.
"We have built our unique products that fit the flavor profile of our consumers and what they will go for," he said. "I think making the product all day fresh from open to close means we are upholding our commitment to the guest. We use the dough as our platform, and product innovation is key to our ongoing success."
Auntie Anne's has 350 franchisees which account for its 1350 locations around the world. Some own just one store, while others own upwards of 65 each, he said, but on average its about three stores per franchisee. Between full-time and part-time employees, each store has between 10 and 20 on its payroll, Dunn says.
Part of the reason the company continues to be profitable over so many years is its franchisees, Dunn said. Businesses considering franchising should be hyper-aware of the people they are franchising to.
"You have to align yourself with the right people," Dunn said. "It's kind of like a marriage. We are partners and are trying to accomplish the same thing, so if they are successful, we're successful."
Franchising is also not a fast-track to cash, he said. Selling franchises takes serious vetting and nurturing, so it's not for the faint of heart.
"You can't just open the doors and expect people to come," he said. "It's not a turn-key business, or something that will help you grow your business."
The corporate side of the company is providing franchisees with that all-important information regarding Obamacare as well, Dunn said. Auntie Anne's hosts council meetings as well as regional franchisee meetings to discuss what's coming down the pike.
Franchisees with multiple store location deals will likely be watching their employee thresholds, as multiple stores owned by the same franchisee are subject to the 50-employee mandate.
"We are trying to give them all the information they need, so that they can make intelligent business decisions," he said. "It's premature to say [the law] is a concern, but we are aware of the implications that may come from it. We make sure we are nimble, and can position ourselves to react as best we can."