Apple Updates MacBook Pro Line With Faster Processors, 'Thunderbolt' Interface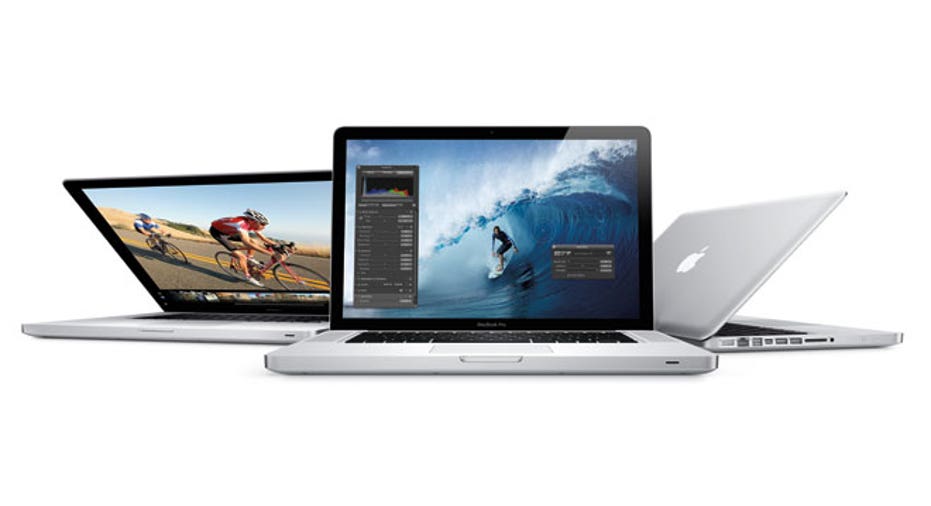 Apple (NASDAQ:AAPL) on Thursday updated its MacBook Pro line of laptops, giving them faster processors and graphics, and a new "Thunderbolt" interface, among other updates.
The 15- and 17-inch models now use quad-core Intel Core i7 processors, while the 13-inch models now use dual-core Core i5 and i7 chips.  And all models have beefed-up Intel HD 3000 graphics, with the 15- and 17-inch models also having AMD (NYSE:AMD) Radeon chips, which the computers automatically switch to, that Apple says provide three times the performance of previous models.
Check out FOXBusiness.com's new technology section at foxbusiness.com/technology
Apple's new MacBooks feature what the company calls a "Thunderbolt" interface, which is 20 times faster than USB 2.0, according to Apple, at 10 Gbps, compared to USB 2.0's 480 Mbps.  But don't' worry, the laptops didn't lose their FireWire and USB ports.  However, it seems Apple chose not to update the line's USB ports to 3.0, instead leaving them at 2.0.
Thunderbolt, which was developed with Intel (NASDAQ:INTC), works with PCI Express as well as Apple's DisplayPort technology.  Apple says users can also use adapters to use the port with USB, FireWire, and Gigabit Ethernet.
Also updated is the built-in cameras on the laptops.  Apple now calls it "FaceTime" HD, named after Apple's video conferencing service.  The cameras now capture at 720p HD resolution.
What may disappoint some, however, is that Apple is now charging a dollar for its FaceTime app in the Mac App Store, as tech site Gizmodo points out.  The app was formerly available for free.
Another potential disappointment is the lower battery life Apple reports for the 15- and 17-inch models, at 7 hours, compared with the previous models' 10-hour rating.  Still, Apple points out this is "nearly three times the lifespan of typical notebook batteries... and [the] MacBook Pro uses just one battery in the same time a typical notebook uses three."
The 13-, 15-, and 17-inch models start at $1199, $1799, and $2499, respectively.