Apple Unveils Thinner, Faster iPad 2; Steve Jobs Appears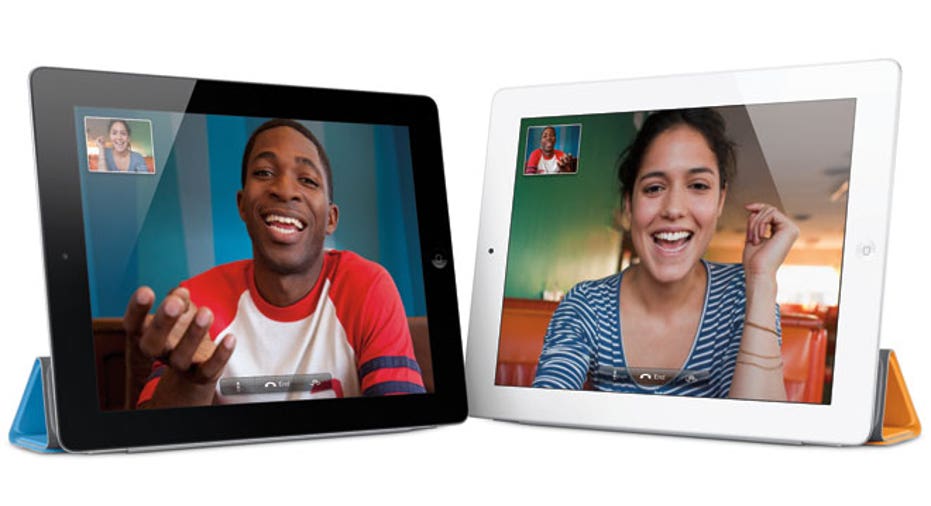 Apple (NASDAQ:AAPL) on Wednesday announced its iPad 2 tablet device, in a media event headlined by CEO Steve Jobs, who is currently on sick leave from the company.
The new device has been completely redesigned and features a new dual-core A5 chip, which is twice as fast as the A4, while still using the same low power, said Jobs.  It also provides up to nine-times faster graphics.
The iPad 2, according to Jobs, features a rear-and front-facing camera for video as well as the gyroscope already found in the iPhone and iPod touch.  The rear-facing camera, Apple said in a press release, is capable of 720p HD video recording.
Design-wise, the new tablet is 33% thinner, cut down from 13.4mm to 8.8mm, Jobs said. This is thinner than the iPhone 4, which is 9.3mm. It's also lighter at 1.3 pounds, compared to the original 1.5 pounds.  It will come in a new white color in addition to the black model.
Despite the design changes, Jobs said the tablets will have the same 10-hour battery life as the first iPad as well as the same price points, starting at $499 for the 16GB WiFi-only model.  The highest-end 64GB 3G model will still cost $829.
There will also be models to work on both AT&T (NYSE:T) and Verizon's (NYSE:VZ) wireless networks, according to Jobs.
Apple will begin shipping the new tablet starting on March 11, Jobs said.  According to Apple's Web site, customers will be able to pick up the tablet in Apple stores starting at 5pm that day.
Brenda Boyd Raney, Verizon Wireless Executive Director of Corporate Communications, told FOX Business customers will also be able to buy the iPad in Verizon Wireless stores.
Raney said customers will be able to self-select one of Verizon's data plans directly from the device.  Pricing starts at $20 per month for 1GB with an overage cost of $20 for each additional gigabyte (much like the current iPad-MiFi bundle it offers) and up to $80 per month for 10GB of data with an overage cost of $10 for each extra gigabyte, she said.
Asked if AT&T would carry the device in its stores and whether it would keep the same price points on data it has for the current iPad, AT&T Executive Director of Media Relations Mark Siegel said, "We haven't announced those details yet."
Some other new features of the iPad 2 include the ability to hook it up to a TV using HDMI with a $39 adapter and compatibility with a new "Smart Cover" accessory that, using magnets, automatically wakes the device when its opened.  The Smart Covers will cost $39 or $69 for leather.
Jobs said 15 million iPads were sold in 2010.  "We're in a position where most of our revenue comes from these products."
Jobs also announced a deal with publisher Random House, which will add more than 17,000 books to Apple's iBooks e-book store.
Steve Jobs took another leave of absence last month for health reasons, which he and the company have not disclosed.  Leading up to the iPad event, there was a lot of speculation surrounding whether or not he would show, but when he did he received loud applause from the audience.
Also taking the spotlight at Apple's event was the latest version of iOS: 4.3. Apple senior vice president of iPhone Software Scott Forstall said it will feature improved browsing performance in Safari as well as iTunes home sharing, letting users get all their content from iTunes over WiFi.
IOS 4.3 will add the personal hotspot feature found on Verizon-based iPhone 4 devices to all, said Forstall.
As was rumored before launch, with the new cameras found on the iPad comes new software to utilize them, including the popular OS X program Photo Booth, which takes photos and can apply fun visual effects. Not surprisingly, FaceTime will come with the new tablets as well, letting users video conference between, iPads, iPhones, and Macs over WiFi.
Other new apps include powerful iOS versions of Apple's desktop iLife suite, including iMovie (letting users cut and edit videos on their handheld device) and GarageBand (allowing users to record and mix music on the go).
iOS 4.3 will be released March 11 as a free software update for the original iPad, iPhone 3GS, iPhone 4, and the third- and fourth-generation iPod touch, according to an Apple press release.