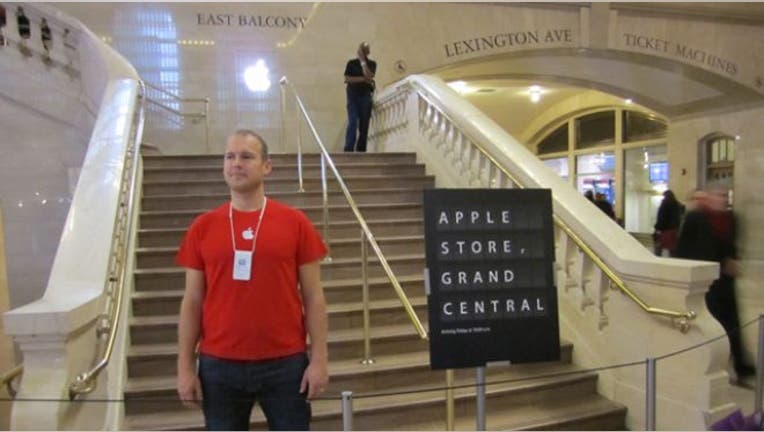 Apple Inc. (NASDAQ: AAPL) has the most successful retail stores by a wide margin. According to RetailSails, a retail and consumer goods consulting firm, the tech giant's 372 worldwide locations sold goods at a rate of more than $6,000 per square foot of floor space in the past 12 months. The average store of the next most successful company in the United States, Tiffany & Co. (NYSE: TIF), sold less than half that figure per square foot.
In the low-end department stores and supermarkets, sales per square foot were in many cases less than $100. Hancock Fabrics, a fabric retailer, brought in just $72 per square foot. Meanwhile, the retailers with the most profitable stores brought in more than $1,000 per square foot. These are mostly high-end brands, selling much more expensive products. Based on the RetailSails report, 24/7 Wall St. identified the nine most successful retail stores in America.
This content was originally published on 24/7 Wall St. 
In the case of most department stores and discount stores like Wal-Mart Stores Inc. (NYSE: WMT), Kmart and Family Dollar Stores Inc. (NYSE: FDO), most items cost less than $100, and most stores are very large. The average retail space in some of the least successful stores by sales per square foot is at least 10,000 square feet. This prevents the total profits per square foot from exceeding several hundred dollars, even among the most popular stores.
For the nine most profitable corporate stores, the opposite is true. They sell luxury goods, in apparel, accessories, electronics or jewelry. Their products are often quite expensive, while the stores are generally relatively small. Much of the merchandise companies such as Apple, Tiffany and Coach Inc. (NYSE: COH) sell costs in the hundreds of dollars or more. At the same time, the average store floor space of most of these companies is less than 5,000 square feet. While total sales of the average Kmart store is roughly double what Lululemon Athletica Inc. (NASDAQ: LULU) stores do, the average floor space of a Lululemon is only 1/34th that of a Kmart store.
Read: America's Most Reliable Cars
Because most of the profitable stores sell luxury items, they tend to be more selective in the markets they enter. Several of these companies have fewer than 100 stores nationwide. Birks & Mayors Inc. (NYSEMKT: BMJ) has only 57. Even stores that average small retail space, such as RadioShack Corp. (NYSE: RSH), turn low profit per square foot because they have hundreds of low-profit stores in low-income communities. RadioShack has 4,423 stores.
In many ways, Apple, the most successful store in terms of profit per square feet, is different from each of the other eight companies on this list. Companies like Tiffany, Coach and Select Comfort Corp. (NASDAQ: SCSS) rely primarily on their brick-and-mortar stores. Apple makes the vast majority of its sales and profits online, with its physical stores serving as hubs to improve branding and showcase new products. Apple's business model of regularly releasing new buzz products, such as the latest iPhone, draws in large crowds of customers looking to buy these item as soon as they hit the shelves.
Relying on RetailSails' 2012 Chain Store Productivity Guide, 24/7 Wall St. identified the nine companies with the highest sales per square foot, based on the past 12 months of sales. Retailsails also provided average store size, average annual sales per store, one-year sales growth and the number of stores.
Read: The 10 Companies That Control the News
These are America's most profitable stores.
9. Birks & Mayors > Sales per sq. ft.: $1,082 > Sales per store: $4.61 million > No. of stores: 57 > 1-yr. sales growth: 5.2% > Revenue: $302.3 million
Birks & Mayors is a designer, manufacturer and retailer of jewelry, timepieces, silverware and gifts in the United States and Canada. It operates 32 stores under the Birks brand in Canada, 24 stores under the Mayors brand across Florida and Georgia, among a few others. Although it has fewer stores than any of the nine most successful stores, it still manages to have sales of $4.6 million per store. However, its revenue growth in the past year has been only about 5%, and shares are trading near a 52-week low.
8. Vera Bradley > Sales per sq. ft.: $1,186 > Sales per store: $2.39 million > No. of stores: 70 > 1-yr. sales growth: 79.2% > Revenue: $460.8 million
In the first half of fiscal 2013, Vera Bradley Inc. (NASDAQ: VRA) opened 12 full-price stores and two outlet stores. This maker and retailer of "stylish and functional" accessories for women says it plans to open between 14 and 20 stores in each of the next five fiscal years, greatly adding to the 70 stores it had as of the end of July. Vera Bradley had the highest one-year sales growth, at 79.2%, in the RetailSails report. Net income last year was $57.9 million. The company's share price is down more than 15% since beginning of this calendar year.
Read: The Only Housing Markets to Drop This Year
7. True Religion > Sales per sq. ft.: $1,227 > Sales per store: $2.35 million > No. of stores: 116 > 1-yr. sales growth: 21.0% > Revenue/net income: $419.8 million
Since its founding in 2002, True Religion Apparel Inc. (NASDAQ: TRLG) has grown into a $640 million global company with distribution in 50 countries. In addition to its 116 U.S. stores as of the end of July, the company also sells its denim jeans and other casual and sportswear and accessories through other major retailers and department stores such as Neiman Marcus and Nordstrom Inc. (NYSE: JWN). Last year's revenue of $419 million was less than most other retailers on this list. For investors, it has been something of a roller coaster ride, with the share price up more than 58% in 2011, but down about 25% so far this year.
6. Select Comfort > Sales per sq. ft.: $1,314 > Sales per store: $2.00 million > No. of stores: 381 > 1-yr. sales growth: 32.6% > Revenue: $743.2 million
Select Comfort had, as of June 30, 381 company-operated Sleep Number stores across the United States, selling adjustable-firmness beds and other sleep-related accessory products. That is after both opening 22 stores and closing 22 stores in the first half of 2012. But the company said it expects a net increase in store count to between 400 and 410 by the end of the fiscal year. The company's revenue jumped 32.6%, the 10th highest in the report. The share price more than doubled in 2011, and year-to-date, the stock price rose another 18%.