America's Favorite Coffees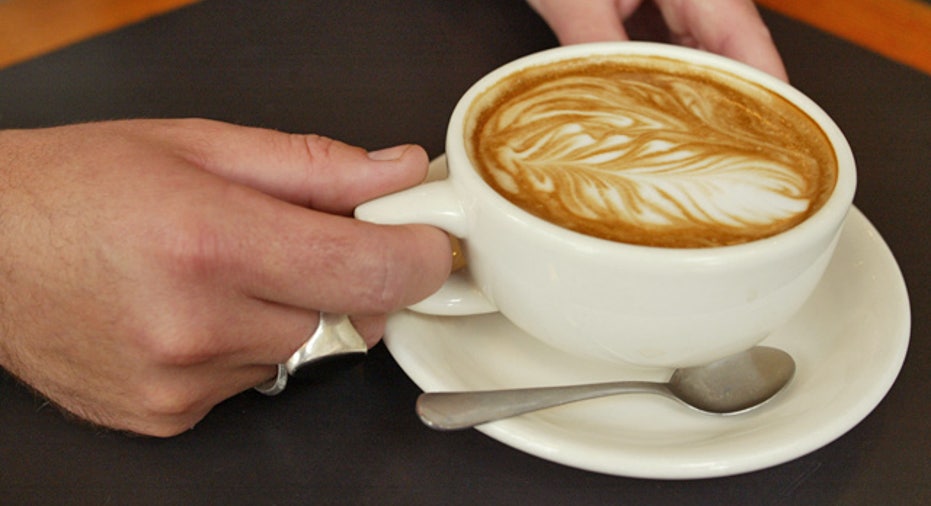 Americans love their coffee. Three-quarters of adults drink coffee and 58% say they drink coffee daily, according to the National Coffee Association. Like other large consumer products in the U.S., a substantial number of brands vie for market share — and for profit. And like other food and beverage products, each brand tries to distinguish itself for consumers based on taste, price, and in some cases, snob appeal.
Based on 2012 Harris Poll EquiTrend Rankings, 24/7 Wall St. identified the most popular coffee brands that people make themselves. The seven coffee companies with scores above the coffee product average measured by Harris, did well based on familiarity, quality, purchase consideration and the ability to generate buzz.
This content was originally published on 24/7 Wall St.
Green Mountain coffee brand topped the list. Its parent company, Green Mountain Coffee Roasters, is often viewed as a competitor to Starbucks, which did not make the list. In fact, the brands that are rated below average are probably better known than those rated above average.The losers include Chock Full O'Nuts, Nescafe, Newman's Own, Seattle's Best, and Starbucks.
Because Harris is not the only research firm that polls people on coffee preferences, we looked at other opinion studies, including one by Consumer Reports. Oddly enough, its preference ratings put Starbucks' house blend as the highest rated brand. The differences in the results show how unpredictable research is when consumer preferences are considered.
Read: Cities with the Most Homes Underwater
Because of this, 24/7 also looked beyond subjective measures of preference. We looked at price, based on the assumption that many coffee drinkers consider value. We also examined annual revenue of each brand, as well as the number of bags sold last year. We discovered that the most favored brands are not inexpensive. Folgers Ground Coffee and Green Mountain, two of the most preferred brands, cost well over $7 per bag. Millstone and Eight O'Clock, while still popular, are less preferred, and each of these costs little more than $5 per bag
The relationship of price to quality perception should not come as a surprise. Starbucks has made a fortune selling expensive coffee at trendy stores. Its customers are not complaining that their $3 cup of coffee costs twice as much as it does at the neighborhood deli.
Read: The Most Dangerous States to Drive In
24/7 Wall St. reviewed the 2012 Harris Poll EquiTrend Rankings of coffee brands, which quantifies brand strength among consumers, to identify the most popular coffees. We included dollar sales, change in dollar sales from one year ago and unit sales of bagged ground coffee over the latest 52-week period in the United States provided by SymphonyIRI Group, a Chicago-based market research firm. The group's data reflects sales at supermarkets, drugstores, gas/convenience stores and mass market retailers, but excludes Walmart club stores, and liquor stores.
These are America's favorite coffees.
7. Caribou > Parent company: Caribou Coffee Company > 1-yr. bags sold: 2,134,128 > 1-yr. sales: $16,793,690 > Price per bag: $7.87
Owned by the publicly traded Minneapolis-based Caribou Coffee Company, the Caribou brand comes in at seventh in the Harris poll. Founded in 1992, Caribou is the second most expensive coffee on this list at $7.87 a bag. The brand also has the second-lowest annual dollar sales of any coffee brand on the list at less than $17 million. In its most recently reported quarter, Caribou's parent company sales were $80.5 million for all its brands, up 11% from the same quarter in the prior year. In its coffee blend reviews, Consumer Reports gave Caribou's "daybreak morning" blend especially poor reviews.
Read: Cities With The Most Homes In Foreclosure
6. Maxwell House > Parent company: Kraft Foods, Inc. > 1-yr. bags sold:73,285,570 > 1-yr. sales: $467,080,600 > Price per bag: $6.37
A Kraft Foods product, Maxwell House's 52-week sales through April 15 was in excess of $467 million, making it the second best selling ground coffee in the U.S. Despite strong sales, Maxwell House has performed poorly in coffee blend ratings issued by Consumer Reports, as none of the four blends (decaffeinated, breakfast, original roast medium, and master blend mild) was given a "good" rating. However, at $6.37 a bag, Maxwell House's brand value is likely bolstered by a middling price in conjunction with customer familiarity with both the brand and its parent company.
5. Eight O'Clock > Parent company: Tata Global Beverages > 1-yr. bags sold:13,519,080 > 1-yr. sales: $74,800,170 > Price per bag: $5.53
First sold in 1859 by the Great Atlantic and Pacific Tea Company (now A&P), the Eight O'Clock brand's longevity is unmatched by any other ground coffee on this list. The brand has been sold under the present trademark since 1919. In the 1920s through the 1950s, the company claims it was the most popular ground coffee brand in the U.S. Since then, however, its popularity has declined.  Since 2006, the brand has been owned by Tata Global Beverages and, as of 2010, was still the best-selling whole bean coffee, according to the company.
4. Millstone > Parent company: J.M. Smucker Company > 1-yr. bags sold: 3,469,959 > 1-yr. sales: $18,187,170 > Price per bag: $5.24
Millstone was started in 1981 by Phil Johnson, who sold arabica coffee beans to shops in the Seattle area. The brand offers a large variety of roasts, from espressos to French roasts and appeals to customers through organic and fair trade offerings. The brand has performed poorly in the last year, with dollar sales down 10.94% and bag sales down 19.69%. The brand's average price per bag has risen 52 cents in this same time span.
3. Dunkin' Donuts > Parent company: J.M. Smucker Company > 1-yr. bags sold: 21,499,550 > 1-yr. sales: $190,710,400 > Price per bag: $8.87
Well known for its restaurants, which offer breakfast, baked goods and coffee, the Dunkin' Donuts brand is owned by the Dunkin' Brands Group. Dunkin' Donuts, which has 6,772 franchised restaurants in 35 states, has licensed J.M. Smucker to sell its ground coffee throughout the U.S. Dunkin' is the most expensive coffee on this list. Its offerings have been given mixed reviews by Consumer Reports — its dark roast is well reviewed and its decaffeinated blend is poorly reviewed. In the last year, dollar sales have increased 11.03% as the average price per bag has risen by 83 cents.
2. Folgers > Parent company: J.M. Smucker Company > 1-yr. bags sold:114,784,800 > 1-yr. sales: $852,350,800 > Price per bag: $7.43
The best-selling ground coffee brand, Folgers sold over 114 million bags of coffee in the past year. The sales don't include the "Gourmet Selections" and "Coffee Singles" products, which account for an additional $18.6 million and $19 million in sales, respectively. The brand's offerings received mixed reviews from Consumer Reports, with its house blend receiving a "good" rating and its breakfast, classic and decaf blends receiving "fair" ratings. Though the brand was founded in 1850, it has been part of the J.M. Smucker Company only since November, 2008.
1. Green Mountain > Parent company: Green Mountain Coffee Roasters > 1-yr. bags sold:1,844,802 > 1-yr. sales: $14,422,080 > Price per bag: $7.82
Founded in Waitsfield, Vermont in 1981, Green Mountain has been manufactured in Waterbury, Vermont, since shortly thereafter. Its parent company, Green Mountain Coffee Roasters is better-known for its Keurig brands, which account for much of the revenue at the parent company. In the most recently reported quarter, revenue at Green Mountain's parent company rose 37% to $885 million. Despite a relatively high price per bag of $7.82, Green Mountain's 52 week sales are less than $15 million. This makes Green Mountain the smallest brand by sales of all brands studied by Harris. The single Green Mountain blend reviewed by Consumer Reports, its signature Nantucket blend medium roast, received the third-highest rating.