Americans Not Yet Sold on Self-Driving Cars: KBB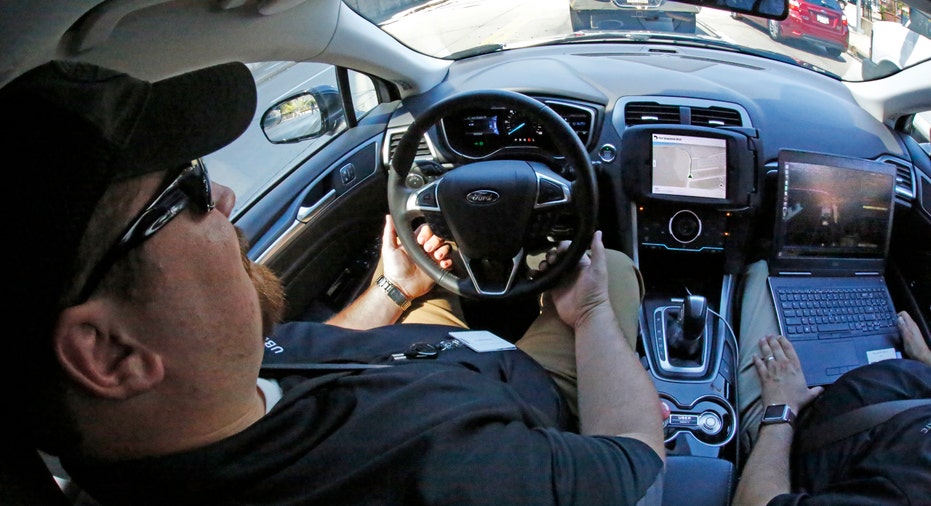 Half of U.S. drivers aren't sold on self-driving cars, according to new research from Kelley Blue Book.
The report, which was released on Wednesday, examined consumer perceptions of self-driving technology and revealed that slightly more than half (51%) of Americans prefer to have full control of their vehicles. The remaining respondents are ready to surrender control in order to make the roads safer.
Meanwhile, one-third of Americans say they would never buy cars that completely drive themselves.
Automakers developing self-driving cars can only win over consumers by educating them on the technology, Kelley Blue Book senior analyst Karl Brauer told FOXBusiness.com. Companies can offer first-hand experiences through test drives or short-term leases. Today, six-in-10 consumers know just a little or nothing about self-driving cars.
"People need to experience it to some degree to feel comfortable," Brauer said.
---
Americans Love to Drive
Americans say...
People should always have the option to drive themselves (80%)
I need to be in control of my vehicle (64%)
I love to drive (62%)
I prefer to drive when I'm in a vehicle (62%)
When asked to choose, 30% of Americans would prefer a Level 4 self-driving vehicle that drives itself but still allows the owner to drive if they wish.
---
Kelley Blue Book found that drivers who already have experience with self-driving tech are more receptive to the idea of a fully autonomous vehicle. Those drivers include the pre-driving Generation Z (ages 12-15), existing ride-sharing customers and owners of modern luxury cars, many of which provide automated driving features.
Future drivers in Generation Z are the most comfortable (73%) with Level 5 self-driving vehicles, the highest level as defined by the Society of Automotive Engineers. Many Millennials (44%) are also open to purchasing fully autonomous cars.
Self-driving cars are categorized from Level 0 to Level 5, with Level 0 consisting of cars that require a human to control everything from steering, braking and power. Most vehicles sold today are Level 1, which includes common features like cruise control and anti-lock brakes. Level 2 vehicles have at least two functions that are automated, such as cruise control and automatic lane-centering.
Consumers are wary of Level 3 vehicles. While vehicles in Level 3 can largely drive themselves using advanced sensors and GPS, drivers must always be ready to take control if the car needs help. Kelley Blue Book's research indicated that consumers would prefer to jump right to Level 4, where vehicles can handle all road conditions autonomously but include an option for human driving.
Kelley Blue Book called Level 4 the "sweet spot" among consumers. Level 4 vehicles have all the benefits of self-driving cars, but drivers can still choose to drive if they wish. This is especially important to consumers who, for instance, drive a pickup truck around a construction site. Level 5 vehicles don't give drivers the option of taking control. They have no steering wheel or pedals.
Automakers diverge in their plans to introduce self-driving cars to the masses. Consumers seem to agree with the path taken by Ford (NYSE:F) and Alphabet's (NASDAQ:GOOGL) Google, who are focused on making cars that safely drive themselves without help from a driver. Based on Kelley Blue Book's findings, consumers want companies to get straight to Level 4, feeling they can fully relax inside the vehicle. By comparison, Tesla's (NASDAQ:TSLA) Autopilot and General Motors' (NYSE:GM) Super Cruise, which is expected to debut in the Cadillac CT6 next year, require that drivers keep their hands on the wheel.
The top barriers to purchasing self-driving cars are cost and repair expenses, according to the survey. Consumers would be more willing to make the transition if cars are available in their price range, if insurance rates go down and if tax breaks are available.
Brauer said automakers are likely three to five years away from offering self-driving cars for fleets. The average consumer can expect self-driving cars to become available in about a decade.
Last week, the U.S. Department of Transportation detailed new guidelines for the development of self-driving cars. Automakers embraced a 15-point checklist for design, testing and other areas, saying the policy balances safety and fast-moving advancements in the technology.
"They have come up with an oversight system that's much more responsive than they usually have," Brauer said.
Kelley Blue Book's national survey includes responses from more than 2,200 Americans between 12 and 64 years old.