American Airlines to add basic economy to some European flights
Travelers flying on American Airlines this spring will be able to take a trip to Europe and keep more money in their wallets.
The airline announced Thursday it will begin offering basic economy fares on some trans-Atlantic flights in April, which include those operated by the U.S. air carrier's Atlantic Joint Business partners British Airways, Iberia and Finnair.
Most of the options and restrictions for the latest addition to the no-frills basic fare class are similar to the existing ones on domestic and short-haul international flights, such as those to Canada.
Basic economy ticket holders on trans-Atlantic flights will be allowed one carry-on item and one personal item, though customers will be charged for their first checked bag. Additionally, passengers in basic economy on a trans-Atlantic flight will have their seat assigned at check-in, though the seat assignments can be changed at any time for a fee.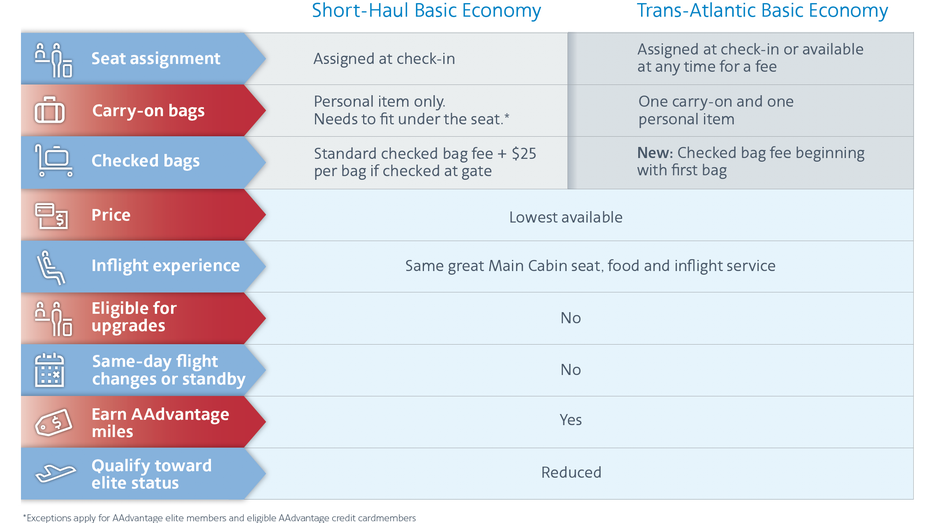 All passengers, regardless of whether they are traveling on a basic economy or regular main cabin fare, will have the same in-flight experience, including access to the same free entertainment, soft drinks snacks and meals currently offered.
Tickets are non-refundable and there are no same-day flight changes or same-day standbys. But they are changeable for a fee, which differs from domestic basic economy. Elite customers and eligible AAdvantage credit card members will still receive priority or preferred boarding when purchasing the basic economy fare. However, upgrades are not permitted, regardless of elite status level.