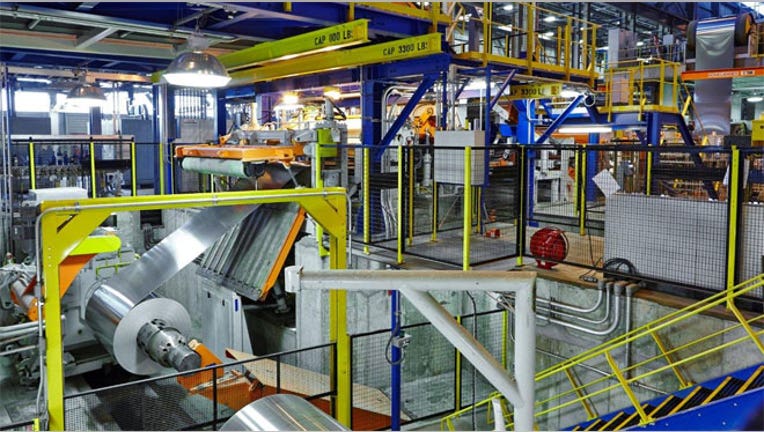 Alcoa (NYSE:AA) completed a $300 million expansion at an Iowa facility dedicated to supplying aluminum used by the auto industry, as the company looks to capitalize on growing demand for the lighter metal.
The announcement comes as several automakers at the Detroit auto show are showing off vehicles that rely more heavily on aluminum, including Ford's (NYSE:F) redesigned F-150 pickup truck.
Alcoa is one of Ford's suppliers for the new 2015 F-150, by far the most popular vehicle to make the switch to an aluminum body.
Alcoa said Tuesday automakers see demand for aluminum used to produce vehicles nearly doubling by 2025. The amount of aluminum body sheet content in North American vehicles is expected to quadruple by next year and increase tenfold by 2025, the company added.
"2014 marks the beginning of dramatic growth for aluminum in the auto sector," said Klaus Kleinfeld, Alcoa's chairman and CEO. "Automakers are increasingly choosing aluminum as a cost-effective way to improve the performance, safety, durability and fuel efficiency of their vehicles."
The Pittsburgh-based aluminum maker's Iowa expansion is one of three projects to increase production capacity and part of a total automotive investment of $670 million.
Alcoa is adding automotive capacity in Alcoa, Tenn., a project slated for completion in mid-2015. It also plans to have an expansion at its joint venture rolling mill in Saudi Arabia completed by the end of this year.
Long-term supply agreements have already been secured for the plant in Davenport, Iowa, Alcoa noted.
Shares rallied 1% to $10.20 in morning trading. Alcoa is up about 26% over the last six months, easily outpacing the broader S&P 500.