Airlines Scramble to Get Passengers Out of Japan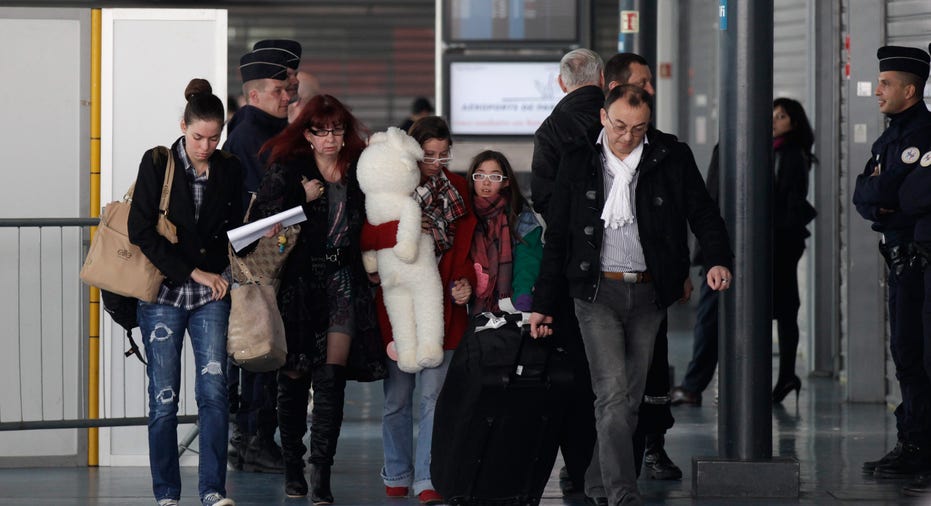 Airlines raced on Wednesday to clear Tokyo's airports of a backlog of passengers and help those wanting to leave as fears grew that quake-stricken Japan was losing control of a steadily growing nuclear crisis.
The disaster has transformed parts of Tokyo into a ghost town as people either stay indoors or leave.
France and Austria urged their citizens in Tokyo to leave the country or head to southern Japan.The French embassy in Tokyo said it had asked Air France (AIRF.PA) to mobilise planes for the evacuation of French nationals from Japan, and two were already on their way.
The Association of Asia Pacific Airlines, which represents 17 scheduled international airlines in the region, said domestic flights and air cargo services were now operating normally.
UK carriers British Airways (ICAG.L) and Virgin VA.UL said they were operating a normal schedule to Tokyo but a spokeswoman for BA said the airline was looking at alternative options.Germany's Lufthansa (LHAG.DE), however, said it was still diverting planes to Osaka and Nagoya.
Dutch KLM also said it was diverting to Osaka, instead of Tokyo, but would still fly out of Tokyo Narita to Amsterdam.
Private jet companies also said they were being inundated with requests for evacuation flights.
An aviation industry official in Asia said there had been a sharp drop in demand to fly to Japan coupled with a rush to leave.
Briton Andy Beese, a Tokyo-based photographer, flew back to Tokyo late Tuesday from London on an Asiana (020560.KS) flight.
"I've never been on such an empty flight," he told Reuters shortly after boarding. "It was a (300-seat Boeing (BA.N)) 777 with barely 20 people on board."
Among companies already making contingency plans are SAP (SAPG.DE), Continental (CONG.DE), PSA Peugeot Citroen (PEUP.PA) and Cisco Systems (CSCO.O).
Law firms and banks such as Bank of Italy have closed offices, while an employee at international law firm Herbert Smith said Tokyo-based staff had been asked to work remotely.
Fashion retailer H&M (HMb.ST) said 9 of its 10 Tokyo stores were closed and it was helping staff who wished to leave the country.
French asset management firm Amundi said it had evacuated the families of French nationals among its 230 staff in Japan, but French insurer Axa (AXAF.PA) said it had no immediate plans to relocate its 8,000 people based there.
A Tokyo resident who works for Nomura Securities said she was exhausted from worry over radiation possibly reaching the capital and its effect on her 12-year-old son.
"Some of my colleagues are leaving (Tokyo) tonight. People have suggested I avoid Narita because it's closer (to the nuclear incident). They are trying to fly out of Haneda (Airport in Tokyo) or getting the bullet train to Osaka and going from there," she said, asking not to be named.
Her husband said he would stay on in Tokyo but that power outages were causing havoc for his small IT company and they might have to move operations to their other office in New York."I'm not really ready to leave yet, I'm not sure how much of the media coverage I can trust. It is a bit spooky here though, with big department store closed and supermarket shelves empty."
LONG-TERM EFFECT?
While most airlines are right now coping with flight demands and safety advice on a daily basis, some experts are already trying to assess the long-term impact on Japan's travel and tourism industry.
"The airlines will be adjusting day by day to cope with the after-effects of the quake, but longer term, they will be evaluating the market to see what their operations should be before changing their schedules," said Alistair Rivers, Director of Industry Affairs at Innovata, a U.S. company specialising in the management and distribution of flight databases.
The International Air Transport Association (IATA) said the Japanese disaster would reduce premium air travel in March as Japan makes up 6-7 percent of the global market.
The World Travel & Tourism Council estimates travel and tourism made up 6.8 percent of Japan's 2011 GDP before the quake, although growth forecasts for 2011 were now in doubt.Travel company Inside Japan Tours, which sent around 4,000 people to the country last year, said some people had cancelled trips after official British advice not to travel there.
A spokesman for the company, which has been providing a stream of updates on its Facebook page, said however, that the majority of people were so far looking to take up its offer of rebooking trips past May 15.
"This is promising and shows they're not giving up on us or Japan," he added.