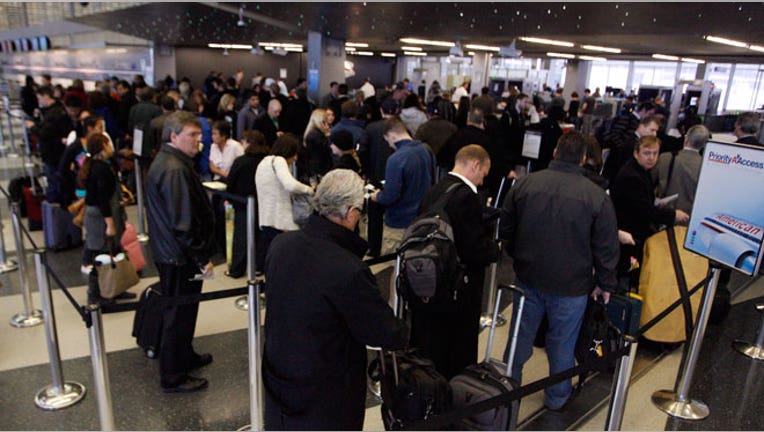 With 25 million passengers expected to travel through U.S. airports Thanksgiving weekend, airlines are gearing up for the busiest travel day of the year, adding seats and tweaking ancillary fees.
Industry group Airlines for America expects the number of passengers traveling from Nov. 22 through Dec. 3 to increase by 1.5%, or 31,000 travelers per day, from 2012.
The busiest days are expected to be Wednesday, Nov. 27, with 2.42 million passengers, Sunday, Dec. 1, with 2.56 million passengers and Monday, Dec. 2, with 2.36 million.
To meet the growing demand, with airplanes expected to be more than 85% full on the busiest days, airlines like United (NYSE:UAL), JetBlue (NASDAQ:JBLU), American and Delta (NYSE:DAL) are increasing the available seats by roughly 2%, according to A4A's chief economist, John Heimlich.
"More seats are returning to the marketplace to accommodate growing demand," he said.
Despite the heightened demand, A4A predicts fares will be reasonable, a reflection of solid airline growth through the first nine months of the year.
The 10 largest carriers reported earnings of $4.5 billion year-to-date, resulting in a net profit margin of 4%, up from $312 million, or 0.3%, in 2012. Fuel remained the largest and most volatile cost for airlines, accounting for 35% of overall expenses.
But airlines nevertheless continued to offer perks such as lie-flat seats and Wi-Fi. Several also started relaxing rules on in-flight smartphone and tablet use this week as part of a new Federal Aviation Administration rule.
"The good news for customers is that air travel costs less in real dollars today than in 2000," Heimlich said. "When airlines are profitable, customers, employees and the economy win because airlines are better able to invest in the business."