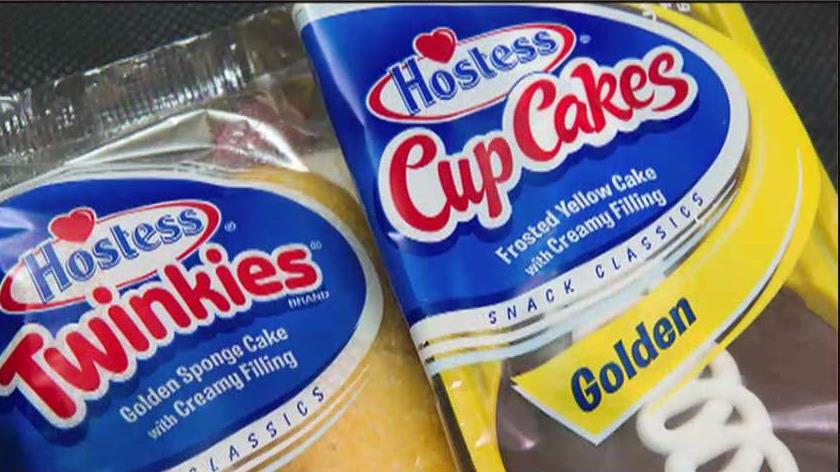 News of retail giant Walmart devoting less shelf space to Twinkies and a weak earnings report caused shares of baked goods company Hostess to take a nosedive this week. But many analysts don't seem too worried about the future of the iconic treat.
"We continue to see the Hostess Brands as strong and it has been a large share gainer over the last five years and has continued to grow share [year-to-date]," Michael Gallo, an analyst with CL King & Associates, tells FOX Business.
Gallo says the classic treat became somewhat a "victim of its own success" in Walmart as it had gotten very strong promotional support last year behind some new innovations such as Chocolate Cake Twinkies which has not reoccurred this year.
Hostess Brands, whose portfolio includes other sweet treats like Ho Hos and Donettes, said its weak second-quarter report was a result of "unexpected headwinds."
And, while its chief executive Andrew Callahan didn't name Walmart during his earnings call remarks this week, he did say the decline in retail inventory and consumer pull came after "one large retail" partner chose to "lower promotional support."
But despite the big pushback, Farha Aslam, a food and agribusiness research analyst at Stephens Inc., tells FOX Business the brand is likely to see an uptick in a few weeks because of back-to-school shopping.
"The pull back in Wal-Mart's promotional support is temporary in our view. The back-to-school support levels should be up from the [fiscal second-quarter] levels," Aslam says.
However, she adds that this news is a wake-up call for the makers of the snack cake and they need to have "a stronger innovation pipeline and promotional programs to accelerate the top line" in the future.
"This will likely be a [fiscal 2019] event given the timing of the new breakfast offerings."
In February, Hostess announced that it had acquired certain U.S. breakfast assets from Aryzta LLC, which includes Chicago Cloverhill facilities.
Though other analysts aren't so bullish on the sweets maker's future, both SunTrust and RBC Capital Markets downgraded their views of the company. SunTrust slashed its price target to $12 from $20, while RBC Capital Markets downgraded Hostess to sector perform from outperform.
Gallo says while Walmart was a major setback for the company this quarter, the company's overall retail sell through was +2.4% during the second quarter, according to Nielsen. What's more, it still has strong growth in club, grocery and convenience sales.
"Convenience continues to be a trend that is in the favor of the brand," he says.