After Military Gaffe and Recent White House Remarks, More Scrutiny for Student Loan Servicers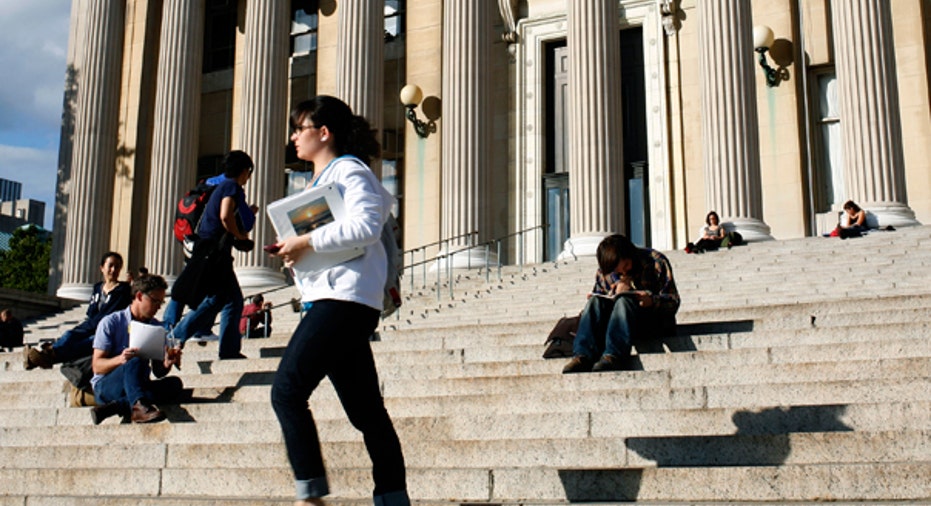 Loan contractors have been under pressure recently.
On Monday, as part of his push to assist students buried in debt, President Obama said the Department of Education would be renegotiating contracts to make sure students' best interest came first.
The announcement comes on the heels of student loan contractor Navient Corp., which took over Sallie Mae's student loan servicing business, agreeing to pay almost $100 million to settle claims it overcharged military members who took out education loans.
"We're going to make it clear that these companies are in the business of helping students, not just collecting payments," the president said in his speech on Monday. "And they owe young people the customer service and support and financial flexibility that they deserve."
For student loan expert Heather Jarvis, this is a welcome move.
"Often times, borrowers are making payments to these service companies, but they are not always advantageous to the student," she says. "For instance, it makes most sense to pay off your loan with the highest interest rate first, but unless you ask specifically, [student servicing companies] typically spread the payment out across all the loans, and that policy is not best for student loan borrowers."
But others say the Department of Education is to blame for a lack of guidance concerning how to handle prepayments.
"This policy concerning the application of prepayments appears in the federal regulations, meaning that the lenders and servicers have no discretion. It is entirely federal policy in the driver's seat," says Mark Kantrowitz, senior vice president and publisher of edvisors.com and author of Filing the FAFSA. "The White House is blaming the lenders and servicers instead of accepting the responsibility for the current policy, which actually dates back a long ways to several prior administrations. They will have to change the regulations, instead of playing political games. Lenders and servicers aren't pure, but this is one area where they are not at fault."
"Income repayment programs can be a great safety net if you don't have higher salary prospects in the future. But if you do, you may not want to sign in for that…. What is always good [advice] is to pay the required payments on all of your loans and if you have a little extra, pay towards the loan with the highest interest rate,"
Either way, there is a lot of attention on the lenders, especially the big four: Fed Loan Servicing, Nell Net, Great Lakes and the biggest, Navient Corp., (which took over Sallie Mae's student loan servicing business six weeks ago). Navient has been in the news recently after charging excessive interest to 93% of its active-duty servicemembers.
"We offer our sincere apologies to the servicemen and servicewomen who were affected by our processing errors and thus did not receive the full benefits they deserve," said John (Jack) F. Remondi, president and CEO of Navient in a press release. "Over the past several years we have implemented changes in our procedures and training programs to prevent these mistakes from happening again. We also appreciate that the regulators agreed on consistent guidance that provides clarity and thereby enables us to offer SCRA [The Servicemember Civil Relief Act] benefits to even more service members back to as early as 2005 as well as going forward."
Part of President Obama's new effort also allows the Education Department to reduce interest rates automatically for eligible servicemembers without the need for additional paper work. The Military Officers Association of America, a non-profit focused on servicemember affairs, says this is a step in the right direction.
"The Military Officers Association of America is very pleased to see that practical steps are being taken to relieve our troops from burdensome reporting requirements to trigger the 6% rate cap under the Servicemembers Civil Relief Act (SCRA) on student loan debts they incurred before entering active military service," says MOAA Deputy Director and Col. Bob Norton.
Navient spokesperson Patricia Christel says helping customers successfully repay their loans and avoid the negative consequences of default is their top priority.
"As a result of our proactive outreach, student loan borrowers whose federal loans are serviced by Navient are 30% less likely to default than others. It's our privilege to serve our customers, and we are always looking for new approaches to increase customer success."
Kantrowitz points out that it's in the servicers' best interest to keep borrowers current on their payments. He explains that a servicer is paid 50 cents per month per borrower whose loans are in default, while they are paid $2 per month per borrower who is not behind on payments.
With that said, Navient ranks the lowest of the four loan contractors when it comes to customer service, according to a survey from the Department of Education.
Yet, according to the department's site, only 250 borrowers per servicer were surveyed and a sample of 75 schools per servicer were surveyed.
"Because of the small amount of people used in this survey, the results from the Department of Education is, statistically, insignificant," says Kantrowitz.
When it comes to how to best pay loans, he says it really depends on the individual.
"Income repayment programs can be a great safety net if you don't have higher salary prospects in the future. But if you do, you may not want to sign on for that….,"says Kantrowitz. "What is always good [advice] is to pay the required payments on all of your loans and if you have a little extra, pay towards the loan with the highest interest rate. Consolidation of your loans is more convenient and you are able to do that through the new Direct Loan program [which was introduced in 2010], but it does not necessarily save you money."