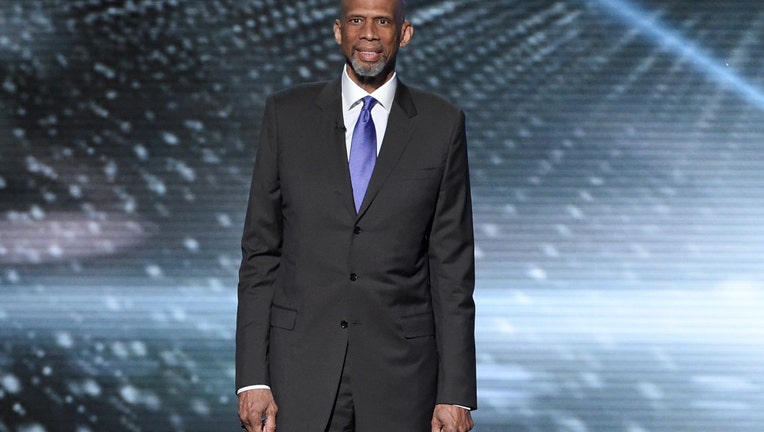 Kareem Abdul-Jabbar, the basketball legend and social activist, is expected to speak on Hillary Clinton's behalf Thursday on the final night of the Democratic National Convention in Philadelphia, bolstering a key element of the Democratic presidential nominee's political platform.
Clinton is presenting herself as a champion of social justice, with a focus on achieving full equality for women in the workplace, LGBT individuals and minority groups. Clinton invited some of the sports world's most prominent social advocates, including Jason Collins, the NBA's first openly gay active player, and Abdul-Jabbar, one of the country's preeminent voices on racial justice, to speak at the DNC this week.
Abdul-Jabbar's relationship with the Democratic nominee stretches back to at least 2012, when Clinton, then Secretary of State, named him a U.S. Cultural Ambassador. Born Lew Alcindor, Abdul-Jabbar converted to Islam in 1968 and has acted as an activist ever since, with an emphasis on the pursuit of equal treatment for African-Americans and Muslims.
With racial tensions on the rise in America and the deteriorating relations between police and their communities at the center of the political divide in 2016, Abdul-Jabbar and Collins are tasked with solidifying Clinton's status as a unifier.
"For Hillary, the idea here is to put out sports stars that can help her recreate the Obama coalition while also pushing forth the idea that Hillary is a game changer, because like these folks, she's trying to break the glass ceiling," Ford O'Connell, a conservative political analyst and Republican strategist, told FOXBusiness.com.
Aside from his efforts in the political sphere, Abdul-Jabbar is also an accomplished author and philanthropist. He's written columns for TIME Magazine and penned several books for adults and children, including "Mycroft Holmes," a fiction novel based on the exploits of Sherlock Holmes' brother, and "Writings On The Wall – Searching For A New Equality Beyond Black and White," which is due for release in August. Abdul-Jabbar's net worth is estimated to be $20 million.
Abdul-Jabbar discussed his stance on America's growing racial divide on Tuesday during an appearance on the Fox News Channel's "The Kelly File."
"I think we start to get past it by communicating with each other, by having police officers and police agencies make a sincere effort to communicate with the people that they are supposed to protect and serve," Abdul-Jabbar said. "And I think that the people in these communities that are having problems with the people that are policing them, they need to realize that if they show some respect and some restraint, the police officers can meet them halfway and we can go about the business of uniting our country."
Abdul-Jabbar's advocacy comes at a time when more and more current and former professional athletes are speaking out about the need to improve race relations in the United States. NBA stars LeBron James, Carmelo Anthony, Chris Paul and Dwyane Wade appeared on stage at ESPN's "ESPYs" award show to urge their fellow athletes to engage in social activism.
More recently, basketball legend Michael Jordan, who has an estimated net worth of more than $1 billion, donated $1 million each to the Institute of Community-Police Relations and the NAACP Legal Defense Fund to help put an end to America's racial divide.
"I know this country is better than that, and I can no longer stay silent. We need to find solutions that ensure people of color receive fair and equal treatment and that police officers – who put their lives on the line every day to protect us all – are respected and supported," Jordan said in a statement to "The Undefeated, an ESPN-owned website.
While sports figures tapped to speak at political conventions are rarely considered capable of winning over new voters for their candidates, a well-delivered speech can help strengthen a politicians' image among individuals who may not otherwise pay attention.
"I don't think it's going to move the needle with voters necessarily, but sometimes you have to realize that a convention is a four-day infomercial," O'Connell said. "Their theory is, if it catches one eye, it's one more eye than we have that we didn't have before."